If you're considering coating your basement, concrete floor, or garage, using epoxy concrete coatings will be essential to keeping your floors durable for a long time.
Epoxy floors will have several crucial qualities. Most people will prefer them over others because of durability, flexibility, and resistance.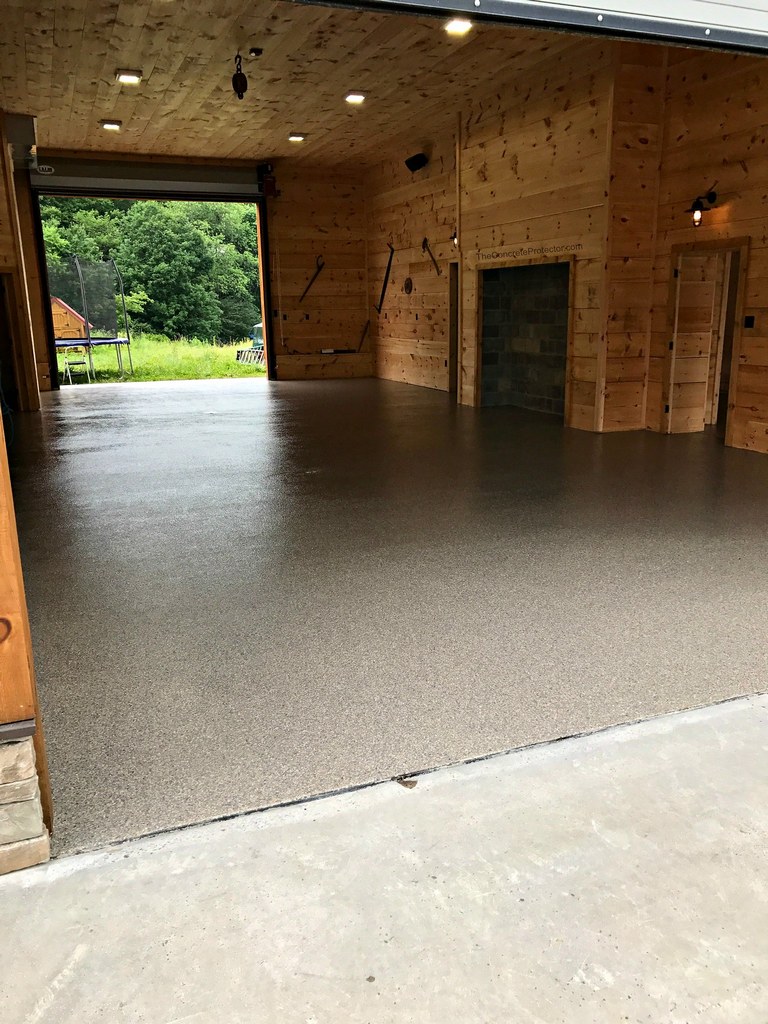 The coating will ensure your floor is in excellent condition for several years before you consider retouching. In the meantime, read on to find out which is the best epoxy for you.
Find out which is the best for you stained concrete vs epoxy.
Understanding Epoxy Floor Coating
If you didn't know, epoxy coating is a polyamine hardener mixed with epoxy resin. These two elements need to be combined before you use them.
If you mix them, you will not have enough time to do what you intended to do.
Even though you will dispense the epoxy coating on the floor, don't think it is paint. When the coating hardens, epoxy will remain on the surface and create a firm layer.
Along with blending the layer, the epoxy coating will form a long-lasting floor that will not scratch, wear, or accumulate oils.
If you have a garage, you don't have to worry about the hot tires. On the other hand, the paint will offer another layer of floor protection.
How Will Epoxy Coatings Protect Your Concrete Floor?
The epoxy coating will form a firm and durable concrete floor. Not only will your floor be durable, but it can bear grease, hot tires from vehicles, and heavy scratches.
Yet, you need to know that not every epoxy floor coating will be the same. Here are characteristics of an epoxy floor:
---
Read Also:
---
High Percentage of Solids
The percentage of solids will show whether the floor coating is durable and in perfect condition.
Epoxy coating is well-known to be chemical-resistant and firm. Most available paints in the nearby supply store may have epoxy coatings that are not of high-quality.
If you have an epoxy coating with a higher percentage of solids in due course, the product will retain the epoxy even during curing.
For example, 100 percent solids epoxy will mean the epoxy floor will have 100 percent after the coating is applied and cured.
That's why you must buy the best epoxy coating if you wish to have a durable floor.
Dry Film Thickness
Dry film thickness (DFT) refers to the thickness you will see after the epoxy has been applied and dried.
It is crucial to know that the DFT will be higher if you have a higher percentage of solids. DFT can be complicated, and most DIY methods will fall short.
If you wish to get the best epoxy, you need to speak to an expert. For starters, several epoxy paint kits will not utilize the original epoxy coating.
In most situations, you will have other formulas that have low quantities of solids. If it's cheap and easy to apply, you will see a thin coat.
Eventually, it will wear out soon, and you will have to get new paint.
What is the Best Epoxy Floor Coating Available?
If you know a lot about epoxy floor coating, you will find the process easy when it comes to selecting the ideal coating for the project.
Each type will have unique aspects, and what you pick will be based on the type of floor you want. Here are some types of epoxy coating:
Quartz Epoxy Flooring
You can find quartz epoxy flooring in designer areas and spaces that are intended to impress spectators. It will include quartz grains.
On top of having tremendous anti-slip elements, it can deal with heavy traffic and oils. This type of flooring is expected in showrooms and beautiful areas.
Novolac Coatings
If you're concerned about heat or chemical wear, you need to check out novolac epoxy coatings.
With novolac coating, you will have a hardened, durable floor. It is a popular pick for flooring, plants, areas where there is heavy traffic, etc.
Metallic Epoxy Coatings
When you choose metallic epoxy coatings, you will enjoy the power of industrial coatings. This is because they have metallic particles.
The metallic epoxy coating is of high-quality and will make your floor shine. You will find this coating in famous garages or commercial spaces.
Self-Leveling Epoxy Coatings
Most people will use a self-leveling epoxy coating to damaged, cracked, or worn-out floors in several situations.
The coating can rejuvenate your floor and still make it durable. It is common in commercial garages, spaces, showrooms, and residential garages since it is available in various colors and choices.
If you have a garage and don't know which coating to use, choose the self-leveling epoxy coating.