Bathroom remodeling makes a perfect opportunity to create an oasis of tranquility in your house.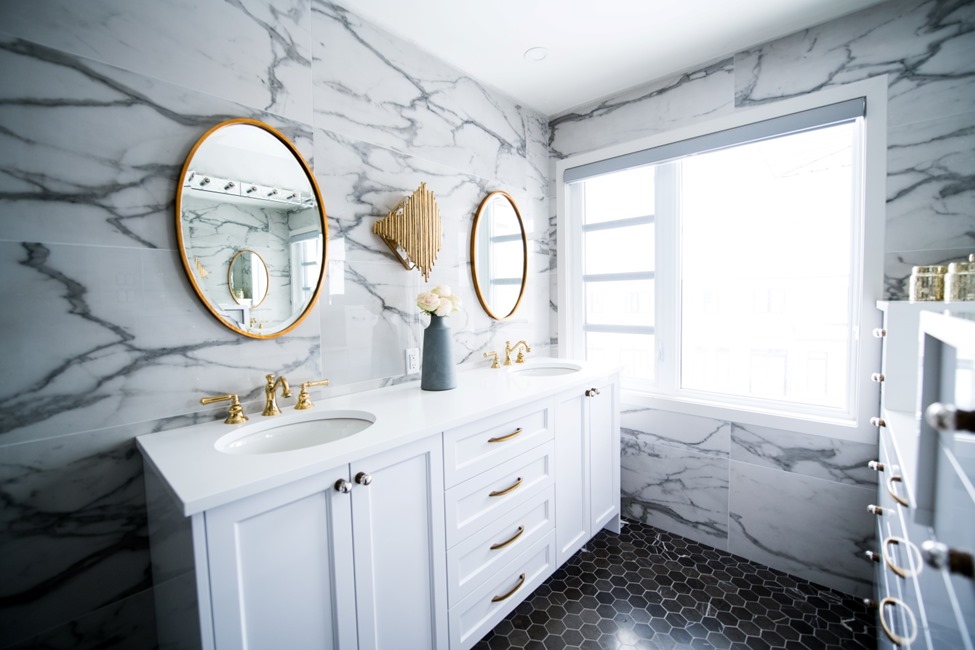 It's also one of the easiest ways to boost your home's value when you're planning to put it on the market. A dated and poorly maintained bathroom can be a major turn-off for many potential homebuyers. Thus, renovating your bathroom can make a huge impact when you're looking to sell your house fast and for top dollar.
That's because even minor updates to your bathroom can increase your home's value by a significant margin when you decide to sell. And since today buyers can make an offer on a house without an agent, ensuring your bathroom is in tip-top shape can compel them to make their purchasing decision during showings.
The great thing is that you don't have to spend a fortune on high-end utilities or hire a contractor to renovate your bathroom. Even minor DIY improvements can fetch top dollar once you sell your home.
That said, here are a few best DIY bathroom improvements you can make to boost your home's value before you put it on the market:
1. Update Your Vanity
An old bathroom vanity can make your house look dated. A vanity makeover can transform your bathroom into a stylish and modern-looking space. To do this, you can update your existing vanity or replace it with a more modern one.
If you're working on a budget, dressing up the existing vanity can add fresh style to the space. Some simple DIY tricks to revamp your dated vanity include applying a fresh coat of paint to give it a splash of color and swapping cabinet hardware and faucet with new ones for a final touch of sparkle.
However, if your remodeling budget allows, you should consider upgrading the entire vanity. This includes the cabinetry, fixtures, countertops, and sinks. You can purchase a fully assembled vanity unit with everything you want or build a custom vanity from scratch.
You can convert an old dresser into a stunning custom vanity. Add a custom countertop or keep the existing one, then install a bowl sink. You can also repurpose an existing desk, add a bowl sink at the top, and wall mount the faucet, leaving you lots of counter space. You can place baskets on the desk's open shelving underneath for keeping your toiletries and towels.
2. Install New Bathroom Hardware and Accessories
Another renovation that can make a big difference in the overall look of your bathroom is replacing your dated plumbing fixtures with modern ones.
This is an excellent DIY bathroom remodel since changing fixtures is relatively inexpensive and easy to do on your own. You don't need to hire a professional plumber; instead, you'll only need the right tools, such as a screwdriver, and a few hours to get your bathroom looking new again.
Swap out outdated faucets, showerheads, towel bars, sink fixtures, and cabinet pulls to create an up-to-date and inviting space. This is also a perfect opportunity to ensure your entire bathroom's hardware and accessories match.
Thus, your new cabinet pulls, shower frame, doorknobs, and faucets should complement each other for added elegance and luxury. Frame your bathroom's wall mirror or replace it with a framed one to add some style. Doing these small updates will not only elevate your bathroom's look and value but will also change how you experience the space.
---
Read Also:
---
3. Apply a New Coat of Paint
One of the most impactful yet inexpensive bathroom remodels you can make is applying a fresh coat of paint to the space. This is especially crucial if your bathroom's walls show signs of water damage or mildew.
First, you need to find out what's causing the mildew and fix it before you can add the fresh paint. This will make sure your new paint stays intact for longer.
The amount of paint required in bathrooms is usually small, as a great deal of bathroom wall space is covered with cabinets, mirrors, bathtubs, and tile. You may end up with only a few square feet that you need to paint. Ensure you use painter's tape when painting for a cleaner outcome.
4. Making Changes to the Flooring
Another value-adding bathroom renovation that you can make is upgrading the flooring. If your bathroom has chipped tile or scuffed-up vinyl, installing new flooring can dramatically change the overall look and feel of the space. Updating old bathroom flooring is relatively simple, so you don't need to hire a contractor to get the job done.
If you have a small bathroom, replacing the existing flooring with larger bright tiles can make the space look and feel spacious and more appealing. Your bathroom flooring update can vary greatly in price depending on the room's size and the flooring material you want to install.
Tile is usually one of the most popular and versatile bathroom flooring materials. You can choose from the wide range of tile shapes, patterns, colors, and textures to ensure your new flooring complements the room's décor.
When installing your new tile flooring, you can even add radiant heat mats underneath to keep the floor warm and cozy during those chilly days. The added cost can be worthwhile in the long run since the new flooring can help attract potential homebuyers and even fetch you top dollar when you decide to sell your house.
Endnote
Besides the kitchen, your bathroom is another high-impact part of your house to update. If you're looking to sell your house, renovating your bathroom can go a long way toward attracting potential homebuyers.
Making several fresh updates to your bathroom can boost your home's value and make it stand out from others in your area, helping it sell faster and for a high price. The DIY bathroom renovations mentioned above can help you stay with your remodeling budget, ensuring you get maximum returns on your investment when you sell your home.