A bathroom is a space that often goes overlooked when it comes to design and aesthetics. However, with a little creativity and attention to detail, you can transform your bathroom into a stunning and practical oasis.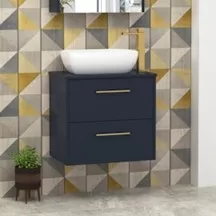 In this article, we will explore tips and ideas to help you achieve a beautiful bathroom that combines style and functionality.
Start with a Vision
Before embarking on any bathroom design project, it's essential to have a clear vision of what you want to achieve. Take into account the overall style you prefer, whether it's modern, minimalist, traditional, or rustic. Consider your decisions regarding color schemes, materials, and fixtures throughout the process.
Maximising Space with Storage Solutions
One of the most common challenges in bathrooms is limited space. To make the most of the available area, invest in clever storage solutions.
Install wall-mounted shelves, utilize vertical space with tall cabinets, and consider wall hung vanity unit 600mm or recessed shelves in the shower area. These storage options not only keep your bathroom organized but also add a touch of elegance to the space.
Lighting for Ambience and Functionality
Lighting plays a crucial role in creating a beautiful and practical bathroom. Combine ambient lighting with task lighting to achieve the perfect balance.
---
Read Also :
---
Install dimmer switches to adjust the intensity of light based on your needs and preferences. Additionally, incorporate natural light by using sheer curtains or frosted glass to maintain privacy while allowing sunlight to filter in.
Statement Fixtures
Upgrade your bathroom's style quotient by incorporating statement fixtures. Choose a striking vanity, an eye-catching mirror, or an elegant compact bathtub to become the focal point of the room.
You can further enhance the bathtub aesthetics with MDF bath panels and match them with a vanity unit for coherent looks throughout. These statement pieces add personality and visual interest to the space, instantly elevating the overall appeal of your bathroom.
Mirrors for Illusion of Space
Mirrors are excellent tools for creating an illusion of space in smaller bathrooms.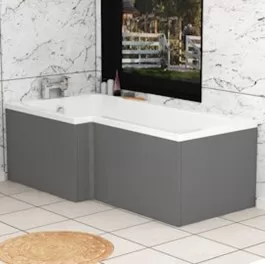 Install a large mirror above the vanity to reflect light and visually expand the room. Consider incorporating mirrored cabinets or tiles for added functionality and an extra touch of sophistication.
Cohesive Colour Palette
A well-thought-out color palette can significantly impact the overall ambiance of your bathroom. Choose colors that complement each other and create a uniform look.
Lighter shades can make a small bathroom appear more spacious, while bold colors can add drama and personality. Don't be afraid to experiment with different hues and finishes to find the perfect combination for your unique space.
Luxurious Touches
To create a truly stunning bathroom, don't overlook the power of luxurious touches. Invest in high-quality plush towels, bathmats, and shower curtains. Add scented candles, decorative trays, and elegant soap dispensers to enhance the sensory experience. These small details can make a big impact and create a spa-like atmosphere in your bathroom.
Greenery and Natural Elements
Bringing elements of nature into your bathroom can instantly freshen up the space. Incorporate potted plants or small indoor gardens to add a touch of greenery. Natural materials like wood, stone, or bamboo can also be used for vanity tops, flooring, or accents, creating a soothing and organic atmosphere.
Practical Flooring Options
Choose flooring materials that are visually appealing and practical for a bathroom environment. Porcelain tiles, vinyl, or natural stone are popular choices due to their durability and water-resistant properties. Consider adding a radiant floor heating system for added comfort during colder months.
Personalise with Art and Décor
Infuse your personality into the bathroom by incorporating art and décor items. Hang a gallery wall with framed artwork, display decorative vases or sculptures, or install unique shelving to showcase your favorite collectibles. Incorporate these personal touches to make your bathroom look elegant and feel comfortable.
Final Thoughts
Designing a stunning and practical bathroom requires careful consideration and attention to detail. By balancing aesthetics with functionality, homeowners can transform their bathrooms into inviting spaces that enhance daily routines.
Key elements such as quality fixtures, ample storage, and thoughtful lighting contribute to a successful design. Plan, select materials wisely, and seek professional assistance if needed to bring your bathroom beauty vision to life.