Roof gutters have become an essential part of the roofing system. Gutters aren't just installed for aesthetics; they lead water away from the roof and the home. Many people who have gutters installed have prevented common water problems that can damage their roofs and foundations.
With a functioning gutter in place, water falling onto the roof will be carried through the gutter trunk to the downspout, leading the water away.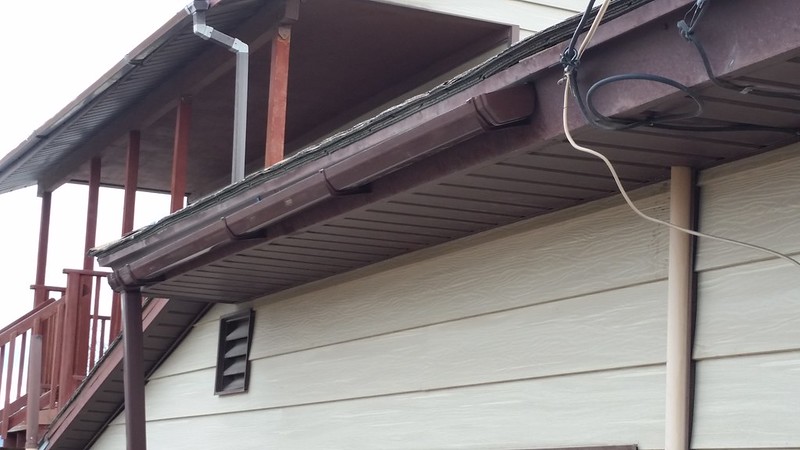 However, when this process is compromised, there is no telling the amount of damage that could be done. To prevent common water problems arising from damaged gutters, Gutterilla – Seamless & Guards Installation has identified 12 of the biggest signs that suggest the need for a new gutter.
Gaps, Holes, and Fractures
Your guttering system's ability to transport rainwater from one end to the other depends on the gutter's integrity. When the gutter is old or damaged, you may begin to notice holes, fractures, or gaps.
These compromised areas allow water to leak onto your walls and this may affect your foundation or basement. A common sign indicating cracks, gaps, or holes in your guttering system is water stains on the walls.
You may also find a pool of water around your foundation at the end of heavy rain. This telltale sign should be addressed as fast as possible before it becomes worse.
Nails or Screws on the Ground
The guttering system is held together by several nails and screws. Nails are used to holding the gutter anchors to the fascia, while screws attach the gutter to the anchors. Visible nails or screws along the length of your gutter indicate a problem.
There is a huge chance that your guttering system has been compromised and has become a disaster waiting to happen. If you have noticed several fasteners along the length of your gutter over a short time, you may need to take fast action.
Action, in this case, may not be a full replacement; you can replace the missing screws and nails. However, if you notice more problems with your gutter, it may be wise to replace it altogether.
---
Read Also:
---
Separated Gutter
Sometimes you may need to overlay gutters over a length to get the job done. In other instances, you may need to cut the gutter at a 45-degree angle to make corner structures. These areas can fall apart over time, thus compromising the effectiveness of your guttering system.
While this problem can be fixed if it was due to a workmanship problem, you may need a full replacement if its cause is traced back to old age and loss of integrity.
Replacing your gutter may appear expensive, but you should know that foundation repairs or water damages can be more expensive.
Gutters Separating from the Roof
If you have noticed your rain gutter pulling away from your roof, there is a high chance that the fascia or gutter anchors have become bad. Investigating the cause of this problem is the first step to solving it.
If your fascia is damaged due to wood rot, wear-off, or other reasons, a replacement may be essential. While replacing your fascia, be sure to inspect your rafter as well as the guttering system. If the guttering system is old, you may need a new one.
Sagging 0r Improperly-Pitched Gutters
When installing your rain gutters, a ½ inch to 1-inch slope should be observed across the length of the gutter. This slope will aid in the direction of water away from the roof and into the downspouts.
If the slope is messed up, there is a high chance that your rain gutter may collect water in them and become the breeding ground for pests and microorganisms. To avoid this, pay attention to improperly pitched gutters and raise the alarm when necessary.
You should also watch out for sagging gutters. Sagging gutters are an indication of debris buildup or may indicate compromised gutters.
Peeling Exterior Paint
The exterior of your building adds beauty and value to it. It is the first place that forms an opinion of your taste and hygiene. If your exterior paint has begun to peel, this is an indication of a water problem. You may need to investigate the compromised area in your gutter or replace it.
Other signs that suggest gutter replacement include;
Flooded basement
Eroded landscaping
Pooling water and dirt channels
Rust and mold problems
Water damage marks
Foundation problems.
Knowing these signs and paying attention to them can help prevent common water-related problems caused by uncontrolled water. It doesn't stop at noticing these problems, call on the nearest gutter company to have them sorted.