We all want a place to escape to on a particularly challenging day.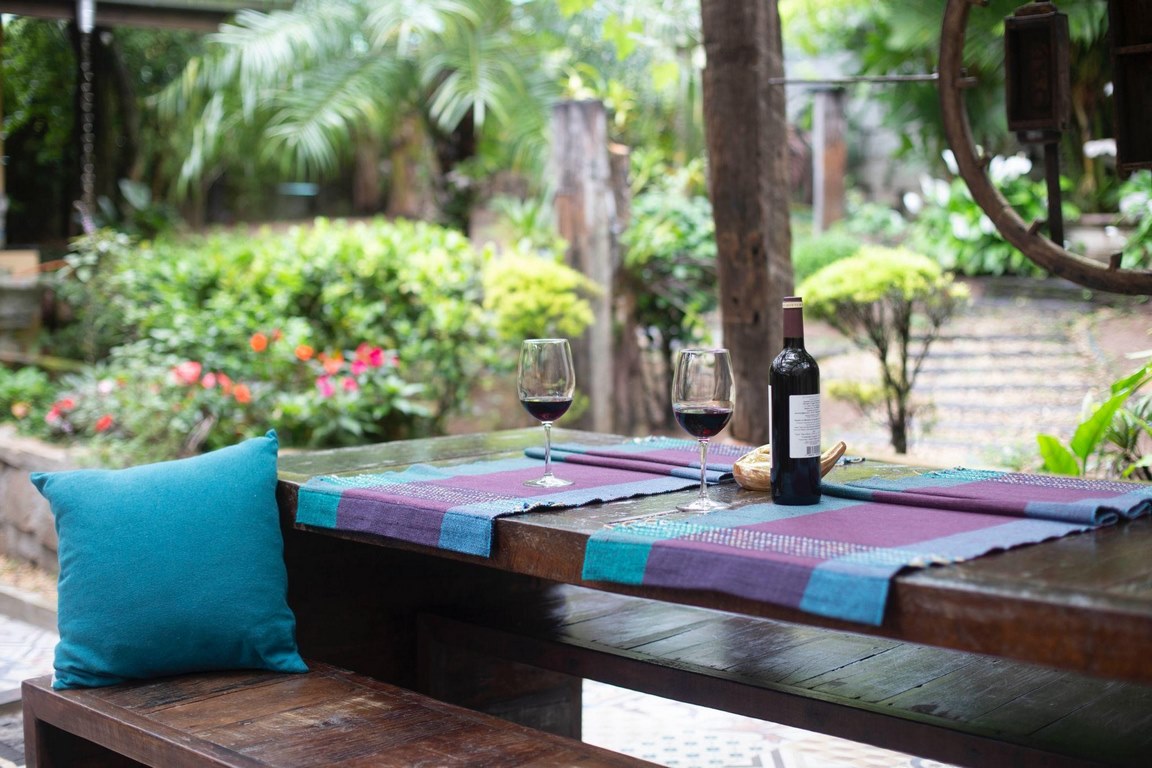 Of course, your home is a sanctuary where you can sit back and relax. But if you're in the mood for some outdoor reprieve, retreating to your backyard seems like the best idea. This is where you can unwind and enjoy some fresh air.
On happy days, you can bring over family and friends for a fun evening of conversations and delicious food. You can set up a barbecue grill on hot summer nights and catch up with long-time friends you haven't seen in a while.
Alternatively, you can put up a hammock and open your favorite book while sipping a glass of wine. How's that for a lovely and quiet evening?
If you want to foster a more welcoming atmosphere in your backyard, sprucing it up is the correct order of the day. Whether it's combining outdoor furniture and décor or enhancing the landscape, we have the right ideas for you.
Start by Decluttering Your Backyard
Clearing the clutter in your yard is an essential step to set an inviting atmosphere. This means you might need to prune overgrown hedges, remove and relocate play equipment, and get rid of stuff that's broken or no longer in use.
Store away anything that doesn't belong in the yard. Decluttering your yard will give you a clean slate so you can do a proper assessment and decide how to take the next step.
Build a Deck for a Place to Gather
Platform decks are brilliant if you want to define a place where you can gather with family and friends. You will want a space that will invite you to leave the comfort of your home and enjoy the private oasis in your backyard. Your patio should be where you can hang out with friends, bask under the sun, practice yoga, or read books.
Install comfortable seating like lounge chairs and sofas where you can stretch out and relax. You can even add in pillows with colorful fabrics to give the space a stylish touch. You can also go cozy with blankets and lanterns.
---
Read Also:
---
Put Up a Shade for Different Weather Conditions
Your patio can only be comfortable enough if you incorporate some form of shade from the harsh rays of the sun or, worse, rain. There are timelessly elegant beach umbrellas that you can use without cramping your style. An umbrella looks fun and inviting when installed in your backyard, conjuring images of sandy beaches and lounging under the sun.
Still, you can opt for other options. Think of gazebos and pergolas. You can plant vines that grow over arbors or even leafy trees around your patio. They will give your outdoor space a unique charm.
Design the Right Landscape
Another lovely feature in your backyard can be the overall landscaping. You might want to pick the easier way of achieving your dream outdoor look by hiring a professional, but you can also go with do-it-yourself landscaping, which can be fun and exciting.
You will want to plan and select plants with care, ensuring your choices will look natural in your setting. Plants that can set the mood are the best. Mix and match native plants with shrubs, vines, and perennials to give your landscape an interesting vibe.
A visit to your local nursery or botanical garden shop might be a good idea so you can see what choices you have and how you can incorporate available plants in your backyard's landscape. If your backyard is paved, you may want to go with plants in tall containers and other easy houseplants you can take outside.
Include Lighting Decorations for Added Magic
Magical nights spent outdoors can only be attainable if you set the mood right. You can do just this by incorporating lighting decorations on your patio and surrounding areas. Of course, your primary reason is to illuminate the yard, but with the right inspiration, you can enhance the space to make it more inviting.
Mood lights can be a good choice. You may also want to consider fairy lights that you can install in nearby shrubs or trees. If you want to be more grandiose, hanging lanterns in the garden to highlight the plants can be a brilliant idea. During winter, colorful Christmas lights can be your ideal choice as they set the atmosphere just about right for the occasion.
Bring in a Comfortable Hammock
Hammocks add such charm to an outdoor space. It spells relaxation. If you want to unwind after a long, tiring day, lying on a hammock in your backyard can seep the stress away.
You can attach it between two trees or hang it on the corner of your patio. Not only does it give you a place of retreat. It can also enhance the overall look of the place, adding to its aesthetics.
There are all kinds of hammocks out there. It is only a matter of choosing one that will suit your taste and needs. Some hammocks are sturdy and big enough for two. Others are created like a swing or structured like an upright chair, making them the best pick for bookworms.
Wrapping it Up
Backyards are private spaces where you can enjoy an evening off, but they can also be transformed to be inviting enough for guests. Sprucing up your backyard is possible with the right creative ideas and thoughts sprouting from your own vision of an outdoor oasis. Your imagination is the limit, as they say.
If you are passionate about decorating your backyard, these tips can help you along. Just make sure to be both practical and aesthetic about your choices.
Finding the balance between the two will ensure you have a charming backyard that functions well and meets your needs, whether it's getting some alone time or entertaining visiting friends.
---
Author Bio:
Harper Hughes is a DIY and home renovation and decor expert who's been covering the latest trends in the home design industry for over six years. Harper flips homes for profit and is a contributing writer to many homes improvement and design blogs and websites
---