Home is something where everybody wants a pleasing environment and atmosphere. Your home, no matter what, is the only place where you find true peace, and a great design is the only thing that makes the place living or relaxing worthy.
Your place should be designed your way and should resemble the personality of the user, i.e you. A gamer would like a smaller compact room, while a writer or book reader prefers a wider room space.m, every such thing depends on design.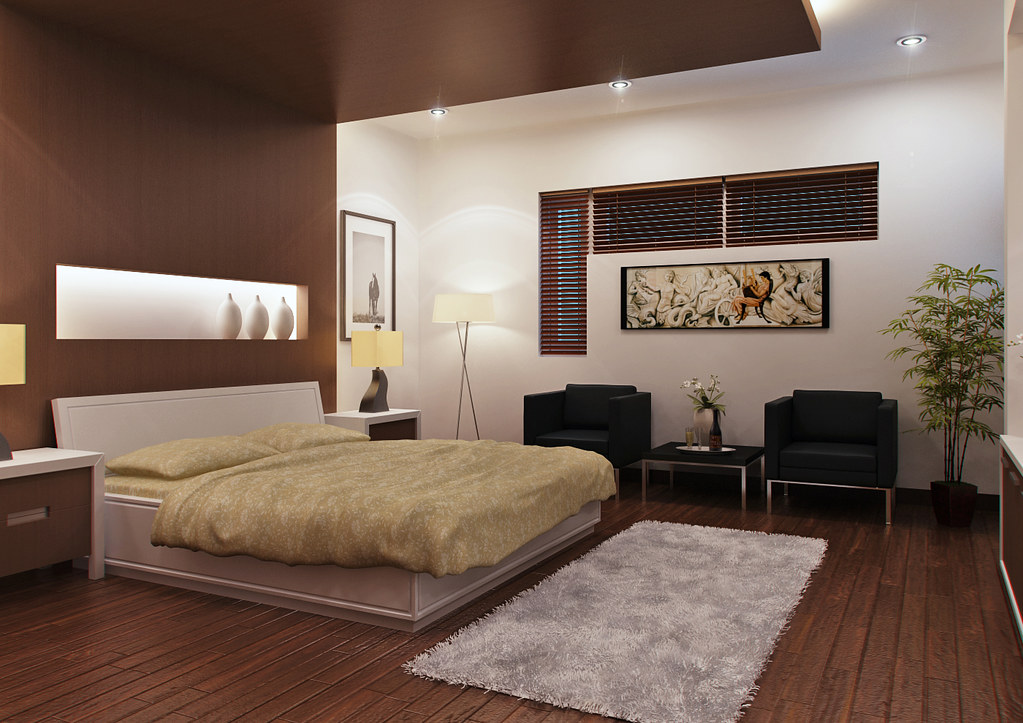 You could use a color combination and set of modern bedroom furniture to make your room more spacious or compact and cool and that is what we will look at.
If you are looking to newly design your bedroom or to renovate it, let's skip to some top Bedroom Designs with Bright Accents.
Best Bedroom Designs to Consider
1.   The Spacious Bedroom
Most married couples want their bedroom to be a space of their privacy, a place to live happily into and live the day together. Moreover, the bedroom is also the most romantic space for a couple in the entire house so the design needs to be as per the personal taste of the user.
The most important flavor in the bedroom is color and the wall you choose to be the accent wall. This is the wall which should be all plain, painted with a cool shade like green, light blue, magenta, etc.
A cooler shade makes your room look more spacious. The concept of a Bedroom designed with a bright Accent wall is modern and is trending.
The wardrobe could be fixed on the wall parallel to your bed and side tables to the bed are a must. Lamps are a must for side tables.
Lamps might look vintage but typical trapezoidal cylindrical-shaped lamps are not the ones we are talking about, you could have a variety of lamps available in the market.
Texturing the ceiling with a symmetrical pattern or making a false ceiling makes the best in the bedroom. Ceiling fixtures like lights and chandeliers should be as per the color, texture, and design of your accent wall.
---
Read Also:
---
2.   Your Compact Bedroom
In Contrary to Spacious room, It's generally observed that single adults and especially children prefer compact and small spaces for their living.
Now you cannot resize your room by moving walls, but you can get such a feel by using warm colors like red, yellow, purple, etc. When talking about Bedroom Design with Bright Accents, you can have brighter colors but more furniture in every corner.
The wardrobe could be fixed next to the door of the room, and the other two corners can be used by placing a study table or similar furniture. Placing the right furniture in the right place makes a big impact after color combinations.
3.   Adding a Reading Nook
If you have a corner or room on the aisle side of your lot, it's the best room to make use of natural lights and air. In a modern Bedroom design with bright accents, you just need to have a window with a seat, that's all.
Design the room with less furniture and bright color, the rest of the windows will do everything for you.
The window should be with a thick parapet that a user can sit on, in case you don't have a sitting space, project or extrude your window towards outside, that would give an aesthetic look to your house, as well as you get a sitting space on the window.
4.   The Combination of Materials and Colors
For getting a room that seems most trending and eye-catching, try to use different materials at different facilities. Make a wardrobe out of timber with the texture of ring formation on dark brown shades of wood.
Use Pinewood cabinets for your side tables and Wooden flooring. Now talking about color combinations, you can make the most pleasing appearance by using paint shades of fair human skin.
Bedroom designs with bright accents make you feel livelier and bring satisfying vibes. So, the combination of color shades matters a lot. Now, with this, you also can use carpet on the floor which gives a sophisticated touch to your feet and the design of your bedroom.