One way to "re-stain" or change the color of a piece of wood trim or furniture is to shade it or tone it with a tinted varnish.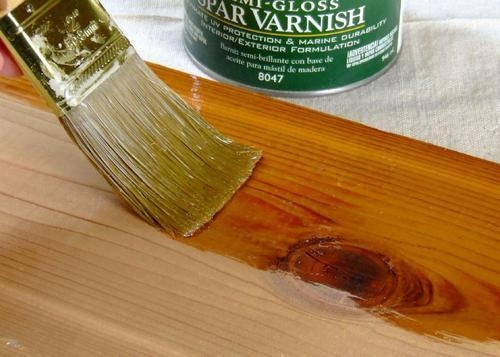 Shading and Toning Varnishes: What is a Toning Varnish?
The term shading varnish and toning varnish (or finish) are used interchangeably. This is the way I use these terms.
A toning varnish is a clear coat that has been tinted to add color to the clear coat in order to "shade" the woodwork to a different color.
Toning varnishes are sometimes used to speed up the finishing process. Instead of applying a second stain application because the stain was too light or slightly off in color, you can add the color to your varnish or clear coat and do both: stain and seal in one application.
Toning varnishes are used to correct a color match problem and to refinish previously stained woodwork that you may be tired of the stain color or when the color no longer matches the furniture etc…
Toning varnishes can be bought premixed or made as needed by mixing oil stain with an oil/alkyd varnish.
Minwax makes a line of toning "varnishes" called "Polyshades" which are shaded polyurethane finishes. You can make your own toning varnish by either mixing stain with or tinting with universal colorants – your varnish.
Polyshades, because they are are polyurethanes should not be used over shellac or lacquer
---
Must Read:
---
Not All Stains Will be Compatible with Every Varnish
So caution needs to be exercised when making your own. Although I have never had a problem with mixing an oil stain with oil varnish, I won't emphatically state that you will be able to do this without any compatibility problems or even adhesion problems.
I have never made a toning finish with anything but oil (or alkyd) varnish and oil stains.
I don't use many water-based finishes except over woodgraining and rarely use water-based stains, so I have no experience with water-based toning.
I have often mixed either Minwax stain or Sherwin Williams stain with different oil (alkyd) varnishes with good results.
I can say that Sherwin Williams "Wood Classics" oil stain product data sheet has a "blurb" in it on making a shading varnish with their stain and clear coats stating that up to 2oz of Wood Classics stain may be added per gallon to Sherwin Williams sanding sealer, oil or polyurethane varnishes.
Things You Should Know
Shading won't work all the time. You can't turn a dark walnut stained piece of woodwork into a blond light birch color by making a toning stain and applying it over the top.
You can go from light to dark (but not dark to light) You can convert a light blond stained trim or piece of furniture to a darker color by careful use of a toning varnish.
The problem with making drastic color changes with a toning varnish is that you will get brush streaks and marks which look sloppy and amateurish if you do too many coats or too thick a coat (or tint the varnish too heavily)
The best way to use toning varnishes is where you need to slightly change the color of the previous finish or darken it slightly.
"Tweaking" a color a bit with a toning varnish If you have stained and sealed your work only to find the lighting in one room or the cabinets in one room seem to be a bit more orange than the others, you can make a shading varnish to add the orange cast to your work and make it blend better.
Application Cautions and Tips
Don't over tint the varnish, it will be too paint like and opaque.
Apply thin coats rather than one thick coat and use a soft brush for softening and blending to avoid visible brush marks. You want this to look like stain work, not woodgraining.
Brush on the varnish in the direction of the grain only.
If spraying on the varnish, you will want to avoid lapping. Spray from one end to the other without lapping if possible.
The thinner you keep the toning varnish and the less you tint it – will both go a long way toward doing a good looking job.