If you ask fully certified tree surgeons for a quote to maintain, remove or treat trees on your property, you're probably in for a surprise.
Arborists are known to charge their customers hefty fees for their services, which can put a lot of homeowners out of pocket.
At a glance, tree removal and maintenance might seem like straightforward tasks, but reputable tree surgeons will have spent years learning and working on a variety of trees.
Homeowners who decide to save money by taking on the task themselves often make mistakes that can damage the trees on their property and the surrounding area.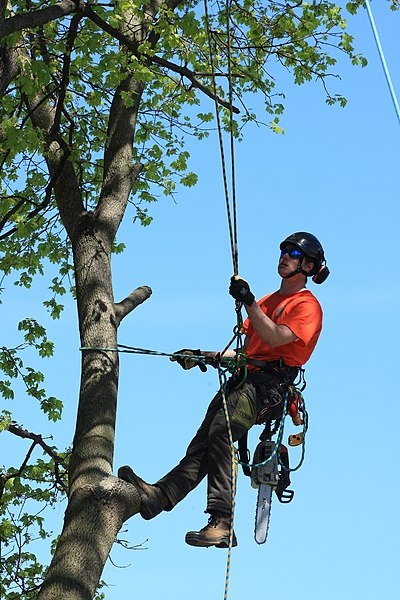 Reputable Tree Surgeons Have Insurance
It seems like the best tree surgeons all take out an insurance policy that covers them to work on other people's property. These policies can cost the tree surgeon a lot of money because of the risks involved in the job.
If a tree surgeon was to have an accident while using powerful machinery or tools, they might sustain a serious injury.
This is why a lot of tree surgeon businesses take out a $1 million liability policy. This policy will not only cover the workers but any property damage caused during working hours.
Plenty of Experience Removing Trees
Those who have little experience often make the same mistake before removing a tree on their land. Instead of examining the surrounding area where the tree is, they start removing it which can prove disastrous.
People working for an established tree surgeon company will assess the land first, and when it is completely safe, they will start the removal process. Sometimes there are obstacles surrounding the tree which can be hazardous, especially power cables.
People who remove trees who don't notice the power lines above might get electrocuted. A tree surgeon won't begin the job until it is completely safe to do so.
There are lots of different ways arborists remove trees. This will depend on the size of the tree, the type of the tree, how far the roots are in the ground, etc. Some will use harmful chemicals to destroy the tree.
They will handle these chemicals with care so nobody gets injured, and they will encourage others to stay away from the area during the process. If you don't know exactly what you are doing, these chemicals might destroy a lot of the property near the tree stump.
On other occasions, the tree surgeon will want to use heavy machinery to safely remove the tree. In recent years, cranes have been used regularly to remove big trees from people's property.
---
Read Also:
---
They Will Have Special Training
Certified tree surgeons will have undergone special training. They will know a lot about the different trees and plants in your yard, including the following:
Help with the shape of the tree: If you're not happy with the shape of certain trees in your home, ask your tree surgeon if they can do something about it.
Leaves: Give you advice on discolored leaves, and what you can do to improve the way the color looks even after a season.
Pruning: They will know how to maintain your trees by pruning them.
Soil: They will be able to advise you on what types of trees will grow successfully on your land. They will also take the climate into consideration before recommending a tree.
They Will Have Had Training on How to Use the Different Tools and Machinery
A lot of the tools and machinery tree surgeons use are dangerous to operate. A chainsaw, which is a tool most tree surgeons use regularly, can pose a serious threat, especially if the operator hasn't undergone any training.
Not only can these tools cause accidents if handled incorrectly, but the tree might also get damaged during the process.
On top of that, in many countries, you will need to have adequate training to legally operate some of these tools. If you don't have a certificate to use these tools, you might be breaking the law.
These certificates will show that you have been trained to use certain tools and that you are allowed to use them to remove trees. If you hire a tree surgeon to work on your property, don't hesitate to ask them to see their certificates before they carry out the job.
Conclusion
Removing and maintaining trees is one of the most dangerous jobs that homeowners take on themselves. A well-established tree surgeon will have First Aid training, so if something does go wrong, they will know what to do.
Manual handling training is another course many tree surgeons take, to ensure their posture and positioning are correct while they are working.