Out of all the rooms in your house, the living room is usually the most used one. It's where you spend most of your time, entertain your guests, and more.
Due to all these reasons, you must make an effort to make your living room appear luxe. It isn't as complicated as it may seem. A few amendments and additions can add a touch of extravagance to your living room.
All you need to do is know the right tips and tricks. Well, you need not worry about it. In this article today, I'm going to share with you my list of incredible ideas to make your living room appear luxe.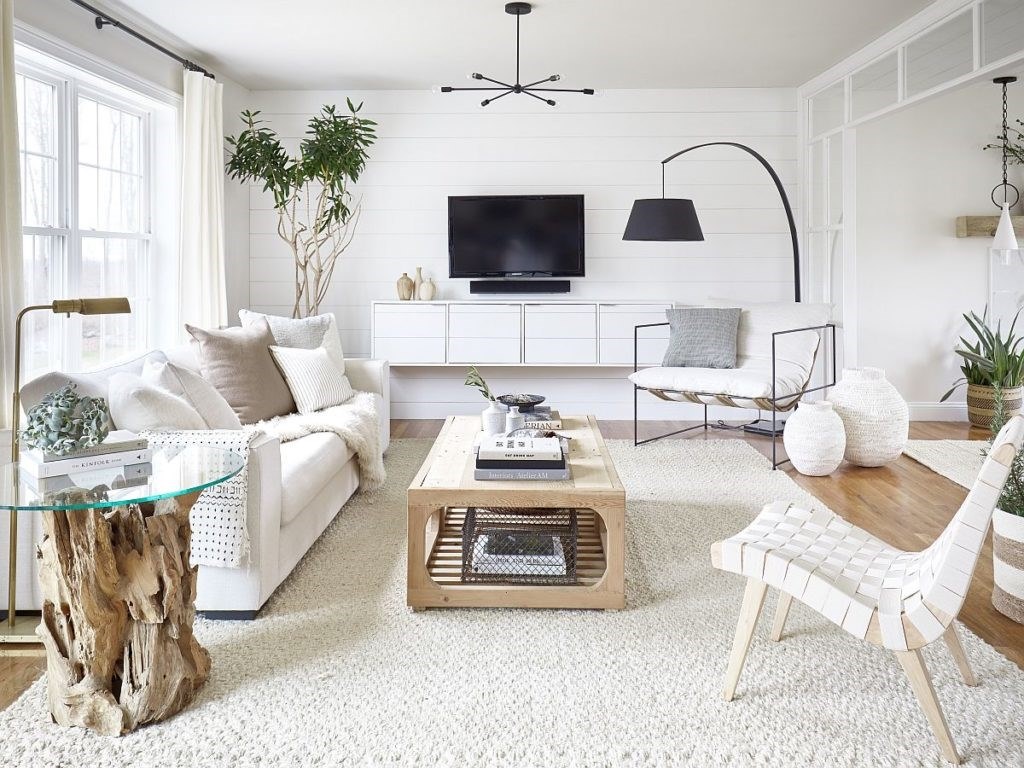 There's no need to brainstorm the ideas anymore, simply follow the list mentioned above and have a beautifully designed and decorated living room. Let's get this started:
Re-do the Walls
Start with re-doing the walls. It may seem like an unnecessary thing if the walls in your living room are clean, the idea is not to repaint them in a similar manner.
In fact, the idea is to re-do them from top to bottom in order to provide your living room with a new and changed appearance. For example, if you have simple wall paint in your living room, this time you should go for textured walls.
Textured wall paint is quite expensive but it instantly adds a dash of luxury to any space, which makes it worth the money. Still, if you want a relatively cheaper option, I suggest you check out wallpapers.
Lighting
Ranking second is the lighting. A lot of people make the mistake of ignoring it and it costs them a lot later down the road. Who's going to appreciate your expensive living room decor if it's not properly lit?
That's the thing, guys. Lights determine the decor to shine out. I usually suggest splurging on the lights, but it really comes down to your budget.
If you have an open budget, get a crystal chandelier or contemporary ceiling lamps for your living room.
In case you don't, you can simply go for wall bulbs and floor lamps. Oh, and please make sure the lights are beautiful both on the inside and outside.
---
Read Also:
---
Area Rugs
Unless the floor is broken, I suggest you skip it. Living on the same floor is possible, an area rug would help you with it. It will cover around half of the floor, providing your living room with the comfort and warmth it needs to have.
Area rugs also work well in providing the missing pop of color. Following a theme when decorating your living room is always helpful, but it also creates a monotony. To treat the issues, area rugs work well.
Get an area rug in one or two shades darker than the theme of your living room. In case the theme of your living room is already too loud, get an area rug in a lighter shade to neutralize the colors.
Wall-Fixed Plasma and Power Backup
Another two things that people usually ignore are wall-fixed appliances and power backup. You need both in order to make your living room appear extravagant. First, invest in a new plasma television with a sound system.
Get it fixed on the wall. The same goes for the mini-refrigerator if you want to keep one for the drinks.
Secondly, please ensure to get a high-quality inverter generator so that your living room always has backup energy.
Having a power backup is a luxury in itself. Isn't that correct? The best part being, inverter generators are pocket-friendly, so they won't break the bank for you.
Artwork
When decorating the living room, nothing can take the place of the artwork. It is something that can immediately add a touch of extravagance to your living room. Be it a painting or a mini sculpture, art is supreme.
Although art pieces are usually expensive, I suggest you splurge on them as they're worth the cost. Still, if you're on a budget, please be sure to check thrift stores.
I bought two of my favorite antique pieces from a thrift store nearby. They were not just cheap, but beautiful as well.
Organic Additions
Gone are the days when people used to purchase artificial plants and flowers for decoration, experts now recommend adding real and natural plants to your house. Yes, it's possible, guys.
A number of shade-loving plants are available in the markets these days. They don't require sunlight to grow and blossom; hence, you don't have to worry about keeping them indoors.
They'll be absolutely okay without sunlight. All they need is some water and minerals, and that's about it.
The Ambiance
Last but not least, after you get done with all the decorations, you must start working on the ambiance.
The ambiance of your living room is a lot more than the lights and artwork. It highly depends on the fragrance of the room.
It doesn't matter how beautifully decorated your living room is, it would appeal to anyone if in the presence of an unpleasant, pungent odor.
Hence, you must purchase odor removal products for daily use and ensure that your living room smells nice all the time, every day.
The Takeaway
When decorating your living room, your budget matters a lot. The more money you'll spend on the lights, artwork, furniture, and plants, the more extravagant your living room will appear. It's as simple as that.
Rest assured, follow the tips and tricks mentioned above and add a luxe touch to your living room without breaking it all down.
Let us know if there's something else that you think should be added to the list. Good luck, my pals!