Moving into a new home can be an exciting experience. After finding your perfect home and completing all the paperwork, you can't wait to move in.
But before you start packing and hiring a moving company, you might want to make a few improvements to your new home.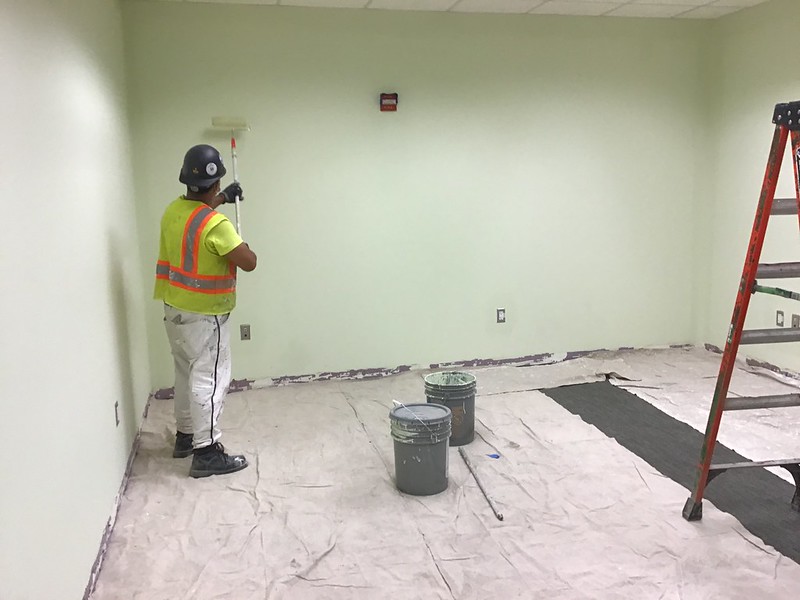 No doubt you hired a home inspector and received a satisfying report. But it's always best when your house feels like home plus reflects your taste. Making the changes before you move in is a lot easier. So, which areas should you improve?
Let's consider ten home improvement ideas before moving in.
1. Change Locks
If another family was living in that home, you never know how many people had the keys to the house. Probably, they had other family members who kept spare keys. And you may not get all these keys when you buy the house.
If the house is brand new, meaning no previous family lived there, it's still possible that the agent or seller has a spare key. The best thing is to change the locks to get new keys. That's the only way you can guarantee your safety.
2. Repaint the Walls
Let's say you bought an old home, repainting the walls can make it look like new. It will also add a protective layer that will slow down wear and tear. And even if the house is new, you may not like the current colors or the finish.
Besides, you may want to paint each room differently to reflect the preference of each family member. For instance, you wouldn't paint your boy's bedroom the same as your girl's bedroom if they had different tastes.
Repainting an empty house is much easier than a house full of items. There will be minimal disruptions. Plus, you'll be free from the smell of the drying paint.
---
Read Also:
---
3. Clean the House Thoroughly
Cleaning is essential, especially if you're moving to a house previously occupied. The kitchen and bathrooms may require thorough cleaning because they attract dirt. Don't forget to clean cabinets, drawers, and sinks.
Remove any stains stuck on the walls and floor. As you clean, take note of anything that might need repair or replacement. If you have the time, you can supervise the cleaning of the house yourself. Otherwise, you can hire a cleaning company.
If you're moving to a place prone to water damage, such as Tampa, the walls may have mold. This mold can create health hazards, a classic case, triggering allergic reactions.
You have to get rid of this concern before moving in. Whenever the mold issue is extensive, it's best to hire environmental professionals to remove it.
4. Consider Remodeling
Repairing broken parts is one way of improving your new home, but if you have the budget, you can consider remodeling. The kitchen and the bathrooms are the main areas where people want to make changes.
Perhaps, you want new cabinets with different styles and finishes. Or you want a large bathtub in your bathroom.
The changes you make can be as minor as fixing new showers or as extensive as increasing the size of a room. Whatever changes you want, make them before moving in to avoid inconveniences.
5. Add Storage Closets
If you have a small space, consider reorganizing your storage closet. For instance, you can add extra shelves in your pantry to help you store more items.
Similarly, having additional shelves in your bedroom can help declutter the room. You should have sufficient space for shoes and other things you want to store. Assuming you have a wooden clothing rod, you can replace it with aluminum.
6. Electrical Upgrades
A brand new house may not need electrical upgrades, but an older one might need improvements. Electrical systems change over the years. Older homes are usually underpowered, relying on 60amp to 100amp, while new houses have 200amp.
The underground cables deteriorate over time. If some circuits have no insulation, they could be dangerous. New houses use modern circuit breakers rather than fuses.
If you don't upgrade an old electrical system, you may experience frequent electrical problems.
In addition to the upgrades, you may need to install extra sockets in the house. The current power outlets may not fit your desired home arrangement. Plus, nowadays, people have many electronic devices that need to use power.
7. Replace the Floor
It's not a must to replace the floor if it's in good condition. But if you're moving to a place prone to water damage, such as Tampa, a wooden floor may have problems.
Water can weaken the wood and ruin its condition. Furthermore, pests like termites and ants can cause damage to the floor. If you notice any damage, you should consider fixing the issue.
Sometimes, you can change the floor if you don't like its appearance. Maybe you want more colorful tiles or a different type of wood. Whatever the case, it's better to make the changes before bringing in household items.
8. Check For Pest
Florida has a conducive climate for pests like ants, fleas, cockroaches, spiders, and termites. Check for signs of pest infestation.
Often, you may not see any signs on the surface since most pests are experts at hiding. So you might need professional assistance to assess and exterminate them.
If your house is free from pests, you'll still need frequent checkups if you live in an area where pests are common. It's also better to prevent an infestation instead of waiting for one to arise.
Here, you can opt for chemical barriers to protect your homestead from pests that may be moving from your neighbors.
9. Install Fencing
If you have young kids and pets, a fence surrounding your home can prove helpful. If the house doesn't have any fencing, build one to keep your pets within your space.
But if there's already a fence, you can check for areas that may need repair to keep it intact.
A fence will also give you privacy and protect your compound from dogs that go astray. Your pool and anything else you keep outside the house will also be safe.
10. Replace Popcorn Ceiling
A popcorn ceiling is a textured spray that people use to cover defects in the ceiling. Though it can help with acoustics, it doesn't give an appealing look. Plus, it can release harmful asbestos when disturbed.
Most old homes have popcorn ceilings. If yours does, you may consider removing it. You can opt to repaint your ceiling or replace it with new material.
Make the Move
After making all the desired home improvements, you can move to the new house. Now, all you need is a reliable moving company to help you relocate.
North American Van Lines is a moving company you can trust to move your belongings safely to your new home. Call the team if you need to move anywhere within Tampa and across the country.
Once you settle in your new house, you'll feel much at home with everything customized to fit your needs. Best of all, you won't have to make additional renovations any time soon.