More often than not, you'll need a weed trimmer to keep your lawns neat and healthy. When you compare the best weed wackers, you'll find both straight- and curved-shaft models dominating the list. Which one is more ideal for your weed-trimming requirements?
A test run should eventually solve this problem. However, both trimmer types hold distinctive enough qualities to help you decide between them in the absence of a trial run. Today, we'll not only look at these distinctions, but we'll also find out how they fare against each other.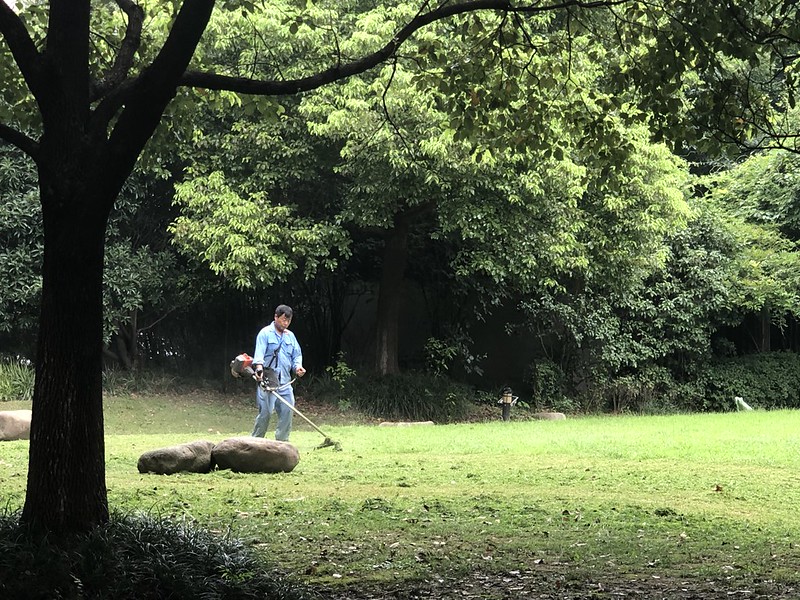 What Role Does the Shaft Play?
Before comparing trimmers based on shaft types, let's first go over the shaft's function. More than anything else, this part of the machine serves as its foundation. It doesn't matter if you have an electric, battery-powered, or gas trimmer because the shaft is what holds all its parts together.
At its top-end, you'll find the handle and throttle; the spinning string-holder is on the other end.
That said, the shaft's contribution isn't limited to external factors; it also impacts the interior of the trimmer via its hollow inside. The hollow pole is where the machine's cords and wires run through. Depending on the trimmer's shaft type, the electric work takes different forms.
On a straight shaft, wire placement is straightforward, running from head to handle without any bends or turns. In comparison, wire bundles follow a bent path inside a curved shaft, making them susceptible to flexing when in use.
Constant bending over time can reduce the electric work's durability and make it prone to breakage.
Shaft shape also impacts balance because the length of the extension can contribute to physical fatigue. As such, you may argue that straight-shaft trimmers take more of a toll on the body without additional grip or balancing support.
It also follows that curved trimmers provide more equilibrium and can be carried for long hours without stressing the user out.
---
Read Also:
---
Comparing the Key Features
Shaft shape can influence a weed trimmer in different ways, so consider each before making a decision. When comparing straight- and curved-shaft trimmer models, it's crucial to focus on the few key features brought on by the shaft difference.
Weight
The trimmer's weight affects its balance. Together, these two will considerably influence how effective a trimmer is to a particular user. In gas, battery-powered, and electric forms, curved machines are typically lighter than straight ones.
On the other hand, straight models tend to be heavier because of their extended lengths. It is here where balance plays a part.
Due to one type's tendency to be heavier than the other, you might choose to go for the lighter option. True enough, curved-shaft trimmers hold the edge if it only comes down to weight and balance. They are shorter and lighter and, therefore, better for beginners.
Their closer-to-CenterPoint handle positioning also makes them easier to carry during an extended trimming session.
If the straight-shaft one ends up the victor after upon weighing the pros and cons of several units, make sure it can provide extra support for its additional weight load and lack of balance. In most models, this tends to come via a harness strapped over the shoulders or an adjustable handle.
Mobility
Mobility is yet another feature influenced by shaft shape. It gives you an idea of a weed trimmer's performance in specific areas. Mobility ties into weight and balance, so you might say the curved shaft also edges ahead in this department.
When a machine is balanced just right and isn't too heavy, it should be easier to carry and maneuver around structures in the area you're working on. Thus, you won't have to worry about shredding your beautiful blooms or damaging landscape structures you worked too hard to create.
That said, a straight-shaft trimmer offers a different kind of maneuverability. It allows you to reach extended lengths without over-exerting. Users might find this beneficial when trimming beneath a patio or along a brush line's length.
A trimmer won't demonstrate both types of mobility, and there's no cause for concern in that. You simply need to assess which kind aligns with your weed-whacking needs more.
Core Power
In most popular brands, power is mostly associated with the gearbox found in straight trimmers. It is also why these devices are the go-to for commercial applications. Their practical power just far exceeds that of most curved trimmers.
That said, the curved model compensates for this lack of force and torque with its superior balance.
So, Will It Be the Straight or Curved Weed Wacker?
Characteristics brought on by the shaft shape ensure that the straight and curved string trimmers will be majorly different. They will each be suited for a particular type of use more than the other.
Hence, you want to consider the ways you go about trimming weeds before selecting a machine. Each device has pros and cons independent of the other. So, as long as you choose the one whose qualities benefit you most, you should end up with the right choice.