It is said that the way to the heart is through the stomach. If it is true, then it is necessary to keep the stomach happy. However, in order to achieve this, you need to have a nice kitchen where you can experiment and prepare delicious meals to satisfy your needs.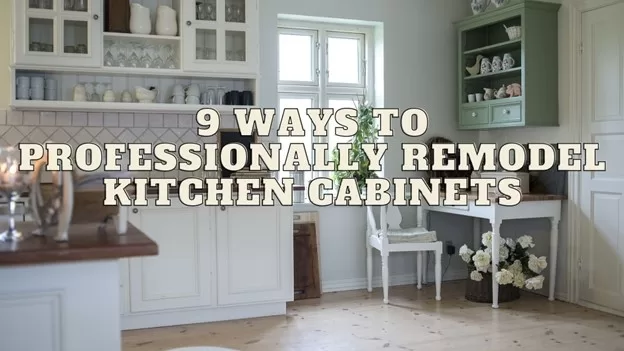 The kitchen is the heart of the home and needs special care from every homeowner. It is part of the home where we spend most of our time. Hence, it is of utmost importance to take great care of it.
When looking for a house, the kitchen design can make or break the deal. So, there is no speck of doubt that our kitchen needs remodeling too. And we admit that there are ample choices that confuse people from modern to contemporary styles.
Moreover, some people make common mistakes when remodeling their kitchens. However, you can avoid them with a little extra effort. However, one of the most important parts of the kitchen is our cabinets, and they need your special attention.
In this post, we are going to start with the basic kitchen designs and discuss how you can achieve this look to make things easier for you. Without any further ado, let us start this journey.
1.  Give Removable Wallpaper a Try
If you need something new, then why not go for removable wallpaper? It does not matter what type of style your kitchen is and what vibe you are going for. You can simply add wallpapers that suit your kitchen design.
If you are going for a bright style, opt for yellow, green, and orange colors. These colors give your kitchen a bright and refreshing look. On the other hand, colors like blue, gray, and brown will add sophistication and glamor to your kitchen cabinets. It is up to you to experiment and see for yourself what suits you the best.
2.  Go For an All-White Wooden Design
Do you want your kitchen to stand out and look chic? It is the best choice to go for the white wooden design of the cabinets. In this context, a Valleywood cabinet is an interesting option. You can use a dark wooden floor to make it more stylish and modern. White is the color that will make your kitchen's overall vibe.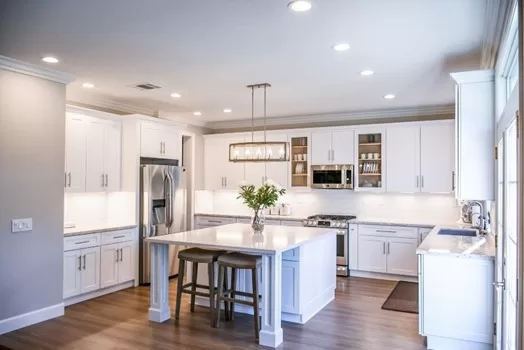 Starting with neutral walls is the best approach to achieving a wood-and-white effect. Most of your space, including your furnishings, should be white or off-white. This will allow you to start with a neutral palette and then add your wood decor to soften the space. One of the most favorite things about wood and white is that it's both formal and relaxed.
---
Read Also:
---
3.  Open-Door Cabinets
Interested in open shelves but unwilling to remove your cabinets? Alternatively, consider eliminating a few cabinet doors. This will enhance the look of your kitchen. However, you may also be able to use tableware, glasses, and other lovely cooking things as decor pieces to give your kitchen a light, open feel. Moreover, open kitchen shelves are trendy and give you the impression that there is a lot of space available.
4.  Good Cabinet Lights
Lighting is an important part of the home. From the living room to the drawing room and from the bedroom to the kitchen, every room should have good lighting.
Good lighting always enhances the look of your home. However, cabinetry lights are a wonderful option to enhance the look of your kitchen. This installation is simple, but we recommend hiring professionals to do this job for you.
Yellow lights would be the best option if you are going for all-white cabinets. This would add a dramatic touch to your kitchen and is a great way to uplift the mood. Pay attention to the impact that even modest under-cabinet lighting setups may have on the kitchen.
5.  Add Chicken Wire Instead of Doors
Your kitchen will look amazing if you can incorporate your personality into it. One fun way of doing it is adding chicken wire instead of cabinet doors. It gives your kitchen a traditional and creative look.
You can find chicken wires in a lot of colors. This step will lighten your kitchen and will add tons of space to it. This idea got famous thanks to the blogger Amy Gregson, and we cannot deny that it is simply a lovely kitchen design.
6.  Opting for Glass Cabinet Doors
You can remove the middle panel of your cabinets and add glass for a more aesthetic look. It does not matter if the glass is simple or not. It is a great addition to your kitchen.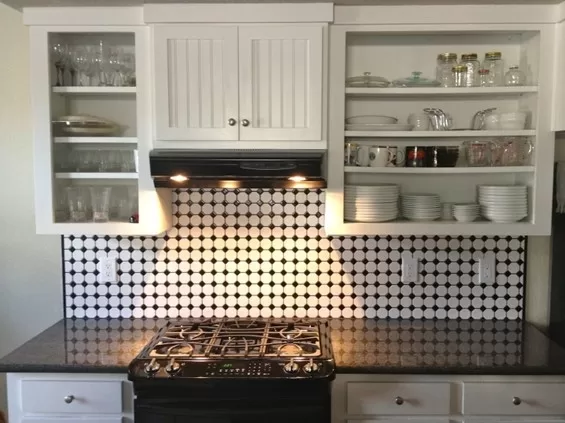 The glass will complement the cabinets that have dark colors and will give a majestic vibe. One tip you should keep in mind is to open up only those cabinets you want to display. It will not give a good impression if the cabinets are stuffed with things.
7.  Different Colors of Upper and Lower Cabinet
By changing the color of the top and bottom cabinets, you can beautify your kitchen and create a striking color contrast. This is a great approach to modernizing a white kitchen without overextending yourself.
This fashionable method usually looks best with white or any other basic color on top and a dark, melancholy color on the bottom. It creates great symmetry, and people will definitely love your kitchen.
8.  Play With Patterns
Use disposable wallpaper to line the edges of cabinets to give customized cabinetry a whole new definition. Simple drawers can be elegantly enhanced with subtle patterns or with a stunning, striking design.
If this seems too much for you, then try it on a few cabinets, and it will create symmetry in your kitchen. These patterns look great on light-colored drawers. Striped and geometric patterns are the most popular choice and look great and modern.
9.  Add Cabinet Crown Molding
Crown molding screams that you have a good budget for your kitchen. This design reeks of elegance and gives your kitchen a chic design. Your kitchen storage takes on a smooth style thanks to the trim. You can also color contrast or just go with the same color. There are endless options for you to try. But let me tell you one thing it can get on the expensive little side.
Final Words
If you dislike the design of your kitchen or find it difficult to live in, you should definitely consider a kitchen redesign that meets your style and demands. These nine stages will greatly assist you in creating the kitchen of your dreams.
As previously stated, the kitchen is where you spend your time and prepare your meals to nourish yourself and your family. As a result, having a kitchen that suits your needs and style is essential. Cabinets are no doubt the focal point of the kitchen design. In order for the kitchen to look great, we all need to keep our attention on how we can remodel the cabinets to get the best results.
Moreover, kitchen remodeling is a time-consuming task, but it is worthwhile. Make sure that you contact experts because they make your task easier and allow you to stay within your budget. Their skilled advice will also be extremely beneficial to you.