Most of us have experienced a stuffy nose or that blocked feeling at some point in our lives. It can be annoying and uncomfortable, and it can often interfere with our daily activities. But what causes a stuffy nose?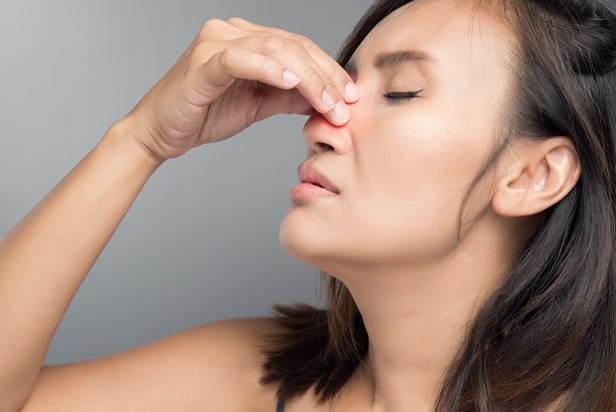 In this blog post, we'll explore the various causes of stuffy noses, along with some tips to help relieve them. From allergies to colds and more, read on to learn more about what could be causing your blocked-up sinuses and how you can manage them better.
Upper Respiratory Infection
The upper respiratory is one of the major reasons of a stuffy nose. An upper respiratory infection (URI) is an infection of the nose, throat, sinuses, or voice box. The most common cause of a URI is a virus, such as the common cold or influenza.
Other causes include bacteria, allergies, and environmental irritants. Symptoms of a URI can include a runny nose, sneezing, sore throat, cough, and fever. Most URIs clear up on their own within a week or two, but some may require treatment with antibiotics or other medications.
You should see your doctor if you are having symptoms of a URI for more than two weeks, if you have a fever higher than 101°F (38.3°C), or if you are having difficulty breathing. Your doctor can diagnose the cause of your URI and recommend the appropriate treatment.
To help prevent the spread of URIs, it is important to practice good hygiene, such as washing your hands frequently and avoiding touching your face. It is also important to get adequate rest and stay hydrated by drinking plenty of fluids. If you are experiencing symptoms of a URI, contact your doctor for proper treatment and advice.
Sinusitis
Sinusitis is an inflammation of the sinuses. It can be caused by a viral infection, such as a cold, or by an allergic reaction. Symptoms include a stuffy nose, headache, and pain in the face. Treatment involves clearing the sinuses and relieving the symptoms.
Medication may be used to reduce inflammation and pain, such as ibuprofen or decongestants. Allergies can be treated with antihistamines or steroid nasal sprays. In severe cases, a surgical procedure may be necessary to open blocked sinuses.
In some cases, a course of antibiotics may be prescribed. Over-the-counter medications such as decongestants, antihistamines, and pain relievers may also be used to reduce inflammation and relieve symptoms. In more severe cases, surgery may be necessary to remove blockages in the sinuses.
Nasal Polyps
When the mucous membranes that line your nose and sinuses become inflamed, they can swell and form excess tissue. This excess tissue is called a nasal polyp. Nasal polyps can range in size from very small to large enough to block your nasal passages.
Nasal polyps are usually not serious and can be treated with medications such as nasal sprays, antihistamines, or corticosteroids. Surgery may also be required if the polyps are large or if medications do not improve your symptoms.
Polyps are more common in adults, but children can get them too. They're usually not serious, but they can cause discomfort and interfere with your breathing. Polyps are more likely to occur if you have allergies, asthma, or a deviated septum.
Treatment for nasal polyps depends on their size and symptoms. Smaller polyps may not require any treatment, but larger ones may need to be surgically removed. Your doctor may also prescribe medications such as steroids or antibiotics to reduce inflammation and help shrink the polyps.
Allergies from Fabric
Allergies from fabric are usually caused by a reaction to the chemicals used in the manufacturing process. These chemicals can include dyes, fragrances, and finishes. The best way to avoid an allergy to fabric is to choose natural fibers like cotton or linen. You can also look for fabrics that are labeled "hypoallergenic" or "free of harmful chemicals."
If you have a known allergy, it's important to test a small swatch of fabric on your skin before purchasing it. If you do have an allergy to fabric, you may experience symptoms such as a rash, itching, or hives.
You may also experience breathing problems, especially during exercise. If you think you may have an allergy to fabric, contact your doctor. You can also use tencel fabric as your bedsheets. One advantage of using tencel fabric is that it is comfortable and less prone to allergies.
Conclusion
A stuffy nose can be a real nuisance. While the most common cause is the common cold or allergies, there are other triggers that you should be aware of. Sinus infections, air pollutants, and even certain medications can all contribute to congestion in your nasal passages.
Fortunately, there are treatments available to help alleviate your symptoms. Try using steam inhalation or saline sprays, and consider visiting a doctor if your symptoms do not improve over time. With these tips in mind, hopefully, you will soon find relief from that pesky stuffy nose!