In the ever-evolving world of interior design, trends come and go, but some principles stand the test of time. One such enduring trend that has gained significant momentum in recent years is minimalism.
Minimalism is not just a design aesthetic; it's a way of life, advocating simplicity, functionality, and a focus on the essentials.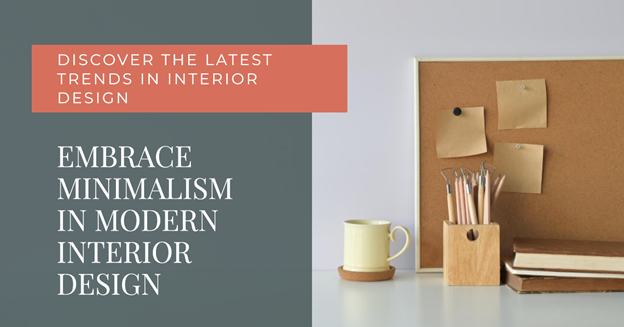 In this detailed exploration, we will delve into the profound influence of minimalism on modern interior design, showcasing how it has transformed spaces and captured the hearts of design enthusiasts worldwide.
The Essence of Minimalism:
Simplicity Redefined:
"At its core, minimalism celebrates the beauty of simplicity. It eschews excess and extravagance, focusing on clean lines, neutral color palettes, and uncluttered spaces.
In a minimalist interior, every element has a purpose, every piece of furniture or decor serves a function, eliminating the unnecessary and leaving only what is essential." Says Andrew Arthurs, CEO of Alpine Home Air
Functionality at its Core:
Minimalist design is synonymous with functionality. Furniture and decor items are not just ornaments; they are practical, serving multiple roles.
Tables may have hidden storage, sofas could transform into beds, and every inch of space is optimized for usability. This blend of form and function creates interiors that are not only aesthetically pleasing but also highly practical.
Embracing Minimalism in Different Spaces:
Minimalist Living Rooms:
"In the heart of a home, minimalist living rooms radiate tranquility. Neutral colors dominate, with perhaps a single statement piece of art or furniture serving as a focal point.
Space is maximized, and clutter is banished. Simple, comfortable seating arrangements and ample natural light create an inviting ambiance." Says Sol Kruk, Owner of  Property Inspection Pros
Minimalist Bedrooms:
Minimalist bedrooms are serene sanctuaries, free from distractions. Beds are often low-profile with clean, straight lines. Bedding and furnishings follow a muted color palette, promoting relaxation. Bedrooms are uncluttered, promoting restful sleep and a sense of calm.
Minimalist Kitchens:
In minimalist kitchens, functionality reigns supreme. Storage solutions are sleek and hidden, appliances blend seamlessly into cabinets, and countertops remain clear.
The focus is on high-quality materials and efficient layouts, creating a space where cooking becomes a joyful, clutter-free experience.
The Influence of Minimalism Beyond Interiors:
Sustainable Living:
---
Read Also :
---
"Minimalism promotes sustainability. Encouraging conscious consumption and discouraging unnecessary waste, aligns with eco-friendly practices. Quality takes precedence over quantity, leading to investments in timeless, durable pieces.
This shift towards sustainable living extends beyond interiors, impacting lifestyle choices and consumption habits." Says Mike Johnson, CMO of Great Homeschool Conventions
Mindful Well-being:
A minimalist environment fosters mindful well-being. With fewer distractions and less visual noise, individuals find space to focus, relax, and connect with their surroundings. This mindful approach to living enhances mental clarity, reduces stress, and cultivates a sense of contentment.
Incorporating Minimalism: A Timeless Choice:
Curating a Minimalist Space:
"To incorporate minimalism into your space, begin by decluttering. Assess your belongings and keep only what adds value or joy to your life.
Opt for simple, functional furniture, and use storage solutions to keep items out of sight. Embrace a neutral color scheme with occasional pops of muted tones for visual interest." Says David Floyd, founder of The Pest Informer
Balancing Minimalism with Personal Touches:
"While minimalism celebrates simplicity, it doesn't mean your space has to lack personality. Introduce warmth and character with carefully curated decor items.
A single artwork, a well-chosen indoor plant, or a textured rug can add depth to a minimalist space, infusing it with your unique style." Says Gus Smith, Marketing & Service Coordinator at Doors Plus
Conclusion: Embracing the Timeless Elegance of Minimalism:
In a world often cluttered with excess, minimalism stands as a beacon of tranquility and sophistication. Its impact on modern interior design goes beyond aesthetics; it transforms spaces into havens of simplicity and purpose.
By embracing minimalism, we not only create visually appealing interiors but also cultivate a mindful way of living, emphasizing what truly matters. In the pursuit of embracing the timeless elegance of minimalism, we find not just a design choice but a lifestyle that transcends trends and resonates with the essence of modern living.