The kitchen is one of the areas in the houses that needs a lot of attention. And in contemporary apartments featuring open living plans, the kitchen can easily turn into a social spot.
But not everybody is blessed with big kitchen spaces. This is especially true in the case of apartments in urban areas where kitchens are small and constricted.
However, that does not mean you can just overlook the kitchen. No matter space, the kitchen remains the heart of the house and needs proper attention.
Here we are suggesting some beautiful and minimalistic kitchen ideas that will help amp up your kitchen.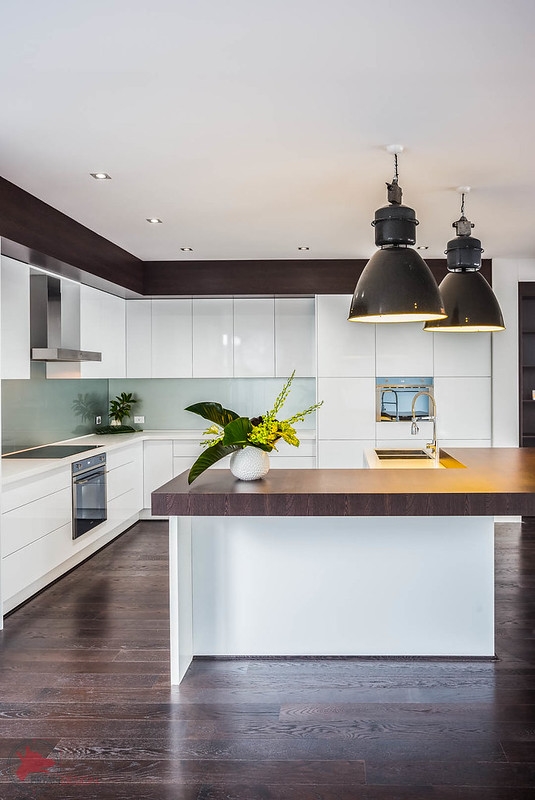 1. Cover The Worn-Out Countertops
Countertops are a necessary element of the kitchen and not just for functional purposes. It is a critical aspect of the overall décor of the kitchen.
Now we all aim to install exquisite countertop materials like Caesarstone countertops to create a luxury design.
But for that, you need to invest a good amount of money. And if you lack the budget for a countertop renovation, there is an easy way around it.
The idea is to cover the ugly, old countertop to make it appear new and proper. And there are so many beautiful ways to give your old countertop a new look without taking it out completely.
All you need is contact paper, and you can transform your old countertop and make it look luxurious.
Do a bit of research, and you will find so many great design options that will suit your existing décor.
2. Add a Pop of Color
People have been restricting the innovation of tiny kitchen décor by using just a single color.
Of course, if you use more than three colors in a small space, it will not look good. But you can still fashionably add at least two colors.
Try adding accents to complement it with lighting fixtures—adding a pop of color to your neutral backdrop will give a distinctive character to your space.
Adding colors like pastel-pink, grayish, blue, mellow yellow, etc., will make your kitchen look delightful.
---
Read Also:
---
3. Create an Open Space
Loft levels within small apartments are very common, and you will come across mezzanine-styled levels.
And this is where you can find a modular kitchen that saves a lot of space. This style utilizes the vertical potential of the kitchen to the maximum.
Additionally, it also creates open and social living areas, innovatively utilizing the walls and corners. With all the open space, you will have a more spacious apartment.
4. Greenery is Always Great
Adding greeneries to your house is a great way to amplify the overall looks of the space. If you are looking to add a fresh look to your kitchen, this is a trend that you should follow.
You can add some easy-to-care plants into the free spaces. Free corners of the countertop are a great place to add small plants.
Moreover, windows are also an excellent choice to include green elements in your kitchen.
Another way to add greener and save space is including hanging baskets of climbing plants.
No matter the décor, adding greenery can be a great way to boost the kitchen's overall look.
Some easy to care indoor plants include spider plants, pothos, Chinese Evergreen, coffee Arabica, etc. Additionally, you can also grow fresh herbs like basil, thyme, rosemary, etc.
5. Save Space with White
White and monochromatic kitchens are perfect for homeowners who wish to create a beautiful kitchen in a limited space.
And all-white is a style that works in a plethora of styles. You can either go for minimal and sleek or industrial; the design looks amazing.
This design allows you to play with materials of countertops, backsplash, and cabinets. You can use your creative approach to add your distinctive style to the kitchen.
6. Change The Floor Rugs
When you are living in a rental apartment, you might not be able to change the kitchen's flooring. However, that nowhere means that there is no scope of improvements there.
Simply adding a beautiful rug will completely change the flooring of your kitchen.
Moreover, it is also a great way to cover any cuts and scratches on your flooring. And the rug will add cushioning when you have to prepare a big meal for your family.
Go for a piece that complements your furniture and flooring. For instance, if your kitchen décor or cabinetry features vibrant colors, you should go for a neutral rug.
It will create a nice balance between the different shades and bring the whole décor together.
Additionally, go for a rug that is easy to clean. Considering that this is an area where you will witness many movements, easy-to-maintain kitchen cabinets will be ideal.
7. Create Depth with Darker Elements
Black and gray are colors that owners of smaller apartments generally stay away from. But if you manage to use these shades right, you will get a stunningly beautiful kitchen.
These shades are unique and sophisticated; you need to know where and how much to add.
You can go for dark chalkboard walls that will be elegant and functional. Moreover, dark countertops complimented with shelving and fixtures can bring the overall look of the kitchen together.
An all-black kitchen with minimalism as the key can be the highlight of your small apartment, so do not shy away from it.
8. Single Wall for Simplicity and Style
There are so many reasons to love single-wall kitchens. The high convenience that the design offers is one of the primary reasons.
They work great for small spaces, especially if you do not have corners to create an L-shaped kitchen.
You will not miss the island with all the storage units and appliances positioned in a single wall.
This will add more space for you to move around and add functional and decorative elements.
The Bottom Line
There you have it, some amazing ways to transform your urban kitchen and make it look uber-stylish.
Irrespective of the space, there is always scope for creativity and innovation in your décor.