An outdoor space, deck, or patio around your home tells visitors about you and your personality.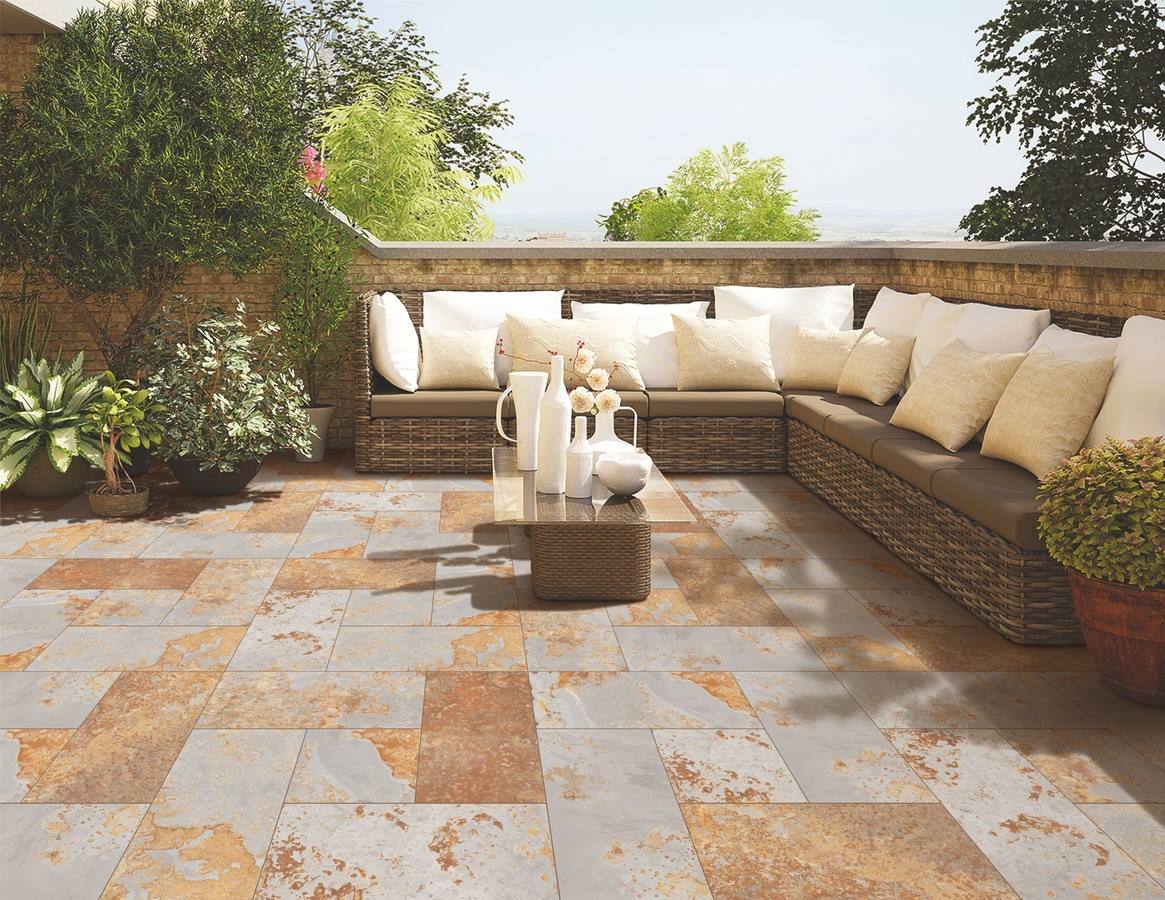 The walls, flooring, and other art pieces in the outdoor space are a backdrop to what is inside your home. This is why you must ensure that your outdoor space is beautifully designed. Below are some outdoor flooring designs that you can consider for your homes.
1.  Poured Concrete Flooring Design
This is a durable and affordable outdoor flooring option. Unlike pavers, concrete pouring is laid out in long slabs. You can also add a pattern before its cures. These are called stamped concrete. It gives your outdoor space a unique and stunning look.
As time goes on poured concrete slabs might crack or buckle and it can be a chore to maintain them. However, they are less expensive than concrete pavers.
2.  Porcelain Flooring Design
This design gives your patio a modern look. Porcelain is very durable as it is fired at more than 1200º C. For installation, it isn't as heavy as brick, concrete, or stone. But it can be quite difficult to cut when you don't use professional equipment.
Those who need a high-end flooring option can opt for porcelain. But you should note that it isn't the cheapest flooring option available. Concrete outdoors can help you save money.
---
Read Also:
---
3.  Composite Wood Decking
This is a very reliable outdoor flooring option. Apart from being easy to clean, it is eco-friendly, weather resistant, and durable. But, sometimes, composite materials get bad reputations because they aren't the real thing.
However, since they are durable and need low maintenance, they have drawn the attention of many homeowners. Also, with composite deck tiles, the outdoor flooring will be easy to install.
4.  Ceramic
As an alternative to porcelain, ceramic flooring is less durable but more affordable. Ceramic outdoor flooring is also made from less refined material when compared to porcelain. It is not as dense but more porous. Because it is not very dense, it is quite easy to cut.
This has made it a popular choice among DIY homeowners. However, it is also not very durable. When choosing between ceramic and porcelain for your outdoor flooring, you should consider your budget and your preferences.
5.  Traditional Wood Decking
This ranks among the less expensive outdoor wood flooring options. But this depends on the type of wood you choose. Pine is very inexpensive, but you can choose from the many wood decking materials available. Though cedar is more expensive, it is popular and durable.
If you love natural wood, then you can choose this option. But you need to be aware that traditional wood decking needs more maintenance than composite decking.
Wrapping up
Outdoor flooring can be of assistance in beautifying your home and also bringing attention. Outdoor flooring ensures that you walk with confidence and enthusiasm while your neighbors and friends envy your stunning outdoor space.
Stunning outdoor flooring designs will increase your home's value and also make you proud of your home. You can choose from the several outdoor flooring styles and designs mentioned above to decorate your outdoor space which will also attract positive vibes.