You have probably come across these phrases several times in your lifetime; recycle, reuse, reduce and save the planet. All these are steps towards environmental conservation, and using green building materials for your roofing and contracting plays a crucial role in that.
Going green does not mean you compromise on quality; you can boost your home's comfortability and protect the health of your household, all while saving a significant amount of money.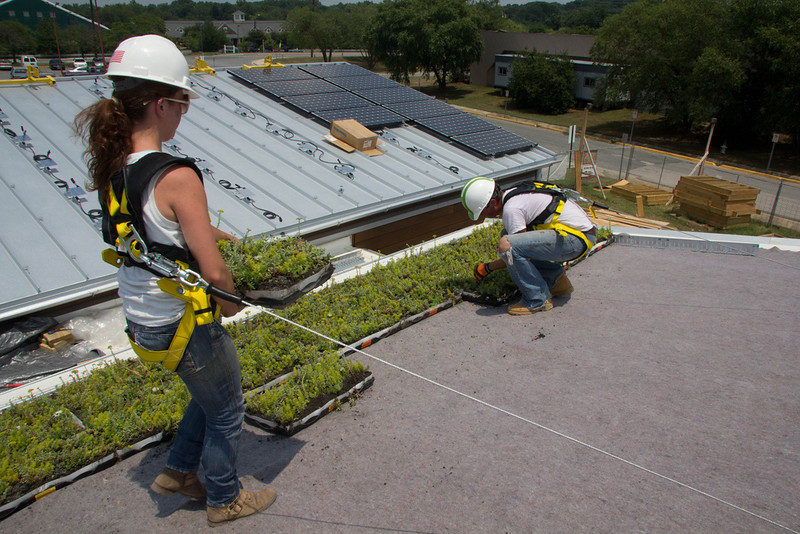 If you are looking to go green on your upcoming construction project, look to Contractors In Roofing & Waterproofing for the best options on the market. In this article, we have discussed three benefits of going green in contracting and roofing.
Environmental Benefits
Our building operations, materials, and methods mostly impact the environment negatively. For instance, roofing shingles and other construction waste sometimes end up in landfills, and they can harm the quality of water and air.
The process involved in manufacturing building materials such as steel, concrete, and aluminum contributes to excess carbon dioxide emissions. Contractors can be responsible by choosing to build green, protecting, and enhancing biodiversity and ecosystems.
Achieving this is as straightforward as using recyclable materials in all possible components of construction, including shingles.
Regarding installation, it is crucial to carefully read all manufacturers' recommendations for a product before you begin to install it. Some installation techniques lead to wastage or damage, creating excess construction waste that is no good for our environment.
There are several reputable and sustainable manufacturers who recycle the internal waste created while manufacturing construction materials. Most of that waste is made into new asphalt products, mostly used in road construction.
---
Read Also:
---
Moreover, these companies are always coming up with new solutions, systems, and products to enhance energy efficiency and reduce the carbon footprint from contracting.
For instance, some roofing materials are manufactured with solar-reflective surfaces that reduce energy consumption and carbon dioxide emissions. Suppose you are looking to advance our communities and the world.
n that case, it is essential that you partner with a manufacturer who practices sustainability and believes in "going green" in contracting and roofing.
Also, the most effective way to determine if a roofing or contracting business is "green" is checking if they participate in the LEED (Leadership in Energy and Environment Design) rating system.
Such businesses use sustainable ways to help their communities thrive while protecting their health and the environment. These sustainable practices include pollution prevention measures for safe and correct pollutant discharge, soil stabilization, and sediment and erosion control.
Health Benefits
Green construction materials boost the acoustic and thermal quality of your home and improve the air quality. Your HVAC systems will not be overworked with a stable indoor temperature, so they are more likely to serve you for longer.
Also, sustainable contractors use more natural lighting and incorporate timers, dimmers, and task lighting to better control lighting in a building. This helps conserve energy and reduces the strain on your eyes caused by poor lighting. Generally, you can expect a significantly higher level of health and comfort.
Economic Benefits
You may have to be a little more patient to witness how green roofing and contracting can pay off economically. That is because many green materials and their installations may cost more at first.
However, your home's appraisal value will increase because of these green materials, so if you plan on selling, you can expect a top-dollar return on your investment. Also, you won't have to pay as much for utility bills.
Most green construction materials are of impeccable quality. As such, they are bound to serve you longer and enhance a sustainable operational construction and design practice. Other economic benefits of green contracting include:
More job opportunities, the green building employs millions of Americans each year because, like every other occupation, it requires skilled and knowledgeable workers. As the drive for sustainability strengthens, more institutions, businesses, and individuals are likely to ask for sustainable solutions when it comes to construction.
Low operation costs for businesses, thanks to energy-saving construction practices and lower maintenance costs for utility systems.
A better economy was brought about by higher employment rates and increased national revenue.
Roofing and contracting as you know it today works, but it does so at the expense of your health, your wallet, and our environment. With green contracting materials, designs, and techniques, you can save money in the long run with energy efficiency, keep your family healthy with good air and water quality, conserve the environment and boost the economy.