Do you want to give a luxurious touch to your home without digging holes in your pocket? This is possible with metallic flooring or epoxy metallic coating.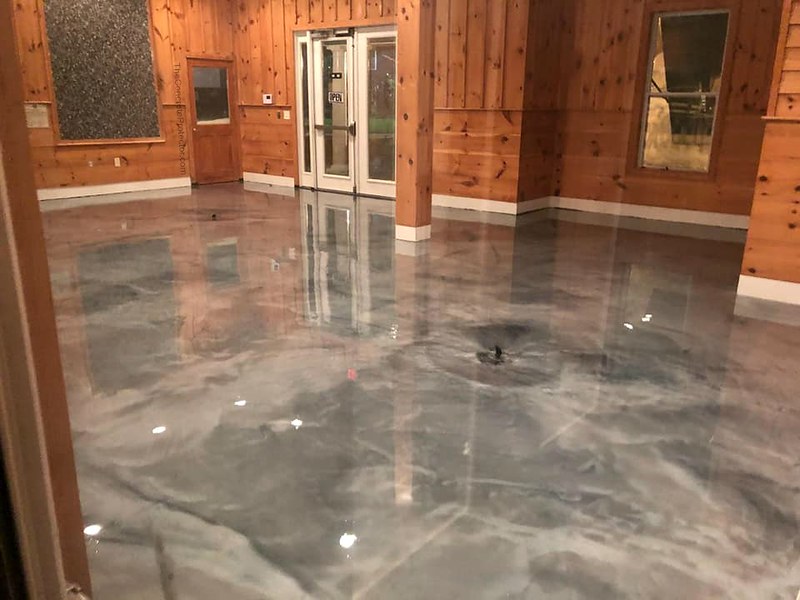 How to Install Metallic or Epoxy Flooring?
The process is a bit complicated and can be divided into the following stages:
1. Inspection and Repair
The first step in the process of installing metallic or epoxy flooring is the cleaning and inspecting the concrete for damage. It is necessary to fix any damage, such as cracks or chips, before continuing to the next step of the process.
The preferred method of professionals for repairing and preventing concrete fractures is to inject an epoxy filler. A concrete patch is often used to fill in large holes and fix chipped sections.
2. Preparing the Surface
In order to proceed with the installation, the following step is to prepare the surface. Floor grinders with diamond grinding wheels or shot blasting are two options for preparing concrete surfaces. To guarantee that the epoxy resin binds adequately to the concrete base, this needs to be done.
3. Pour Epoxy Resin
The epoxy resin can then be mixed after the surface has been primed. The metallic pigments are added to the resin while mixing to give the floor a shiny sheen. Once the epoxy has been poured and spread across the floor, you need specialized tools to finish the job.
You should keep pouring metallic epoxy layers on top of each other until the appropriate thickness is reached. Then finish with a clear epoxy topcoat. However, you can use different tools to make any designs you've desired before applying the topcoat. After that, apply a clear top coat to seal and protect the floor once you have completed the design.
4. Cure Time
Before you can begin using your new metallic epoxy floor, it will need to cure. At least 24 hours are required for 90% curing and 72 hours to cure 100% of metallic epoxy flooring on average.
As soon as the floor is 90% cured, you can walk on the ground. However, until it's completely cured, it's not safe for any kind of traffic, including vehicles. A metallic epoxy floor can be installed in one to two days, depending on the size of your floor and the complexity of the design.
---
Read Also:
---
Where Can You Install Metallic or Epoxy Flooring?
The versatility of metallic flooring or epoxy metallic coating makes it a great option for virtually any setting. This concrete coating can be used in any setting, from residential properties to commercial establishments. Listed here are some of the most common areas where metallic epoxy flooring is installed:
Garages
Metallic or epoxy flooring is an excellent solution for the floor of your garage at home. This concrete coating can give your garage a showroom sheen while giving all of the functional benefits of a long-lasting, durable floor that will last for decades.
Kitchens
Family meals are shared in the kitchen area, and stories are exchanged there as well! As a result, why not make it a pleasant environment to spend time in? Your kitchen can benefit from metallic flooring or epoxy coating.
Basements
Metallic epoxy can make your basement floor the ideal environment for a man cave or a simple spot to relax and unwind while being away from the hustle and bustle of the outside world.
Retail Stores
Adding a magnificent metallic epoxy floor to your shop space will give it the polished appearance it deserves! If you have a beautiful floor, your consumers will walk away with more than just a shopping cart full of goods.
Hotels
It's important to remember that the hotel foyer is the first place your guests will encounter. As a result, having a floor that creates a positive first impression is critical! When it comes to creating a hotel lobby that has the look of marble or granite, metallic epoxy is a wonderful material to use.
The Benefits of Metallic Flooring or Epoxy Metallic Coating
If you own a home or a business, metallic epoxy flooring or coating has a lot to offer! Metallic epoxy flooring provides many advantages, including greater durability and a distinctive aesthetic. The following are some of the advantages:
Appearance
The first and most obvious advantage of metallic epoxy flooring or coating is that it looks great! The appearance of these floor coverings is unmatched by any other type of flooring. There are so many patterns and colors to choose from according to your personal taste and preferences.
You may make gorgeous swirling patterns, designs that mirror nature, and even high-end material-like designs. This look is excellent for creating a unique room and is sure to impress your friends and family.
Durability
Metallic epoxy flooring or coating is the best option if you want a surface that is both gorgeous and durable. An impact, abrasion, and high foot and vehicle traffic are all things that this concrete covering may tolerate without suffering considerable damage or premature wear.
Resistance
Non-porous and smoothly installed metallic epoxy flooring may resist a variety of contaminants such as gasoline, grease, and oil, as well as water due to its non-porous nature. Stains and irreparable damage can be caused by these substances when conventional flooring systems absorb them. With metallic epoxy, you don't have to worry about cleaning up the mess!
Easy Maintenance
Traditional flooring systems generally necessitate expensive cleaning supplies and time-consuming care regimes to keep them in top condition. Metallic epoxy flooring, on the other hand, is low-maintenance and will save you hundreds of dollars and countless hours in the long run. Just sweep or dust daily, mop weekly with pH-neutral floor cleaner, and spot clean as needed.
The Verdict!
Epoxy flooring is long-lasting and visually appealing. However, the installation technique and floor prep must be flawless for the epoxy to attach and adhere to the concrete surface. Metallic epoxy installations are not for the faint-hearted because of the many variables.
The moisture of the floor must also be taken into consideration while applying the epoxy layer. It won't do well if the temperature drops below 50 degrees. It's impossible to replicate the beauty of a metallic floor finish. These can be difficult to install, but the benefits and results are worth your money and efforts.