Whether you're undertaking a DIY renovation project, hiring contractors, or simply moving furniture, protecting your floors from damage should be a top priority.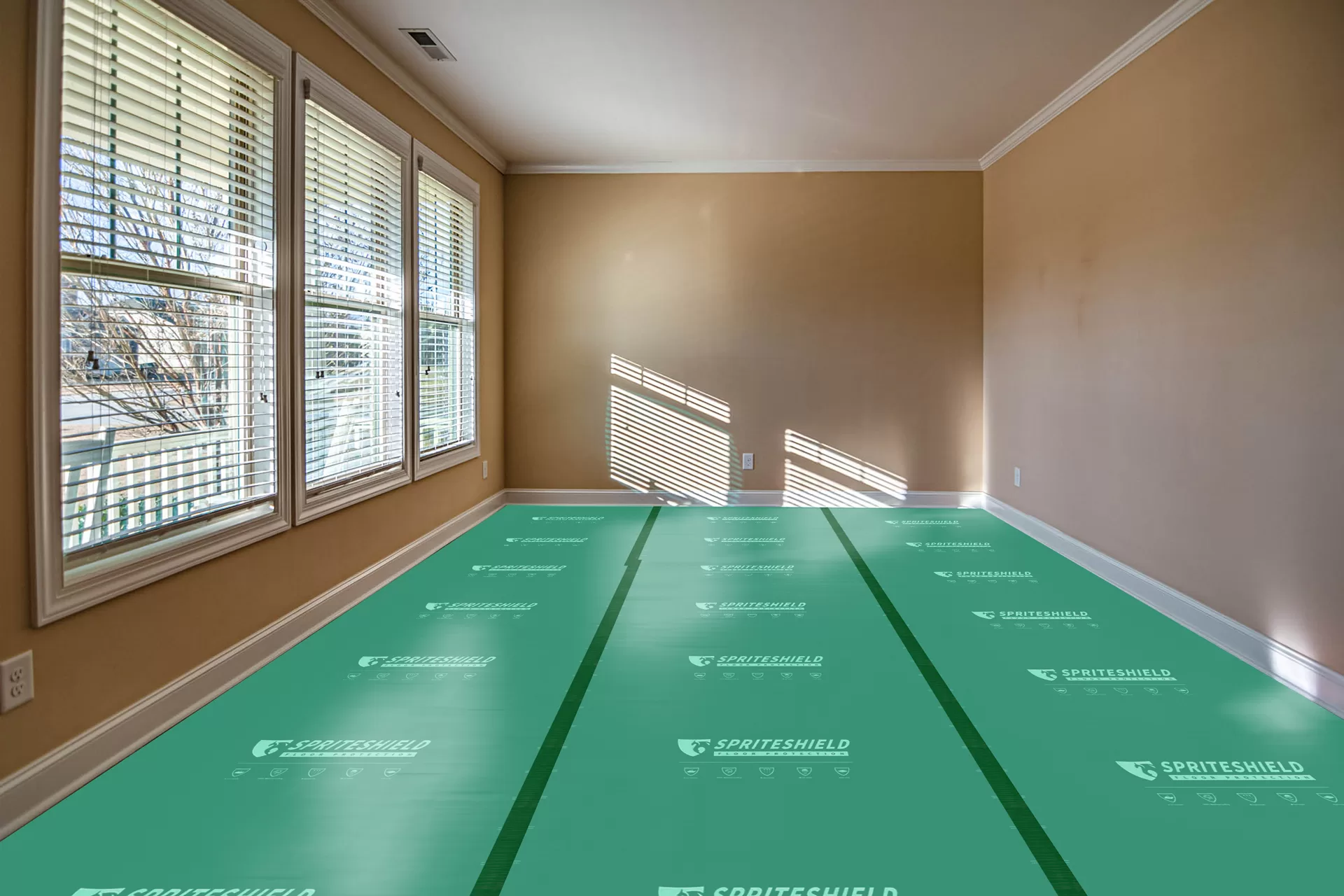 While there are many options for temporary floor protection, two of the most common are Ramboard and Spriteshield.
While both provide effective coverage during projects, they differ significantly in cost.
Choosing the right product depends on your flooring material, project needs, and budget.
1 on 1 Comparison Between Ramboard and Spriteshield
While Ramboard offers extremely durable protection for floors, Spriteshield film provides a similar level of functioning for most renovation projects – at a fraction of the cost.
In Many Cases, Spriteshield
Covers floors adequately: When sealed at edges with tape, Spriteshield forms an effective barrier over all floor types during painting, floor sanding, demolition, and other moderate tasks.
Lasts for the duration of projects: While not as durable, properly installed Spriteshield can typically withstand light to moderate traffic and wet work for the weeks that most renovations require.
Protects higher-end floors: When fully taped at seams, Spriteshield polyethylene film can shield hardwood, tile, and laminate from scratches, dents, and damage as effectively as Ramboard for the length of a typical project.
In Other Words, Spriteshield Functions Like a "Budget Ramboard" by
Covering exposed floors during renovations
Forming a protective barrier to contain dust and debris
Shielding floors from light to moderate wear and residue
Allowing projects to be completed without floor damage
The key difference is cost. Spriteshield film costs a fraction of Ramboard for an equivalent coverage area.
So while Ramboard lasts longer and withstands heavier use, Spriteshield functions similarly for how long most projects require protection.
Installing and Maintaining Floor Protectors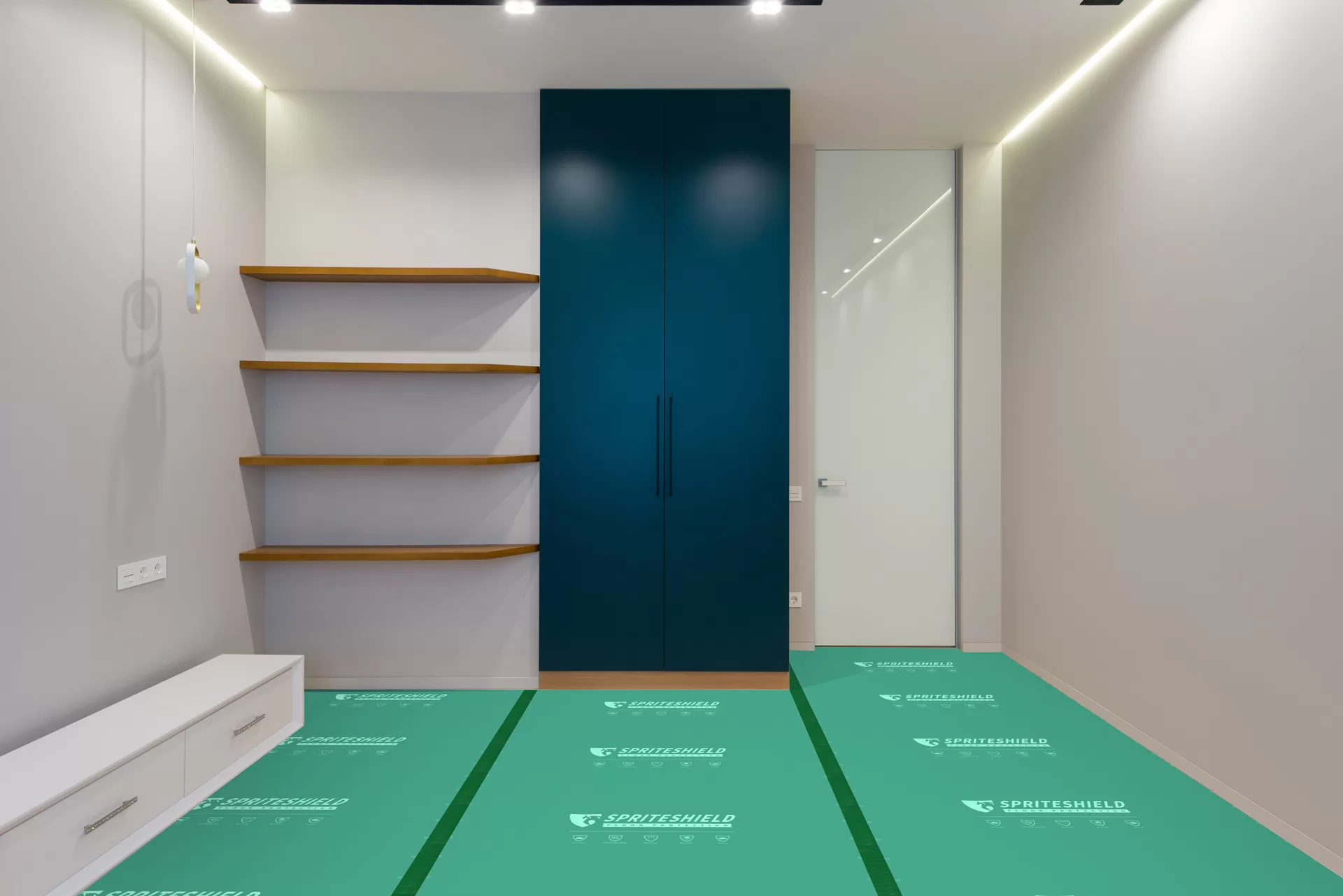 Proper installation and maintenance of either floor protector help maximize their effectiveness for your specific project.
---
---
For Spriteshield
Seal all edges tightly with duct tape. This forms a complete barrier against dust.
Replace torn sections promptly. Even small tears allow debris to reach floors.
Remove carefully using a utility knife to avoid residue.
Re-apply tape to edges periodically as the adhesive wears.
These steps can double the lifespan of Spriteshield from just weeks to several months for moderate-duty projects.
For Ramboard
Ensure sheets fit tightly together with no gaps. Even 1/8″ openings allow debris through.
Secure cut edges that could flap and cause damage.
Vacuum dust from below sheets regularly.
Store leftover Ramboard flat for future use.
With proper care, a single Ramboard installation can cover floors for multiple projects over 1-2 years.
Simple actions like sealing edges, replacing worn sections, and removing carefully extend the functionality of inexpensive Spriteshield for how long shorter projects require protection.
Meanwhile, a tight flush fit and regular cleaning maximize Ramboard's durability for long-term renovations.
Overall, properly installing and maintaining whichever floor protector you choose helps you maximize its effectiveness based on balancing your specific project demands and budget.
When to Choose Spriteshield Over Ramboard
For Most Renovations and Projects That
Last weeks instead of months
Involve light to moderate equipment and traffic
Do not require maximum durability for sensitive floors
Then practical inexpensive Spriteshield film will often function adequately for how long most jobs actually demand temporary floor covering.
With Proper Installation and Maintenance, a Sealed Spriteshield Covering Can
Cover exposed floors for the duration of the project
Shield floors from typical dust, debris, and light wear
Allow jobs like painting, floor sanding, and remodeling to proceed without causing damage
Essentially, Spriteshield works well enough for how long shorter projects typically require protection – though at a tiny fraction of Ramboard's cost.
The Affordable Price Point of Spriteshield Often Makes It a Sensible Option for
Budget-conscious customers
DIY renovatorsUnless your project will:
Last multiple months
Put floors under continuous heavy use
Strictly require maximum durability for expensive flooring
Then Consider Upgrading to Resilient Ramboard for Its
Superior resilience through prolonged heavy duty
Ability to withstand months of continued wear and debris
The precision-tailored installation provides a seamless finished look
But for typical jobs demanding temporary floor covering for only weeks, properly installed and maintained Spriteshield film will often shield floors equally well while costing significantly less – making it the ideal budget option for most light-duty projects.
Key Factors to Consider
Balancing a few key factors will help determine whether inexpensive practical Spriteshield film provides adequate value for your specific project – or if resilient expensive Ramboard becomes worth the higher cost:
Project Length
For renovations lasting weeks, Spriteshield usually works well enough given its minimal protection needs. But for jobs extending months, Ramboard's superior durability may be worth the price for prolonged heavy usage.
Flooring Material
Ramboard better covers delicate flooring strictly requiring ultimate resilience. But Spriteshield can shield standard flooring equally well for shorter durations.
Activity Levels
Light equipment/foot traffic favors budget Spriteshield. But heavy/continuous usage benefits from Ramboard's rugged design.
Budget
If funds allow Ramboard's tailored protection and enhanced durability may be worth the cost for long-term projects. But Spriteshield saves money for typical weeks-long renovations.
Proper Installation/Maintenance
With care, both products can provide adequate protection matched to how long floors truly need covering – though at very different price points.
Ultimately, the Right Choice Depends on Whether Inexpensive Practical Spriteshield
Functions well enough given the minimal protection needs of shorter projects
Shields floors equally for how long functionality is actually required
Or Resilient Expensive Ramboard
Becomes worth paying more for given the superior durability demands of prolonged heavy usage
Justifies higher costs due to the benefits of its tailored protection and durability over months
Considering these key factors will reveal which temporary floor protector provides the best balance of features, lifespan, and value for covering floors through your specific project.
Conclusion
For most light-duty projects lasting weeks, properly installed Spriteshield film typically shields floors equally well at a small fraction of Ramboard's expense.
But for renovations extending months under heavy use, resilient expensive Ramboard often becomes worth the investment for protecting even higher-end flooring through prolonged wear and debris.
The right choice depends on matching product lifespan with how long adequate protection is realistically demanded – without spending more than necessary to achieve that coverage.
With proper maintenance and installation, floor protectors have the potential to function equally – though at drastically different price points aligned with how long they are actually needed to shield floors through your specific project.