What is a Wiping Stain Anyway? Compared to a penetrating stain, they are more like a gel stain in that they are heavier-bodied stains that don't need to penetrate into the wood to tone the wood to the desired shade.
Because they don't penetrate so much, they are not as prone to suction spotting and dark blotching. They also can be used over the top of previously finished wood to tone the wood color.
Old Masters Wiping Stain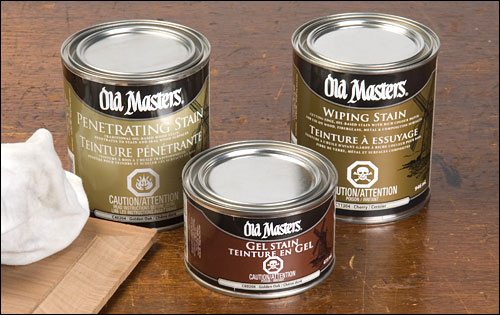 Read: Wiping Stain color card
Versatility
Old Masters wiping stain can be used as the sole stain over new wood as a conventional wood stain and as a wood-graining glaze, making color coordinating and matching a breeze.
Additionally, the wiping stain can be used over existing stained and finished wood to modify or adjust the wood tone.
Staining New Wood Surfaces
Ever wondered what the difference between wiping and penetrating stains is? Wiping Stains provide a more subtle, sheer appearance while Penetrating Strong provides a deep rich color.
Wiping stains allows for a lot of control of the stain color. Generally, you can apply it to wipe stains more heavily if a darker color is desired. The wiping stain is more resistant to blotching than penetrating stains.
Heavier applications can be applied with a brush. White china bristle works excellent with wood stains because it is softer and less likely to add brush mark lines. Light applications can be applied with a rag, with a brush used to jab into corners and detailed areas.
---
Read Also:
---
Staining Previously Stained Woodwork
After proper surface preparation, the Wiping Stain can be used to re-tone previously stained wood – without the need for stripping the old finish off. There are some limitations to this method. You generally can go darker, but not lighter in color.
See Re-Staining Over Previously Stained Woodwork
As a Graining Glaze
One advantage of Old Masters Wiping Stain is that it doubles as a matching wood-graining glaze. You can stain the bare wood with the Wiping Stain and wood grain the metal door too – with the same stain.
Old Masters Wiping Stain is an ideal way for one who is new to wood graining as it allows for color matching without the need for tinting.
Custom color matches can be made by intermixing the pre-mixed colors. I like to add a little bit of Sherwin Williams or Pratt – n- Lambert oil glaze to the Wiping Stain to stiffen it up a little bit.
You will have a lot of working time with Wiping Stains. It will take about 48 hours for the stain to dry hard when used as a wood-graining glaze.
Base Coats
Old Masters has a line of pre-mixed base coat colors for use with the wiping stain in the wood graining process. Used in conjunction with the wiping stain and with reference to the color card, you can quickly zero in on a color-matched graining system.
You may substitute Zinsser's BIN or 123 Bullseye for the slower-drying Old Masters base coats if you wish to use a quick-drying base coat. 123 Bullseye comes in a deep tint base that you can use for deeper base coat colors.