Kitchen Cabinet Wood Colors: Find A Stain That Matches Fixtures And Furnishings — Are you searching for the perfect kitchen cabinet wood colors to liven up your home? If so, then these tips on choosing a stain color can assist you in the decision-making process. You can select either a natural-looking wood stain or a colored wood stain when matching cabinets to your decor.
Kitchen Cabinet Wood Colors: Find A Stain That Matches Fixtures And Furnishing
Applying wood stain is an inexpensive and effective way to integrate kitchen cabinet wood colors with the room's color scheme as a whole. Traditional stains, which are tinted to resemble natural wood, are ideal for cabinets in classic or country-style kitchens. Contemporary kitchen cabinets are eye-catching when finished with a colored stain that allows the natural wood grain to show through. Whichever type of stain you choose, it is important to keep several tips in mind so that the shade you decide on doesn't clash with the floor, countertops, or walls.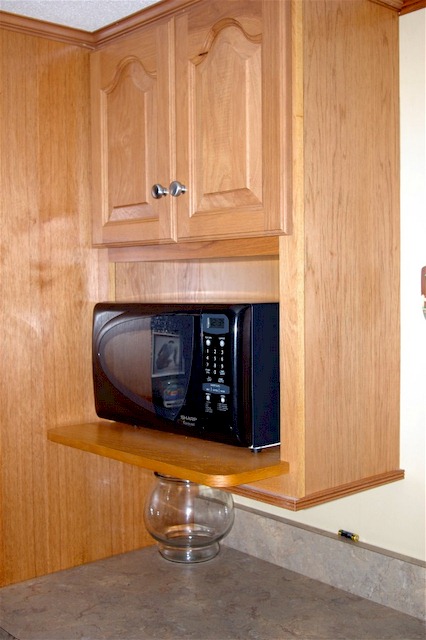 "Natural Look" Wood Stains
Stains that are similar in hue to those of natural woods, such as oak or cherry, are popular choices for kitchen cabinets. Consider the following details when selecting a wood-shade stain that matches the theme of your kitchen:
Wood-colored stain is available in light shades (such as maple), medium shades (such as golden oak), and dark shades (such as mahogany).
Choose a shade that corresponds with the type of wood used to build your cabinets. This allows the natural hue of the wood to enhance the appearance of the stain.
If you like the look of your natural wood cabinets and just want to stain them for protection, try using a clear stain product.
Colored Wood Stains
Some homeowners choose to stain their kitchen cabinets with a colored wood stain (such as blue, green or black). If you are interested in this type of stain, then these tips will help you find a color that compliments your kitchen design:
Use a color wheel in order to determine which wood stain colors match best with your kitchen's color scheme. For example, you can choose a cabinet stain that is a true complement of your wall color (opposite side of the color wheel), a split complement (one step away) or an alternate complement (two steps away).
Keep in mind that stain colors can change slightly as they dry. If you use a translucent stain, remember that the natural color of the cabinet wood will affect the final result.
If you want to create the illusion of spacious cabinets, stick to using light-colored stains. Dark colored-stains will minimize the appearance of your cabinets.
Product Suggestions
A number of high-quality brands of wood stain are available for purchase at home improvement stores. When shopping for a stain color, use these tips on popular brands as a guide to choosing a product:
Cabot offers a range of satin, semi-gloss and gloss interior wood stains. Customers can choose from Polystain (one-step application, available in 6 colors), Custom Tint (tinted by retailer, available in 56 colors) and Ready Mix (pre-mixed, available in 20 colors).
Benjamin Moore offers interior wood stain products such as Penetrating Stain and Polyurethane Stain. Penetrating Stain is available in natural wood shades and in white, while Polyurethane Stain is available in a variety of colors.
Minwax offers products such as Wood Finish (an oil-based stain in 22 wood colors), Water-Based Wood Stain (available in 50 wood shades and colors) and Gel Stain (available in 10 wood colors).
With such a diverse range of kitchen cabinet wood colors available, homeowners who decide to stain kitchen cabinets can easily begin the process of improving the look of the kitchen and increasing the value of the home. As a remodeler, you may wish to purchase several sample-size cans of natural or colored wood stain and test them on your cabinets before settling on one shade. Whether covering your existing cabinet doors with a wood stain or refacing your cabinets with newly stained doors, you can easily and economically give your kitchen a timeless appeal.
References of Kitchen Cabinet Wood Colors