Paste Wax Wood Finish — Paste wax is a good final "polish" when used over a varnish, offering the advantage of easy sheen repair. Paste wax is not in and of itself a very good finish, but should be used in conjunction with a clear finish underneath it.
Paste Wax Wood Finish
The primary use of paste wax is to raise the sheen after hand rubbing, and to impart a smooth slickness to the surface as well as add some water resistance Another benefit of paste wax is that it will fill fine scratches, Some paste waxes are sold in colors to aid in hiding scratches.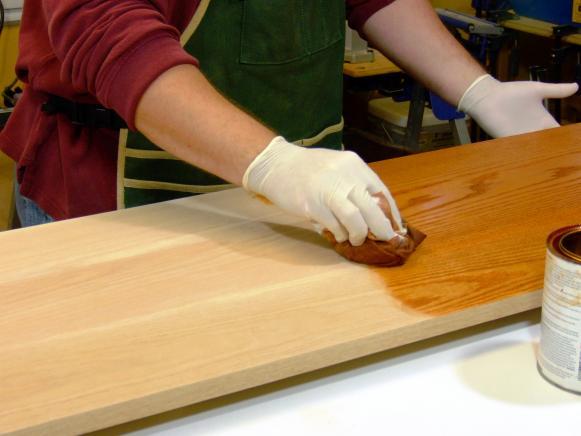 Rubbing out the finish
Before apply your paste wax over a thoroughly dry clear finish (preferably, several coats of thoroughly dried finish), you should first lightly sand the surface with fine sandpaper (400 grit). This begins the final buff out of your clear finish. See How to Produce a Hand Rubbed Satin Finish
Once the rubbing out is complete, you may apply the wax with a cheese cloth, 0000 steel wool or synthetic scouring pad.
Using a fine abrasive pad will further smooth the substrate as you add the layer of wax.
Apply the wax evenly to the substrate in the direction of the wood grain. Allow ten to twenty minutes for the solvent to evaporate, and then buff the wax with a soft cotton rag (or carefully with a buffing wheel). It is best to re-apply the wax in a second coat after buffing the wax out, and repeat the above procedure a second time, as this will fill any missed spots and provides a more uniform sheen.
If you find the final sheen is too glossy, you can dull a wax finish by buffing it out with 0000 steel wool in the direction of the wood grain.
Must Read:
Care for a Paste Waxed Surface
Furniture sprays and polishes will smudge and soften a paste waxed surface. Don't use dusting sprays or furniture cleaners with ammonia or solvents in them over paste wax. A soft cloth dampened with a little water can be used for dust pick up.
Wax Allows for Easy Sheen and Luster Repair
To restore a smudged or a dull sheen, you simply need to re-buff with a soft cotton rag to restore the sheen. If buffing does not restore sheen uniformity, you may need to re-apply a thin coat of paste wax, allow to dry and buff it out.
Must Read: