Of all your house's attributes, the roof is probably the most important. Not only is it tasked with protecting your family against weather vagaries but also a very important aspect of the drainage system.
It is made of highly resistant materials to enable it to endure harsh weather for years without abrading.
However, cleaning your roof periodically goes a long way to maintaining not just its quality but also the value of your home.
Cleaning your roof is a lot more complex than cleaning other areas within your home. That's why a lot of dexterity is needed, as this is not your everyday do-it-yourself job.
Non-pressure roof cleaning is the best-recommended choice by roofing experts as it is not only gentle on your roof but also removes a larger percentage of dirt and algae as compared to high-pressure washing.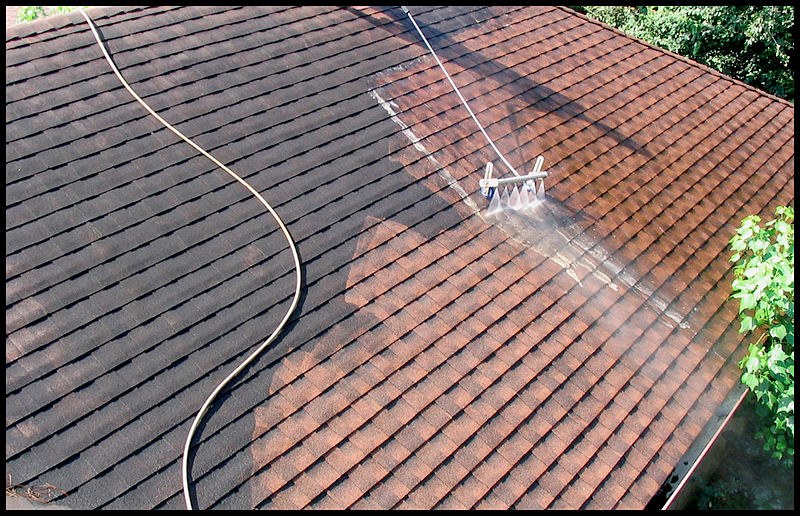 The latter damages your roof shingles, and in no time, you'll be out seeking to do a complete overhaul for your roof.
Pressure washers come with a variety of adjustable nozzles to deliver different pressures depending on the nature of the surfaces to be cleaned.
Soft washing for roofs requires a roof cleaning professional to adjust the nozzle in such a way that it garners just the right amount of low pressure (slightly higher than regular hose pressure) for cleaning out the strong detergents applied (without affecting the roof).
Our pressure washing professionals at Annapolis Brothers Power Washing have mastered this art and are well trained.
Benefits of Non-Pressure Roof Cleaning
1. Maintain your Roof Tile/Shingle Warranty Validity
While pressure washing is highly effective for cleaning other surfaces around your home, using the technique for your roof isn't a good idea.
The high pressure may knock out roof shingles voiding your warranty.
2. Complete Elimination of Organisms on Your Rooftop
Non-pressure roof cleaning is very effective in removing organisms like moss and algae from your rooftop.
Overgrown moss will cause roof shingles and tiles to bulge outward, making them likely to fall off.
3. Get to the Root of a Good Cleaning
A well-done non-pressure roof cleaning not only completely removes algae and moss but also keeps them at bay for a long time.
This is made possible by the cutting-edge detergents used.
4. Avoid Water Damage to Your Home
One of the most serious hazards to your property is water damage, which may be super costly to repair.
Not cleaning or wrongly cleaning your roof may lead to loose tiles and shingles that could fall off, potentially exposing your house to water damage.
5. Save Money
Non-pressure roof cleaning ultimately extends the life span of your roof. This goes a long way in saving you costs in roof repairs and replacements.
---
Read Also:
---
How Moss and Algae Damage Your Roof
Your roof degradation isn't just subject to the general dirt and debris accumulating gradually on it; algae, moss, and mildew are the natural players in the game and perhaps with the biggest impact.
Knowing the type of growth and the conditions fostering it on your roof is the first stage in resolving the issue.
Algae
They are a form of bacteria on your roof that feed on asphalt and limestone on the cool, moist, and shaded areas.
They mostly appear as black stains, although they can be of varying colors. They are quickly spread across rooftops around neighborhoods.
Moss
It's a green plant, complete with a root system, that builds up as little lumps on the roof.
It relies on moisture for survival; that's why it's more pronounced on the parts of the roof that are continuously damp.
Lichen
Is a composite organism arising from a combination of algae and fungus. They feed on the shingles' organic base.
They can be hard to remove from just a regular cleaning and tend to reappear in humid weather.
All the organisms above lead to fast deterioration of your roof over time if left unchecked.
You can take some effective measures to constantly mitigate them and maintain your roof in good condition.
Professional Roof Cleaning
As you've probably noted, your roof is delicate, and cleaning requires to be undertaken by a trained professional.
They'll know the most effective and safe ways to do it.
Trim Overhanging Branches
Your roof should be constantly exposed to sunlight to avoid moisture getting trapped hence fueling the growth of moss and algae.
Falling leaves and twigs from the branches also accumulate on the rooftop.
Clear Off Debris
Regularly remove accumulated debris from the roof to avoid creating conditions favoring their growth.