Now you can keep those counters clean by hiding stuff on the shelves! To be precise, kitchen cabinets are not just for storage.
Modern households visualize kitchen cabinets as an integral element of the Kitchen's overall style.
Designing kitchen cabinets is one of the key highlights which bring everything together.
The Kitchen is the heart of your home, with cabinets being front and center in them. Consider refinish cabinets if your Kitchen has dilapidated or worn-out cabinets.
Nowadays, there is a rising movement towards a streamlined look that emphasizes minimalism along with simplicity.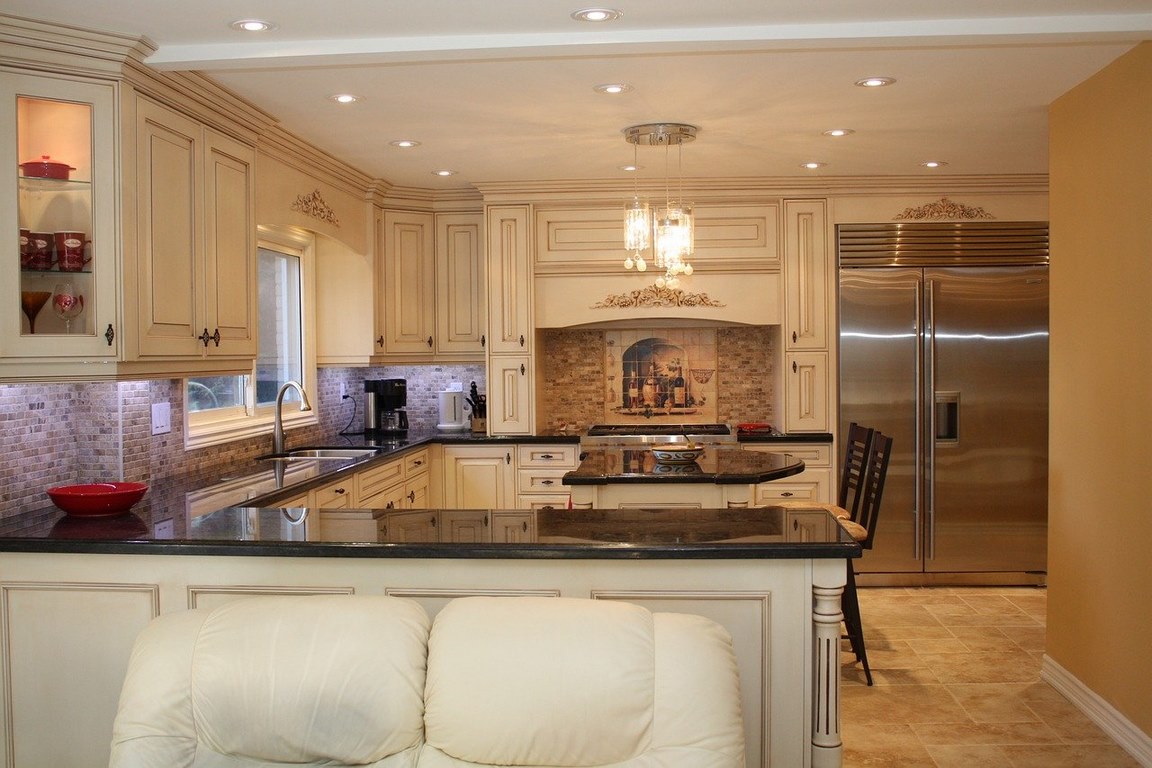 But at the same time, you would see bold designing options conquering the center stage. 2021 would be a testimony that both these trends get their share of love from households.
So if you are on the lookout to design the ideal kitchen, it is vital to comprehend the latest trends.
Open Shelving Kitchen Refinishing
There is no denying the fact that illuminated and open-shelf kitchen cabinets are the latest rage. Well, open shelves look great in brochures and pamphlets.
However, they are not necessary that you must have them. Open shelf cabinets are one of the best options for your modern and aesthetic kitchens.
What's more impressive about open shelving is you would have access to plenty of natural light and air.
It is a highly practical option as you can draw out items without opening the doors. However, as everything is out in the open, you have to arrange things accordingly.
A slight disadvantage of open shelf cabinets is that you have to opt for matching utensils and cookware.
It would be best if you strived to develop a harmonious look that reduces the risks associated with clutter.
Overall, open shelving kitchen refinishing is steadily gaining popularity among modern homeowners.
Customization with Color Choices
If you think that a single color would help you redefine the look of your cabinets, you are wrong.
Nowadays, it is a trend among homeowners to opt for something which puts forward a bold statement.
Eclectic personalization is also a trending notion in the realm of Kitchen refinishing. For the kitchen cabinetry, homeowners prefer personalized colors, which are an ideal fit for their kitchen spaces.
For instance, neutral color tones are currently one of the popular options for kitchen cabinets.
From grey to soft green, you would have access to a wide variety of color options. Moreover, homeowners prefer unique colors and shades which suit their Kitchen and its aesthetics.
Hence, if you are choosing kitchen cabinetry refinishing services, pay special attention to the paint.
---
Read Also:
---
Black and Dark Colors to enliven your Kitchen
If you have a special place in your heart for drama, go for dark color tones for kitchen cabinets.
But note that these color tones usually work well when there is plenty of space. Navy blue is also a good color option when you are going for professional kitchen cabinet repairing.
It is worth noting here that blue looks sharp, clean and provides you with a great color pop. Irrespective of what you select, the key to use the perfect color combination is to maintain balance.
If the walls of your Kitchen have neutral colors, then painting kitchen cabinets with dark tones are a great option.
This would help maintain the ideal level of contrast. If you can't decide between neutral and bold colors, go for two-tone cabinets.
In simple words, two-tone cabinets provide you with the best of both these colors.
When opting for dual-tone kitchen cabinet paint, be aware of the proper arrangement. Using the kitchen island properly is also integral to the efficient use of two-tone cabinets.
The Rise in the Popularity of Oak Cabinetry
Oakwood kitchen cabinetry is rapidly coming back and invading modern kitchens. No doubt, they were the ideal options for kitchens in the early '70s and '80s. Apart from great aesthetics, oak is durable.
When compared to materials like engineered wood and wood veneer, oak would make your Kitchen stay original.
Oak has neutral color tones along with textures and dimensions. Moreover, it looks elegant and luxurious in any space.
Oak cabinets often create a connection to the natural element. With oak, there is no need to go for useless painting or decoration.
Oak looks great in its natural colors and presents you with kitchen cabinetry you can boast of.
Minimalism Is a Burgeoning Notion
In the realm of kitchen cabinetry refinishing, minimalism is a burgeoning notion. In modern kitchens, effectiveness, cleanliness, and organization are the holy trinities.
Kitchen cabinets nowadays sport a minimalistic style and look to provide your Kitchen with a clutter-free look. Always remember that minimalism doesn't always have to be mundane.
The integral element of minimalism is a clean appearance. So if you want the workhorse of your house to stand out, go for minimalistic kitchen cabinets.
Minimalism doesn't imply that you have to sacrifice your important appliances. With professional cabinet refinishing services, you would be able to organize your kitchen appliances and tools properly.
Floor-to-Ceiling Cabinet Design
In this type of cabinet refinishing, the whole wall opposite the cooking area is exclusively reserved for kitchen cabinets.
This feature is often witnessed with other kitchen designing trends. With a floor-to-ceiling kitchen design, you would be able to decrease storage from other prominent areas.
A floor-to-ceiling kitchen cabinet can accommodate all the essential elements of your Kitchen. From small appliances to linens, you can store everything in this type of cabinet.
Amalgamate the Cabinet Styles
By amalgamating the cabinet styles, you would be able to increase the storage space to a great extent.
For instance, combined drawers, cabinets, and open shelving would be able to address the rising storage concerns.
Also, mixing the cabinet styles helps in maintaining a fresh design. You would be able to avoid a space full of heavy cabinets.
Final Words
An array of kitchen components, including cabinets, is subject to fads and fashion. Let's hope that the trends mentioned above would help you redesign your cabinet in the right manner.
Are you feeling intrigued to turn one of these trends into reality? Opt for professional cabinet refinishing services now!