Creating a backyard retreat that the whole family can enjoy is a wonderful way to maximize your outdoor space and spend quality time together. If you're looking to beat the heat and create lasting memories, consider transforming your backyard into a family oasis.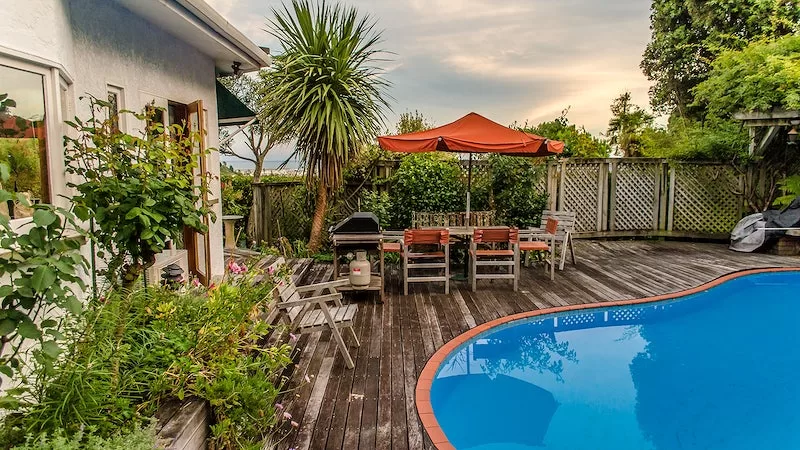 From refreshing swimming pools to fun water features and relaxation areas, there are endless possibilities to turn your outdoor space into a summer sanctuary. In this article, we'll explore various elements to help you make a splash and create a family oasis right in your backyard. Plus, we'll provide tips on finding a swim school near you for added water fun and safety.
Assessing Your Backyard: Space and Budget Considerations
Before diving into the transformation process, it's important to assess your backyard's space and your budget. Take a good look at your outdoor area and consider its size, layout, and existing features. This will help you determine the scope of your project and the possibilities within your available space.
Next, establish a budget that aligns with your vision for the family oasis. Consider the cost of materials, labor (if applicable), and any additional features or accessories you wish to incorporate. Having a clear understanding of your space and budget will guide your decisions as you move forward.
Creating a Relaxation Zone: Patio and Outdoor Seating
A family oasis should provide a balance of relaxation and fun. Start by creating a designated relaxation zone with a patio or deck area. This will serve as a gathering place for the family to unwind, enjoy meals, or simply lounge together.
Consider installing comfortable outdoor seating, such as lounge chairs, sofas, or hammocks. Opt for durable and weather-resistant materials that can withstand the elements. Enhance the ambiance with cozy cushions, outdoor rugs, and soft lighting fixtures. This zone will become a haven where you can unwind and enjoy quality time with your loved ones.
---
Read Also:
---
Splashing Fun: Swimming Pools and Water Features
Nothing says family oasis like a swimming pool or water feature. If you have the space and budget, installing a swimming pool can provide endless hours of enjoyment for the whole family. Consider the size and shape of the pool that fits your backyard, taking into account safety considerations and local regulations.
If a swimming pool is not feasible, explore other water features that can add a touch of excitement and splashing fun. Options include water slides, splash pads, or even inflatable pools for smaller spaces. These water features provide a refreshing way to beat the heat and create lasting memories.
Designing a Kid-Friendly Area: Play Structures and Games
To ensure the family oasis caters to children of all ages, design a kid-friendly area filled with play structures and games. Incorporate swing sets, trampolines, or playhouses to provide entertainment and encourage physical activity. Consider age-appropriate features that promote imagination and exploration, such as sandboxes or climbing walls.
Introduce outdoor games that the whole family can enjoy, such as badminton, cornhole, or giant Jenga. These games promote friendly competition and foster a sense of togetherness. Customizing the kid-friendly area to your children's interests will create a space where they can have endless fun and make lasting memories.
Enhancing Privacy and Ambiance: Landscaping and Greenery
Creating a serene and private environment is essential for a true family oasis experience. Enhance privacy by incorporating strategic landscaping elements, such as tall hedges, trellises, or privacy screens. These features can create a sense of seclusion and allow your family to enjoy the space without feeling exposed to neighboring properties.
Integrate lush greenery and colorful plants to add beauty and tranquility to your backyard. Choose low-maintenance plants that thrive in your local climate. Consider adding fragrant flowers or aromatic herbs to enhance the sensory experience and create a pleasant ambiance.
Incorporate natural elements like rocks, pebbles, or a small waterfall to add texture and create a soothing atmosphere. A well-designed landscape can transform your backyard into a tranquil oasis where the whole family can relax and reconnect with nature.
Safety First: Water Safety and Swim Schools
When incorporating water features into your family oasis, prioritizing safety is of utmost importance, especially if you have young children. Install appropriate safety measures such as pool fences, alarms, or pool covers to prevent accidents and ensure peace of mind.
Additionally, enrolling your children in a swim school near you is a proactive step toward water safety. Swim schools provide professional swimming lessons and teach essential water safety skills that can help prevent accidents and build confidence in and around the water.
When searching for a swim school near me on Google, consider factors such as location, reputation, instructor qualifications, and class sizes. Look for schools that prioritize small class sizes to provide individual attention and ensure a safe and effective learning environment for your children. Don't hesitate to reach out to the swim schools in your area to inquire about their programs and facilities.
Swim schools offer a range of classes tailored to different age groups and skill levels, from parent and infant classes to advanced swim training. These classes not only teach fundamental swimming techniques but also educate children about water safety rules and practices. Enrolling your children in a swim school near you will not only enhance their water safety skills but also add to the overall enjoyment of your family oasis.
Maintenance and Upkeep: Long-Term Enjoyment
To ensure the longevity and continued enjoyment of your family oasis, regular maintenance and upkeep are essential. Create a maintenance schedule that includes tasks such as cleaning the pool or water feature, checking the integrity of play structures, and trimming vegetation.
Regularly inspect and repair any damaged or worn-out components to ensure the safety and functionality of the various elements in your backyard oasis. Additionally, consider investing in pool covers or cleaning systems to simplify maintenance tasks and keep your swimming area pristine.
Conclusion
Transforming your backyard into a family oasis is a rewarding project that can provide years of enjoyment and create lasting memories. By incorporating relaxation zones, swimming pools or water features, kid-friendly areas, privacy-enhancing landscaping, and prioritizing water safety, you can create a space that caters to the whole family.
Don't forget to explore swim schools near you to ensure the safety of your children in and around the water. Enrolling them in swim lessons will not only enhance their water safety skills but also add to the fun and enjoyment of your family oasis.
Regular maintenance and proactive upkeep will help prolong the lifespan and functionality of the various elements in your backyard oasis. With careful planning, creativity, and attention to detail, you can make a splash and transform your backyard into a family oasis that brings joy, relaxation, and cherished moments for years to come.