Investing in a good landscape for your home can add that curb appeal and increase its value in the market.
After all, the front of your house is the first thing outsiders will see. So, you must try to create an excellent first impression.
Yet, you do not have to break the bank to refresh your curb appeal. Well, this article will give you a few easy landscaping design ideas that can transform the front of your house on a budget.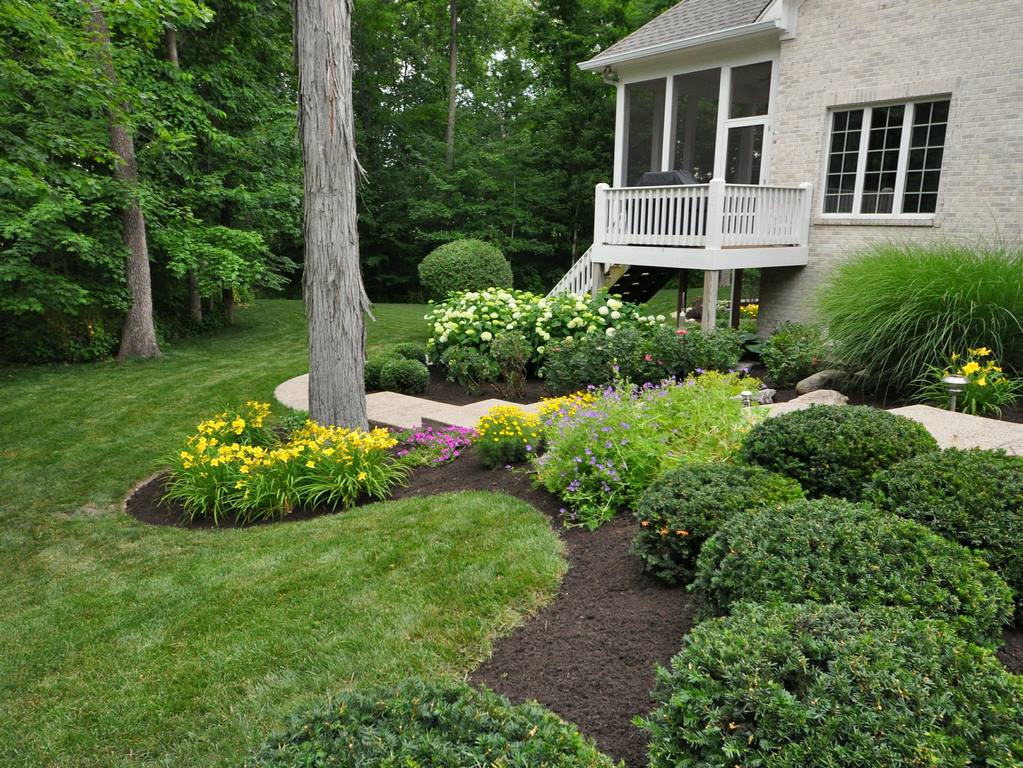 Enhance your Pavement with Plants
Replace a row of stone slabs on each side of your pavement with low-growing and sun-loving creepers such as thyme and stonecrop.
Not only do they accentuate the front of your house, but they also attract pollinators, making your outdoor garden a natural haven. It will give you a breath of fresh air as you relax outside.
Use Circular Designs
Circular designs help soften the environment and create space for movement. Ensure that the edges are neatly clipped, and the blocks on the floor are arranged systematically. Consider growing topiary balls in planters and distributing them across your front exterior.
Raise the Garden Flower Bed
Plant pale shades of billowing plants in raised garden beds to give the driveway a polished, elegant look all year round.
You could get creative and add a mix of flowering plants alongside evergreen plants for a more contemporary feel.
Add a Modern Touch
If you fancy a more contemporary style, you can speak to an expert to help deliver a bespoke design.
Ensure you work with a top design contractor like dSpace Studio, a reputable Chicago firm that helps clients actualize their dream urban architectural design.
You could clip the shrubs into ornamental shapes and incorporate straight intersecting paths. Matching the garden tiles with the architecture of the main house results in an elegant finish.
---
Read Also:
---
Incorporate Subtle Landscaping Lights
Embed lighting elements in the pathway or among garden foliage to provide the front of your house with a soft glow. If you do not have access to a power supply, consider adding solar lights.
Draw Inspiration from Mediterranean Gardens
Add a touch of Mediterranean vibes to your front home, and your guests won't be able to recognize your space! If your front exterior is a sun trap, spruce up your garden by coating the walls with sand-toned paint with matching floors and plant giant, leafy plants in ribbed, galvanized containers.
Create a Focal Point with Quality Garden Benches
Comfortable, high-quality garden furniture helps you maximize your garden space and create a focal point that will catch the eyes of visitors and passers-by. Surround your garden chair with foliage to muffle out the noise and give you a bit of privacy.
Incorporate Climbing Plants
If you do not have much space in your front garden, fasten plant climbing plants such as wisteria and honeysuckle onto robust tension wires to add color to the walls.
An equally effective alternative is planting trailing plants in hanging baskets for the vertical garden effect.
Plant Perennial Shrubs for Year-Long Colour
Perennial shrubs have longer life spans significantly, are easy to grow, and provide structure and color to your exterior.
Planting perennial shrubs will make your home exterior stand out and create a coordinated look. Ensure you plant shrubs with varying bloom times to give your exterior color all year round.
Wrap Up
Focus on neatening the lines and ensuring your plants are healthier and more vibrant if you want to compliment the landscaping designs.
All you need to get started on a simple landscaping project is a good wheelbarrow, a rake, a spade, a green thumb, and a creative mind! Don't hesitate to seek help from professionals to help transform your outdoor space.