New Jersey is no stranger to weather of the stormy variety. From hurricanes to blizzards, New Jersey has seen it all. In this article, we'll discuss some of the most significant storms that have hit New Jersey over the last 50 years and the storm damage they caused.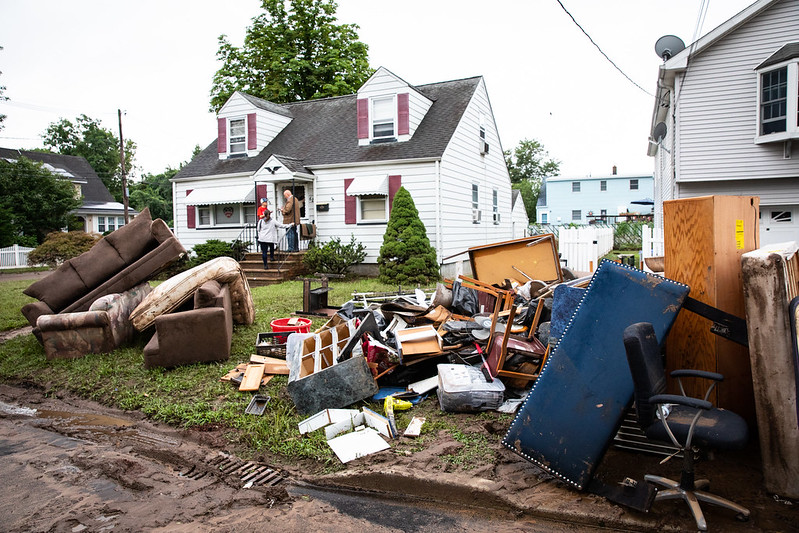 Hurricane Donna, 1960
Hurricane Donna was a powerful and somewhat unlucky storm. It made landfall in Florida as Category 4 with 115 mph winds and remained at this strength for nine days before moving north to New Jersey where the damage would eventually be felt by all.
Although Hurricane Donnas' most notable impact on the state wasn't from making landfall itself; rather due to its huge amount of floodwater that caused massive destruction.
Tropical Storm Floyd, 1999
The flood caused record floods at the Raritan River, Rahway River, Millstone, and Saddle rivers. The hardest hit was in Bound Brook where it reached heights of 42 feet five inches above previous records set in 1868.
As a Category 4 hurricane near the Bahamas, Floyd was poised to cause major damage. But it hit North Carolina as a tropical storm and downgraded before hitting New Jersey where it left torrential rain causing widespread flooding that killed six people in NJ along with an estimated $500 million worth of property damages there alone.
---
Read Also:
---
Hurricane Irene, 2011
Hurricane Irene was a small storm that grew into something much more powerful. The damage caused in New Jersey was severe, with flooding across central and northern sections of the state.
Hurricane Irene created massive flooding and destruction that ravaged towns across New Jersey, including Bridgewater, Denville, and Wayne. Nine people in New Jersey died during the storm, most from fallen trees and flash flooding.
Irene dumped more than 8 inches of rain in Essex County and more than 10 inches in Hunterdon and Passaic counties.
Superstorm Sandy, 2012
Sandy wasn't just a storm, it was an epic disaster.
The winds generated were some of the strongest ever recorded in New Jersey and they shattered windows for miles inland as well; thousands of people lost their homes or had major structural damage to them from this cataclysmic event that left millions without power.
With over 30 people confirmed dead after Sandy made landfall – including those unfortunate souls killed when boarding up against suddenly rising tides caused by hurricane-force winds, Sandy was one of the worst storms to hit New Jersey in 100 years.
How to Prepare for A Severe Storm
When a severe storm is coming, you need to make sure your house has boarded-up windows and doors. You can do this by adding boards around key parts of the home with tape or nails so water doesn't get inside during heavy rains and winds.
Perhaps the most crucial and impactful action you can take to ensure the safety of your home or commercial building during a severe storm is to have your roofing inspected, and any repairs needed should be addressed as soon as possible.
And in the aftermath of a severe storm, it is also important to check your roofing for any ripped-off shingling, damaged sealants, or impacted gutters and downspouts. The roof is your first line of defense against water damage, so it is crucial to keep it in good condition!
Conclusion
In this article, we have provided some information on the history and significance of storm damage in New Jersey, as well as touching on some of the important ways you can prepare your home for a severe weather event.