Since the 2020 pandemic, home bars have been massively increasing in popularity.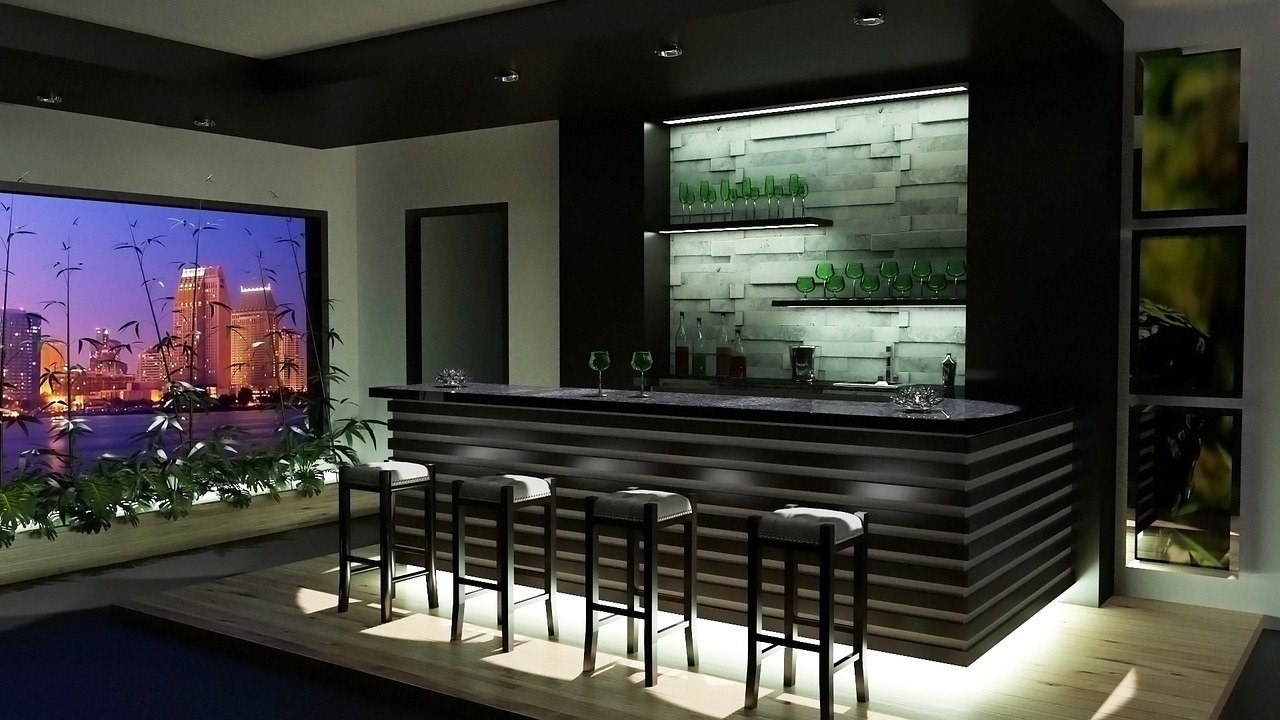 Everywhere closed and locked down? Everyone you know got Covid? No problem, head to your own home bar to drink yourself silly! There are some fantastic home bar renovation ideas in today's blog, bought to you by Amy who specialises in Liverpool Property Investment.
Where will you House Your Home Bar?
Some people go bold and have a whole downstairs room dedicated to their bar. However, most people don't have the luxury of having enough room for this.
Having a shed at the bottom of your garden is an excellent alternative. You can even fix a 'pull down bar' to your fence and open in it anytime that you are ready! If you are lucky enough to have a cellar, how about a 1920s Art Deco Speakeasy?
How Much Do You Need to Spend on Your Home Bar?
You can get a home bar for anything from around £500 right up to £20,000, and so it's up to you to set your budget. A simple home bar garden kit can be bought on Amazon for just £25 or more.
If your budget is restricted then think about using reclaimed and recycled pieces of wood and building it yourself. You can build a simple pull-down bar with old planks of wood or convert old beer barrels and wooden panels.
Bar Security
As a level of security (particularly if you have or look after children) then having a lock on your home bar is certainly something to consider.
Think of a Theme
Next you need to think of a theme or period and I would recommend being consistent on that throughout your bar itself, accessories and menu. It gives it a really unique feel.
---
Read Also:
---
Name and Brand your Bar
The best and most exciting stage of developing your home bar is the branding. Give your bar a name and personalise it.
You will soon have your 'bar' known throughout your neighbourhood so it needs a good identity! There are even companies online that do brand for your bar including personalised coasters, bar runners and signs.
Here are Some of the Top Choices of Home Bar to Inspire you!
Dining Room Pool Room Bar
If you are lucky enough to have an extremely large downstairs room spare, or in fact if you are willing to give up your dining room then you can get a traditional games room style bar at one end and a get a pool table installed. For a sophisticated look go for Bridge, Backgammon and whiskey decanters!
Steampunk Cellar Bar
I totally love the idea of a steampunk cellar bar! Of course, always get any damp issues resolved first if you are converting a cellar bar.
One family in Liverpool are currently underway with a renovation of a cellar bar like this. They have started by sandblasting the walls to strip them of any old paint, and then can varnish the brickwork.
The bar itself is going to be a metal industrial design, with copper tap drinks dispensers and industrial steampunk ceiling lighting. The wall art will be full of steampunk movie posters and pictures of blimps and steam engines.
Beach Cocktail Inspired Shed Bar
Recreate your holiday or honeymoon with a garden bar in your shed. You can order wine racks and drinks shelves online or make your own from disused palettes.
Stock your favourite cocktails and mixers to make a Pina Colada or White Russian. You can decorate it with neon lights that can be bought on Amazon and Etsy.
Do you have a home bar? If you do, we would love to hear all about it! What style did you go for? Share your ideas in our blog comments.