Kitchens today are mostly made up of cabinets and a single countertop.
However, the design of kitchens is now expanding beyond the conventional layout. Kitchens come in forms like long and slim, short and narrow, spacious, round, and compact. Different kitchens offer different features.
An island is a standalone counter or bar placed in a kitchen area. The unit usually has one side for preparing food, and you can use it for storage and additional seating.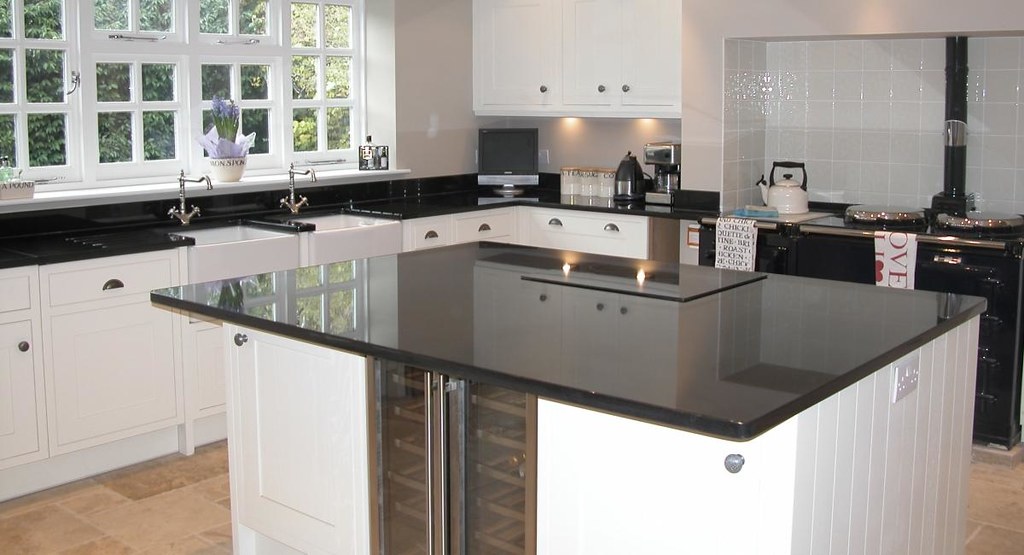 Islands are great additions to your cooking area. You can use them to entertain guests, create an extra seating space, or create additional cooking zones.
If you are planning to build a new home, you might be interested in the design of your kitchen island. There are many types of kitchen islands, such as wooden, marble, granite, glass, metal, and concrete.
Caesarstone has a detailed article on modern kitchen countertop design ideas. Click the link below to read it. https://www.caesarstone.ca/blog/types-of-kitchen-countertops-design-ideas/
A white kitchen island design can be the best choice to decorate your kitchen. It is also the most popular choice. This article will tell you some ideas for a white kitchen island design.
Addition of Bistro Table
A custom kitchen island is expensive and doesn't suit everyone. You can look for a simple work table or bistro table with a rectangular shape and a bottom shelf to be used as a kitchen island.
Plan Carefully for Walkaround Space
When considering how to pick the right sized island, think about the space you will need beyond it. An island can be a good feature in a kitchen, but they are very space-consuming. It is good to think about the available space and use it before adding one into the design.
Mix and Match your Storage Options to Fit Your Needs
In small kitchens, placing a storage island can increase the amount of cabinet and drawer space. It's a good idea to have cabinets and drawers for everything from cutting boards to stools and bread boxes.
With shelving, you can easily display items that are too large for a drawer. You can also use open shelves to show off the foods you enjoy cooking.
To add a homely touch, homeowners can buy an island with books on display. This allows them to free up countertop space and showcase their favorite cookbooks.
Switching the Materials of Your Kitchen
Because kitchens have to be spacious and functional, it is a good idea to switch up materials on your kitchen island's surface. It could be used for different purposes, depending on where you place it.
For example, a kitchen island is often constructed using stone as a countertop material. Many interior designers and homeowners prefer HanStone Quartz due to its hard, non-porous, natural quartz surface. However, other surfaces can be created using wood for breakfast bar ideas.
---
Read Also:
---
L-shaped Breakfast Bar
The L-shaped cabinet format has been used in kitchens for a long time. It works very well for the white kitchen islands too.
An L-shaped breakfast bar can increase the number of dining room tables within the same space as an island. This style is ideal for people who enjoy entertaining and for serving food and drinks.
Be Creative
If you have a lot of room in your kitchen, your kitchen island can be as big as you want. Kitchen islands are used in contemporary kitchens, but you could easily make yours feel a bit like a cocktail bar by adding extra seating for six.
Add Neutrals and Textures to a White Kitchen
If you're looking for a modern white kitchen design to brighten and lighten up your space, then adding layered texture is the perfect compromise.
Sky blue is a neutral and warm color. So when you add a little bit of black to it, it makes it stand out.
Addition of Dining Table
Besides having extra space for cooking, appliances, and countertops, one of the top modern kitchen ideas right now is the addition of a dining table.
Ten years ago, there were mainly two heights: counter height and bar height. There are multiple levels to suit different functions, like the bar height. It is often used as a work surface.
When you are in a small apartment and don't have a separate dining table, you might be inclined to eat with your guests at the kitchen island. However, if you want to share a dining experience, a patio table can serve that purpose.
Add Colors
An island is a great way to add a touch of color to a kitchen. The white space in a kitchen can be designed to give it a feeling of calm.
If you feel like doing anything at any time, the whites give you that feeling of being in the right mood.
The kitchen area needs to be warm and inviting to ease the transition between the kitchen and the rest of the house.
For a spectacular centerpiece, use attractive luxury materials. Marble, granite, and expensive wood veneers may be the best luxury materials.
Lighting
Lighting is an integral element of kitchen design, and you should plan it right at the beginning of your kitchen design process.
You may also want to consider having a couple of necklaces that have the same number of beads. You could also choose some other type of pendant to enhance the look of your space.
Flexibility
White Kitchen islands are not always just simple pieces of furniture. You can change it over time or create a more relaxed look that's the antithesis of the fitted finish.
White Kitchen islands can be used for different purposes, and these uses include preparation and eating, storage, and display.
Decorative Shelves
Decorative shelves can make a small kitchen feel more open and like a living room. But if you're not using the kitchen's ample storage space, shelves might only add visual clutter.
To avoid this, redesign the area with a floating shelf. It adds a single focal point and makes a small kitchen feel spacious and open.
Conclusion
Kitchen islands are one of the hottest home improvement trends right now. However, when it comes to picking out the white kitchen island, you'll find various options in the market. Kitchen Islands white Design Ideas mentioned above will help you design your kitchen.