Regular pool cleaning is essential to maintain your water's quality and the pool's longevity. Though it may seem daunting, regular pool maintenance and cleaning can be made simple using robot pool cleaners.
But we will get to that in just a bit. In this article, we will explore the importance of regular pool cleaning and its numerous benefits to water quality and longevity.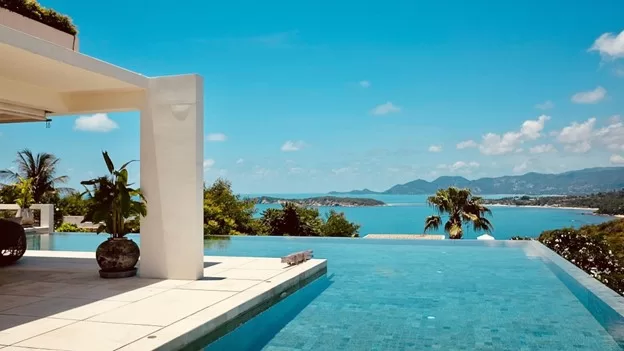 A Detailed Review of the Dolphin Quantum Robotic Pool Cleaner
To make cleaning your pool easier, check out this Dolphin Quantum Robotic Pool Cleaner Review. This cutting-edge pool cleaner has received several positive reviews from pool owners worldwide.
The Dolphin Quantum's simple scanning system rapidly navigates your pool, ensuring no area is missed. These brushes work together to scrub away dirt and grime, providing a thorough clean every time!
One of the standout features of the Dolphin Quantum is its HyperBrush Dual-Scrubbing Brushes. These brushes scour away dirt and grime, ensuring a clean every time. A strong scrubbing motion eliminates the need to brush with your hands, saving you time and effort.
The Dolphin Quantum's strong Vortex Vacuum feature quickly picks up debris. Its powerful suction capability keeps leaves, twigs, and other debris out of the pool.
The Benefits of Regular Pool Cleaning
Cleaning your pool regularly has several benefits, like enhanced water quality, prevention of algae growth, cost savings, etc. Here's the breakdown:
1. Enhanced Water Quality
One of the primary advantages of cleaning a pool regularly is that the water quality improves. You can prevent harmful micro bacteria and algae by removing debris, leaves, bugs, and other particles from the water. This makes the water visually attractive and safe to swim in.
2. Prevention of Algae Growth
Algae blooming in pools is a common problem, especially when basic cleaning and maintenance are not performed. Algae can quickly spread and turn the water green. Regular pool cleaning, which includes scrubbing the partitions and floor, reduces algae growth by eliminating spores and retaining a clean environment. It also helps maintain a chemical equilibrium, preventing algae growth.
3. Reduced Chemical Usage
When your pool is clean and nicely maintained, the need for excessive chemical remedies is minimized. Proper cleaning facilitates maintaining the right pH balance and water chemistry, lowering the reliance on chemicals which include chlorine. This saves you money and reduces any chance of skin and eye inflammation due to the overuse of chemical substances.
4. Longevity of Pool Equipment
Regular pool cleaning extends your pool equipment's lifespan, such as the pump and heater. When the contaminants are removed, they no longer gather and clog your pool. Clean filters and a well-functioning pump have a longer lifespan than a clogged or contaminated one.
5. Cost Savings
Investing effort and time in regular pool cleaning can bring cost savings in the long run. Avoid costly repairs and renovation by preventing critical issues and maintaining the water's overall quality.
Additionally, soft water reduces the need for immoderate chemical treatments and stops the deterioration of pool surfaces, saving you big on chemical charges and functionality resurfacing or retiling.
---
Read Also:
---
Understanding the Importance of Regular Pool Cleaning
Regular pool cleaning benefits your pool's overall health and safety. Let's take a closer look at some of these advantages:
Optimal health and safety for swimmers: By maintaining clean and well-balanced water, you significantly reduce the threat of waterborne illnesses and provide a secure swimming environment for yourself, your family, and your visitors.
Enhanced water clarity and appearance: Regular cleaning ensures crystal-clear, visually inviting, and appealing water. This not only enhances your pool's water culture but also allows you to revel in its clarity.
Improved efficiency of pool equipment: Clean filters and properly maintained devices function more effectively, reducing electricity consumption and extending the lifespan of your pool components.
Maintaining Water Quality through Routine Skimming and Vacuuming
Regular skimming and vacuuming are important responsibilities that every pool owner needs to undertake to sustain water quality. Here's why:
Removing debris and leaves from the surface: Skimming the pool floor frequently is vital in stopping debris accumulation, which could clog filters and promote bacterial growth. Invest in a good skimmer net to remove leaves, bugs, and other visible particles from the pool's surface.
Eliminating accumulation of dirt and waste on the pool floor: Vacuuming the pool ground is vital to prevent the accumulation of dust, leaves, and the growth of unwanted aquatic lifeforms. This not only ensures a clean pool but reduces the probability of algae and microorganism growth.
The Significance of Backwashing and Filter Replacement
Regularly clearing out trapped debris through backwashing is essential for the health of your pool. And understanding when it is time to change out the filter is also equally vital. Here's why:
Clearing out trapped particles through backwashing: Backwashing facilitates the removal of amassed debris from the internal clear-out pipes by reversing the water flow. This simple preservation task allows the filter to function optimally and prevents clogging.
Determining when it is time for filter replacement: Filters have a finite lifespan, and depending on the kind you use, they need to be replaced periodically. Monitoring the clear-out pipe's stress gauge or consulting a professional will help you decide when it's time for a replacement, ensuring efficient filtration performance.
Carefully Maintaining Pool Walls, Tiles, and Coping
Preventing algae growth in your pool and disposing of mineral deposits is critical for retaining a clear and visually attractive pool. Here's what you need to do:
Preventing algae increase on pool surfaces: Regularly scrubbing the pool partitions and tiles prevents algae buildup and preserves a clean look. Use a pool brush or scrubber designed for your pool's surface type to avoid damage and effectively clear out algae.
Removing scale and mineral deposits: Mineral deposits and scale can collect on pool surfaces over time, leading to water health degradation. You can prevent this by using an appropriate pool floor purifier and a scrub brush, cautiously cleaning the affected areas, and eliminating these deposits.
Proper Maintenance of Pool Covers
Cleaning and storing pool covers and ensuring they're in good condition is critical for optimum protection. Here's what you must do:
Cleaning and storing pool covers: Clean your pool cover thoroughly by removing any debris or leaves. Allow it to dry completely to prevent the growth of mold. Once dry, store it in a dry place, covered from excessive warmth or sunlight.
Ensure the covers are not worn out: Regularly check your pool cover for any signs and symptoms of wear and tear. Repair broken surfaces promptly to ensure they offer effective protection against particles, direct sunlight, and different elements.
Determining the Right Maintenance Schedule
Creating a maintenance schedule tailored to your pool's specific needs is essential. Here are some factors to consider when planning your pool's maintenance:
Factors to consider when creating a maintenance plan: Pool size, frequency of usage, climate, and surrounding environment all play a role in determining how often your pool needs maintenance. Consider these factors to develop a suitable schedule.
Frequency recommendations for pool cleaning tasks: While specific cleaning tasks may vary depending on individual circumstances, a general guideline is to skim and vacuum the pool weekly, test water chemistry at least twice a week, and perform a comprehensive cleaning every couple of weeks.
Eco-Friendly Pool Cleaning Options
As environmental consciousness grows, eco-friendly pool cleaning options are gaining popularity. Here are some practices and products to consider:
Environmentally-conscious cleaning products and techniques: Many pool cleaning products offer environmentally-friendly options. Look for biodegradable and eco-friendly chemicals that minimize the impact on aquatic ecosystems and help protect the environment.
Reducing chemical usage and energy consumption: Implementing pool covers, optimizing filtration systems, and reducing reliance on chemical sanitizers through alternative approaches (like UV disinfection) can significantly reduce chemical usage and energy consumption, promoting a greener pool cleaning routine.
Tips for Maintaining a Clean Pool
Keeping your pool immaculate is crucial for quality control. Here are some helpful tips to keep your pool in great shape:
To regularly get rid of leaves and debris, skim the surface.
Floating debris detracts from your pool's aesthetic appeal and worsens the water quality.
Clean the floors and walls using a pool brush.
Brushing maintains a sanitary swimming environment by preventing the accumulation of algae and other impurities.
Regularly inspect and clean the filter in your pool.
The filtration process might be hampered by a clogged or filthy filter, resulting in murky water and poorer water quality.
Check the water's chemistry and make any necessary adjustments.
Maintaining clean and clear pool water depends on proper pH levels and chemical balance.
Use a trustworthy robotic pool cleaner, such as the Dolphin Quantum.
A robotic cleaner can reduce the strain of manually cleaning a pool, which offers dependable efficiency and ease.
Conclusion
The importance of regular pool cleaning should be taken seriously. It is vital for maintaining longevity and water quality, not simply for cosmetic reasons. You can enjoy a clean, safe, and pleasant pool throughout the year by understanding the potential contaminants, adopting regular cleaning duties, maintaining water chemistry, and ensuring regular follow-ups.
Increased water clarity, longer equipment lifespan, and the satisfaction of creating a safe swimming environment are all benefits of the time, effort, and occasionally expert aid invested. If you keep these pointers in mind, you'll benefit long-term from regular pool cleaning.