If you've decided to move out of a house you own, you're in a unique position to playhouse flipper and potentially earn a profit on your home sale.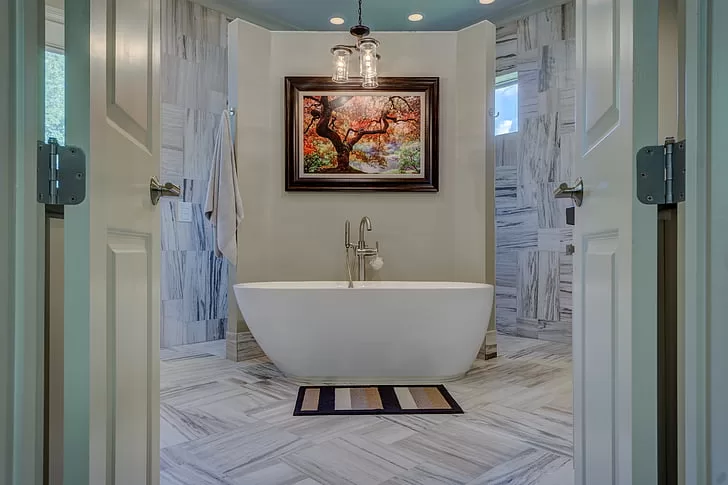 While the neighborhood and housing market determine a majority of a house's value, there are still a few key features that unequivocally boost a home's value.
If you're hoping to make a profit on your home sale, here are four home design elements to invest in that will immediately boost the value of your home.
1. Additional Bathrooms
Some may say that the hearth or the kitchen is the heart of a home, but let's be honest: it's the bathroom. More bathrooms mean less scramble when a family tries to get ready in the morning, more convenience for guests in the house, and more time for long, luxurious baths without inconveniencing anyone else.
When adding or renovating your bathrooms, some features you could modify or add to increase the value are the toilet, bathtub, cabinets, countertop, wall tilings, and ventilation system. In short, the better-looking the bathrooms are, the more valuable they are!
According to Badeloft, a half bathroom with a sink and toilet can raise your home's value by 10% at most, for a $20-25,000 increase in your home's value. A full bathroom with a sink, toilet, bathtub, and shower can net you double of that, increasing the home value by up to 20%, or $40-50,000 on the market.
Of course, the value of each incremental bathroom will vary depending on how many bathrooms you already have relative to your living space – if you already have two bathrooms for a single-story house, another one might be overkill.
But if you only have one or one-and-a-half bathrooms for a two-story house, another full bathroom could be a game changer for your home's value.
---
Read Also:
---
2. Improved Flooring
Next on the list is refinishing or replacing your flooring. Think about it: when you move into a new home, do you really want to be walking in a place where other people's feet have been?
Though you theoretically have a choice between installing hardwood flooring or carpet, hardwood flooring seems to be more popular nowadays due to its durability and ease of cleaning.
Thus, two ways to improve the value of your house for resale is by either installing new hardwood floors or simply refinishing the floor with new varnish, seal, and stain.
According to a 2022 remodeling impact report published by the National Association of Realtors (NAR) and the National Association of the Remodeling Industry (NARI), the top two interior remodeling projects that recovered their own costs were refinishing hardwood flooring (147%) and installing new wood flooring (118%).
In other words, for every $100 the original homeowners spent refinishing the hardwood, they could expect to see the house's value increase by $147.
However, it's true that installing new flooring can be a bit of a risk, as the next homeowners might decide they want their own flooring instead, rendering all of your hard work for naught.
For homeowners who aren't ready to take that financial risk, we'd recommend simply refinishing the hardwood flooring first or deep-cleaning existing carpet to give it that brand-new look, rather than risking it all on installing new wood flooring.
3. Finished Basement
If your home has a cold, concrete basement used for storage, finishing the basement to add lighting, flooring, and insulation could be an excellent way to add additional living space to your home without any exterior renovation. With more usable space in the home, your house's value will increase.
From the same NAR/NARI report, it was reported that converting the basement into a living area yielded an 86% cost recovery.
While this doesn't financially break even at 100%, this can still be a worthwhile renovation for your home, especially if you plan to live there for a few more years – you can enjoy the benefits of additional living space yourself!
With this new living space, you could install a second living room, additional bedroom, in-home movie theater, or game room – whatever your heart desires or whatever you think will net you the most value added in your neighborhood.
If you're not sure what sort of living space or renovations will net you the most profit, you'll have to do market research on your neighborhood and conduct some sentiment analysis. You can find here some guides for doing so, as well as some other tips and tricks for maximizing your home sale.
Now, to be fair, not all homes have basements in the first place, such as homes in earthquake-prone areas such as southern California. A basement bedroom might also sound unappealing to potential homeowners in areas prone to floods, such as in the South.
But if you have an otherwise safe basement that's been sitting undeveloped, finishing it up could yield both a more pleasant life for you and your potential buyer.
4. New Roofing
If your home is on the older side, your roof tiles may have been festering above your for decades, subject to the wear and tear of the weather and the excrement of your local bird population. It might look excessively gummy and gritty, giving prospective home tourers a poor first impression even before they step foot in the house.
Installing new roofing before selling the house gives your home a fresh makeover, making it more attractive and pleasant to live in. Adding more durable and long-lasting materials could also protect your home from leaks when it rains.
According to Remodeling, new asphalt roof shingles could increase your home's value by $17,800, and a new metal roof could increase the value by $23,100. Our trusty NAR/NARI report describes a 100% cost recovery for new roofing, meaning that you'll see a positive gain in both your home's value and the happiness you experience living in it today.
Conclusion
On top of creating an enjoyable living space for yourself, home renovation can also improve the sticker price of your house when you decide to sell and move on.
If you're looking to maximize your profits when house flipping, renovations such as additional bathrooms, improved flooring, a finished basement, and new roofing have the highest return on investment.
With some strategic renovation, you could turn your home into a powerhouse of property and dominate the real estate market.