Santoku knives and chef knives are similar in form and function. They will come in handy when preparing any meal. Like a chef's knife, a Santoku knife is a general-purpose knife.
Both knives are versatile and suitable for a variety of cutting tasks. By knowing the difference between a santoku knife and a chef's knife, you can make an informed decision about when to use each.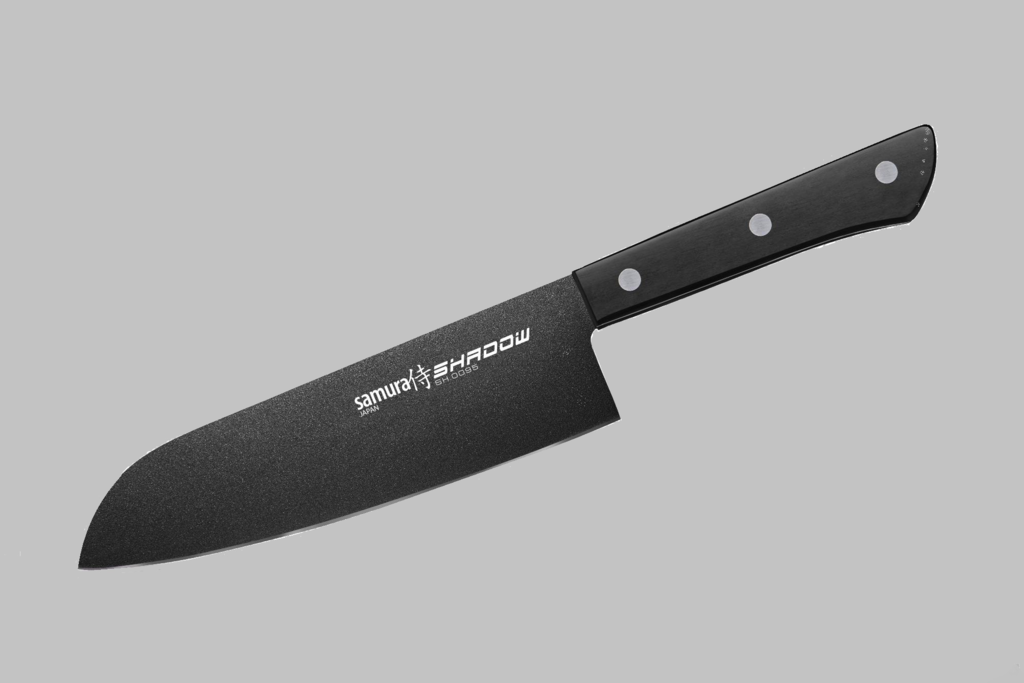 What is a Santoku Knife?
Originating in Asian cuisine, the Santoku is Japan's version of the chef's knife. The Santoku sword is characterized by its straight edge. Compared to a chef's knife, the blade is roughly the same length throughout and slopes down only at the tip.
Because of the straight edge, the santoku does not wobble on the cutting surface as a "rounded" edge does. This makes it easier to utilize the entire length of the edge when cutting.
The straight edge of the santoku is perfect for the push-and-cut technique. You can use a pinch grip for this. This is a technique where you grip the front of the blade between your thumb and forefinger.
Because you hold the blade close to the handle, you have great control over what you're cutting. You cut with a diagonal motion from the top back to the bottom front. After each cut, you lift the blade and return it to the starting position.
Practice makes perfect with this technique! When you get the hang of it, it's one of the most effective cutting techniques.
The Santoku blade profile is straighter along the edge, but some began to mimic the traditional design of a chef's knife, which has a curved blade that protrudes upwards at the tip to aid in the rocking technique, also known as "rock chopping".
---
Read Also:
---
How to Use a Santoku Knife?
With a Santoku knife, you simply push down on the blade quickly, with no wobbling. Many Japanese cooks use this cut: chopping in a front and back stroke or in a straight line up and down.
Disadvantages of the Santoku Knife
As you can see in the comparison above, while the Santoku knife is great for faster, finer, and more precise cuts, it starts to hit its limits when handling heavier meats and tougher vegetables.
Although it can technically cut through these types of foods as well, it may not be as efficient as using a larger and stronger chef's knife or cleaver.
What is a Chef's Knife?
Western-style chef knives have many uses in the kitchen.
Designed for a "pinch grip," the double beveled blades measure between 8 and 12 inches from root to tip, while the blade has a generous curve (called the "belly") designed for rocking and is known in culinary circles as "Rock Chopped" action.
The rock chopping technique involves holding the tip of the knife on the cutting board while rocking the knife up and down, using the guiding hand (which should be in the "claw position" with the fingers curled underneath) to push the ingredients forward to cut.
How Do You Use a Chef's Knife?
On the other hand, if you're dealing with meat that needs to be separated, such as a whole chicken wing, a chef's knife might be a better choice. The chef's knife is also great for everyday chopping, mincing, and dicing.
Western-style chef knives tend to be thicker and heavier and are the workhorse of your kitchen, while lightweight Japanese-style Santoku knives are perfect for fine, delicate slicing.
While both are considered multi-purpose tools for slicing, dicing and chopping fruits, vegetables, and herbs, when it comes to chopping meat, the chef's knife is more commonly used for slicing through thick meat and even bones, while the Santoku knife is more commonly used – for the fish.
A chef's knife may also be the right choice for chopping dense ingredients like melons, squash, and other fall vegetables, while a santoku should be the first choice for recipes that call for thinly sliced, perfectly even ingredients (think ratatouille).
With a gradual curve from heel to tip, chef knives can have different functions depending on the part of the blade:
Front: Ideal for small cutting jobs such as chopping onions or mushrooms and other small vegetables.
Middle: Suitable for chopping hard and soft foods, as well as chopping vegetables, garlic, or herbs.
Heel: A good starting point for cutting very tough foods such as butternut squash, carrots, and pineapples.
Spine: Can handle small bones, shells, or shellfish casings.
SURFACE: Great for crushing garlic cloves, flattening or shaping meat, and can also be used as a spatula for chopping food.
While chef knives can handle just about every cutting task in the kitchen, they're not ideal for delicate, precise cuts, such as preparing sashimi or deboning fish. These tasks require a smaller, thinner, and more flexible knife.
Next, let's do a head-to-head comparison of Santoku and chef Knives.
Pros and Cons of a Chef's Knife vs. a Regular Price Knife
Choosing between these two knives may also depend on the type of tasks you perform in the kitchen, as each has its pros and cons:
A chef's knife has a wider blade than a Santoku knife, so it cannot easily chop ingredients. It's not good at cutting meat or vegetables with small bones, like chicken.
A santoku knife is more versatile than a French knife, as it can be used to chop garlic or chop vegetables like carrots, celery, or broccoli.
chef knives are designed and sized for maximum power and control, so they can be used for chopping vegetables on a chopping board or chopping board.
Santoku knives are lighter than French knives and don't require as much downward pressure when cutting vegetables. Some chefs find this more comfortable.