Small kitchens are a devil to organize, especially if you're not used to them. One extra thing on the counter and your kitchen will end up looking like a war zone, and it's so easy for it to look messy even if you make sure to keep it organized and keep things well in their place.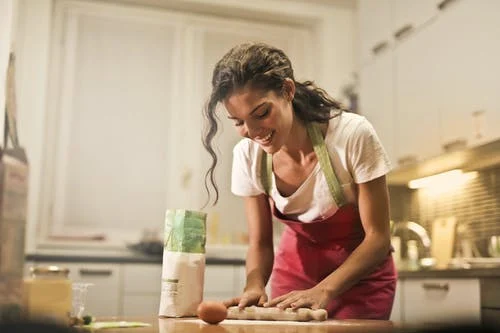 It isn't easy, but a little creativity and some thinking can go a long way into making your small kitchen look like chef heaven.
Keep reading to find out how you can maximize space and store stuff in your small kitchen.
The Right Kind of Cabinets
The right cabinets are important for every kitchen, and even more so if you don't have a lot of space to work with. There's no room for bulky and intricate designs, and we'd suggest you keep it simple. There are countless minimalist rta kitchen cabinets that would be easy on your wallet and great in your kitchen – check them out.
Whatever design you choose, make sure the patterns and styles don't take up too much space, both literally or visually. Stick to light, neutral shades, and sleek kitchen fittings.
Open Shelves
Another great way to keep the clutter to the minimum is to opt-out of kitchen cabinets entirely and get open shelves instead. But this is one of those high risk, high reward situations. If you keep too much on your shelves, the kitchen will look even worse than when it had kitchen cabinets.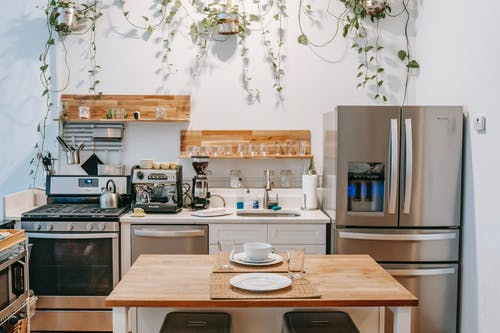 Vary the heights in your open shelves, only keep the essential items in your kitchen, and make sure to add tiny decoration pieces or succulents on them to make it look good.
---
Read Also:
---
Make Your Storage Part of the Decor
Open shelves or no open shelves, if you have something lying around in the open, make it part of the decor. This can mean hanging pots and pans against exposed brick walls to give it a rustic feel and using fancy bottles and storage containers for your spices and condiments.
In small kitchens, things like salt, pepper, and some sauces can be left out next to the stove. On the other hand,  you can store the flour, pulses, and rice in large glass jars on shelves in the kitchen where they'll be in plain view. This way you're saving cabinet space for things that need it more.
Be Creative About Space
When working with limited storage, you need to find space to store things in the least likely places.
Things like a two-tiered shelf in the corner can help you store more things there than you were previously. You can also use vertical spice holders for your cabinets to take advantage of the vertical space – this leaves more room in your cabinets for other stuff, and you can store more spices there.
There are even racks for random things like baking paper and vinegar bottles that you can hang over cabinet doors and create space where there weren't any. If you want to clear up more counter space, you can get a magnetic knife holder that sticks to the wall and get rid of your knife block.
Focus on Efficiency
Sometimes we can get so lost in how the kitchen looks that we forget we're supposed to cook in it. This part of this article is just to remind you that your kitchen needs to be easy to work in more than it needs to be pretty, and sometimes you just have to choose between the two.
Keep the dishwashing soap and paper towels next to the dishwasher, store all the mixing bowls, knives, and cutting boards around the food preparation area, and make sure to keep all your spices, sauces, and oil next to the stove.
If you think about what you will need when you're working on different areas of the kitchen and store all items accordingly, you'll be more than happy with your kitchen even if it doesn't look its best.
Your goal should be to store everything in such a way that you don't need to walk or move around too much to get what you need while doing something.