In a world dominated by social media apps such as Pinterest and Instagram, people have nearly acquired an addiction to luxury kitchens.
They see dream kitchens differently from previous generations, who would have thought of luxury as adding an extra room or a bit more appliances.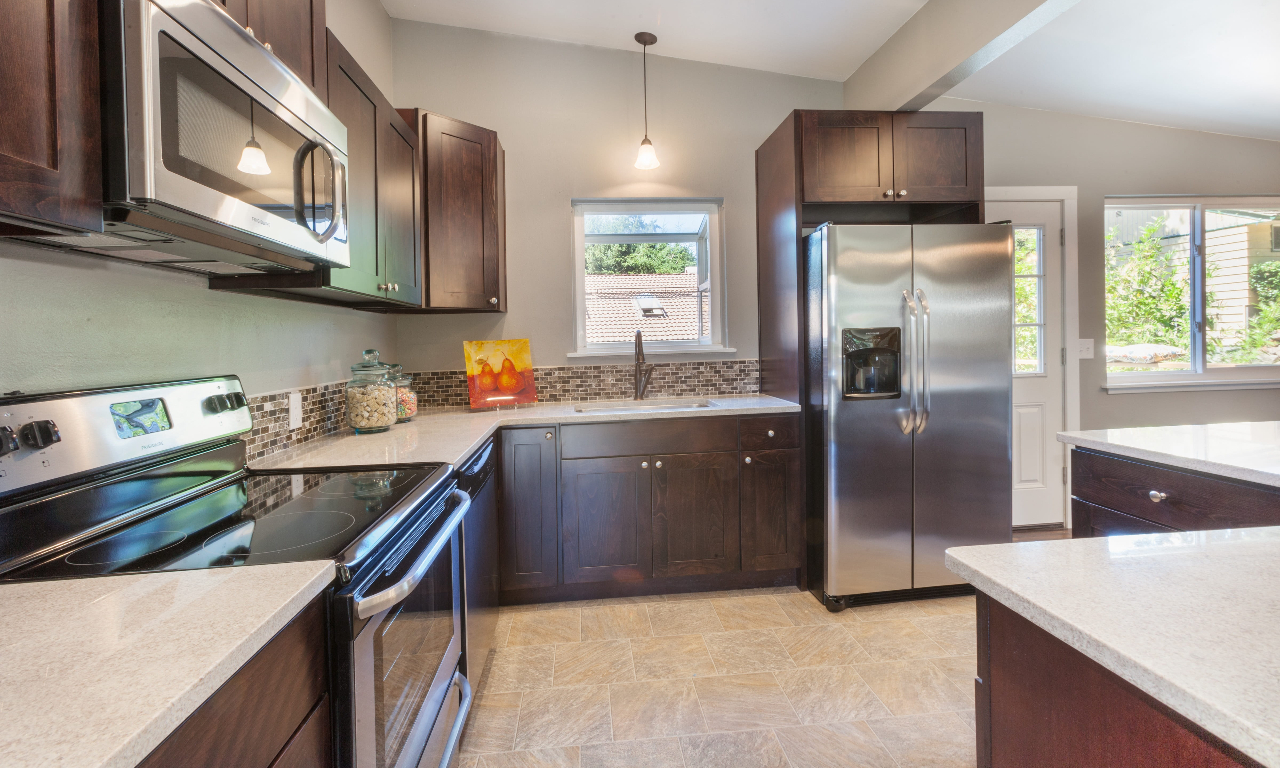 Today, a luxury kitchen is expected to be an inspirational, spacious, and peaceful room where you would showcase your culinary arts as a maestro while taking full advantage of the space and making it more efficient.
It is easy to get lost in this labyrinth and lose sight of the main picture with unlimited ideas at your fingertips coupled with a continuous flow of many choices. For those who have renovated kitchens before, there are tough decisions to be made with specific selections.
Below, you will find principles that will influence your decision to transform a concept into a beautiful kitchen.
1. They Are Never Disorderly
The counter(s) in a luxury kitchen is never cramped with small home appliances since this makes it look untidy. For a luxury kitchen, a designated area will store such an array of home appliances such as your coffee machine, blender, toaster, and stand mixer in a convenient manner for you to access them quickly.
To accomplish this, you need to have money and a budget in mind. More capital means you can create more space. For example, if you have enough capital, you can create two areas: the breakfast center and the chef's center.
Breakfast is a normal part of your routine, and you should invest in this particular area to make it work for you and your family. You could build a broad cabinet section with individual outlets for coffee making and storage of other small household appliances tied to the daily schedule.
This section will conveniently be located next to the family room to simplify their process of refilling coffee.
Your concept for the cooking area will always be different depending on your preferences, needs, and how it works for you.
An ideal design would be composed of a relatively broad cabinet that offers more room next to the stove of the preparation area. The cabinet interior could be modified to fit the owner's specifications.
---
Read Also:
---
2. They Have Space and Proportion
With relation to the fundamentals of kitchen design, scale and proportion in a luxury kitchen provide the guarantee that all item(s)) will be optimally sized. The scale for any object within the space should be relative and not blown out of proportion.
Perhaps your ideal luxury kitchen would have a high-quality stove with a huge island to indulge your guests but doesn't allow you to fit an extensive cooking range. The kitchen island would limit the space to walk around, creating discomfort and squeezing.
For complementary purposes and to ensure a fit, the items should have the proper dimensions since this is crucial.
3. They Invest in Quality
This principle is an obvious one for the most attractive luxury kitchens. If you can afford higher quality cabinets made on the bench, you would have to enlist an efficient and convenient workshop. This choice means you will get quality cabinetry with an extended warranty.
4. They Use Natural Materials
Artificial materials used in your kitchen would mimic the original materials, whether it is for your countertop and cabinets. The natural materials are more durable and practical for the kitchen area.
An example is if you use natural stones on your countertops, some of them are not likely to etch compared to others due to constant use.
5. They are Convenient to Use
Luxury should be convenient for you, and you don't want to invest a lot of money in a kitchen and arch your back to remove something from the cabinet.
You want to be comfortable in the kitchen and make the little conveniences work for you. Some of the tips that you could use to make it more convenient for you are;
Having large sinks in terms of size will afford you a larger working area without any congestion.
Appliances with built-in technology will be convenient for you; an example is a smart refrigerator linked to your phone; using the cameras in the fridge, you would be able to decide on some of the groceries you need to add depending on the quantity stored.
Having side-swing ovens built into the walls allows you convenience in terms of space since you will only use them when you need to, and they won't take up any unnecessary space in the kitchen.