Connecting devices, thermostats, smart TVs, and lighting to one other with the help of the internet now adds a layer of convenience.
The Internet of Things (IoT) is actually working in the background to acquire details pertaining to our routines and adapt to our needs and requirements without us having to lift a finger tomorrow.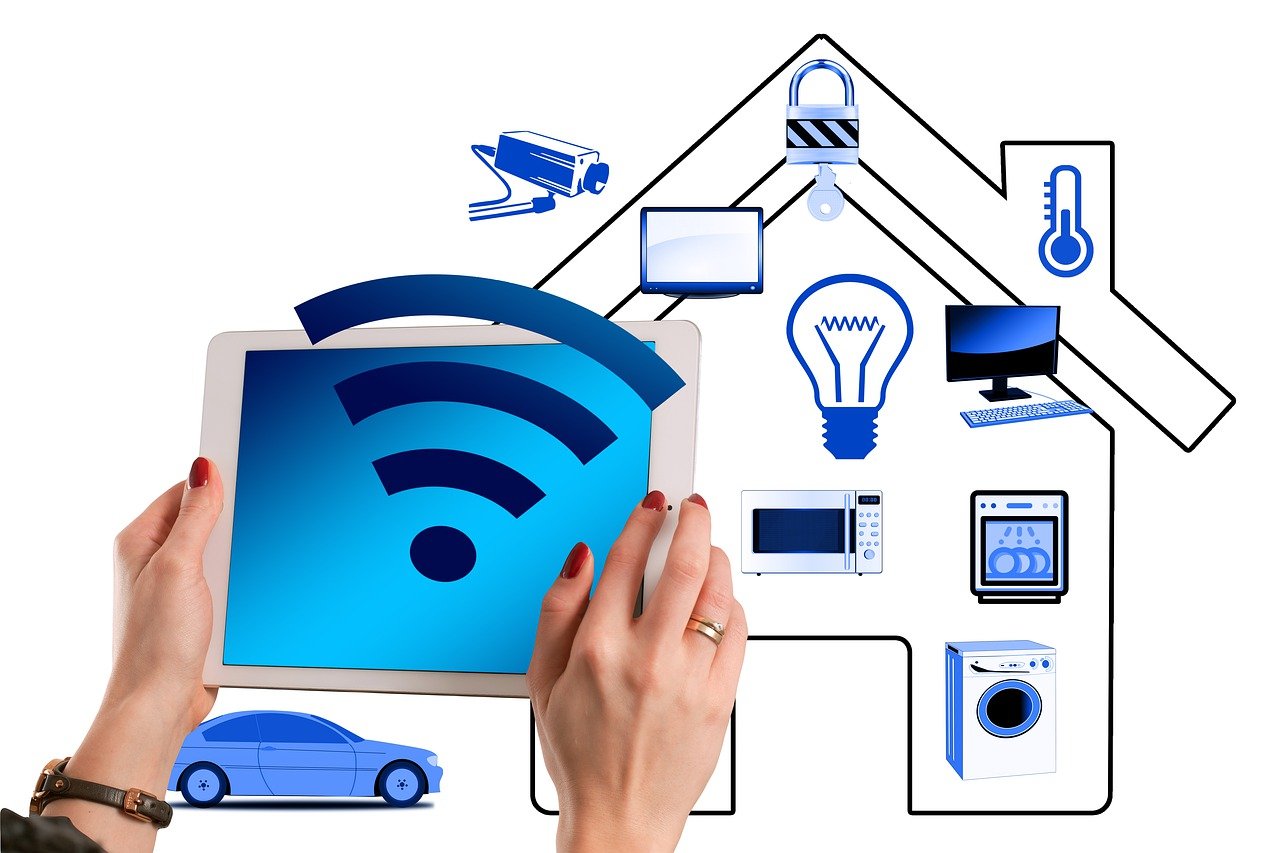 The data collected by each device, which can be analyzed and responded to by a controller in our house, will turn an automated home from a collection of independent gadgets to an environment, the "smart" home.
It is something that simplifies your daily routine, reduces your home's usage of valuable resources like electricity and water, and links it to the greater IoT to allow genuinely remarkable developments for our planet.
What Do You Mean by Home Automation?
The automated control of technological gadgets in your house is known as home automation. Because these gadgets are linked to the internet or Wi-Fi, they may be operated from afar.
Home automation helps build a smart environment in which devices can activate other devices, so you do not have to operate them manually by switching them on or off or via any voice assistant or mobile app.
You may, for example, set your lights to switch on whenever you typically go to sleep or set your thermostat to switch on the air conditioner about an hour prior to your return from work so you do not have to come home to a stuffy and impersonal house.
Home automation lets you personalize your home according to your lifestyle. It makes life easier and also saves a lot of your money by saving energy!
How Do You Easily Automate Your Home?
1. Use Smart Light Facilities for Your Home
Smart lighting is the simplest and most effective way to begin automating your house.
Lighting that you can regulate with your voice, set on a schedule, or activate depending on whether the door is open or close is convenient, saves energy, and looks great.
Without needing to employ an electrician, smart lighting adds a slew of advantages to your home's lighting design.
With a smart bulb, you can dim the light according to your preference. According to your activity, it has adjustable white light (move from cool tones to warm tones) and even has color-changing capabilities.
Smart switches are yet another simple method to link a room's worth of existing lights, adding dimming features, scheduling options, and voice control capabilities.
2. Switch to Smart Locks Instead of Traditional Locks
Using a smart lock will transform the way you enter and exit your house and make it easier and safer to let in guests or services like house helpers or dog walkers.
You now do not need to hide your keys or carry them everywhere; instead, you can now use your smartphone, code, or fingerprint to access your home.
You can also provide only those individuals the access whom you trust. And you can also remove it when you do not want them to have access to your home.
Changing locks is no more an issue with smart locks because now all you have to do is change the password/code. Smart locks also have the ability to connect with other tech gadgets around you, like lighting and heating.
So, whenever you are unlocking your home, the lights and heating automatically get set according to your preferences.
---
Read Also:
---
3. Install a Smart Cooling/Heating System to Regulate Indoor Temperature
Smart heating control can help you save big on electricity bills without having the burden of extra blankets or comforters, quite literally.
A smart thermostat can detect whether you are at home or not by using smart sensors, the geolocation of your smartphone, and connection from other devices like your home assistant and alter the temperature by a few degrees to conserve energy without making you feel uncomfortable.
A smart thermostat can also communicate with other devices in your home, such as smart sensors and local weather stations on your home assistants, to determine when it is time to turn down the temperature or raise the temperature.
4. Upgrade Your Home Security with Motion Sensors
Burglars, robbers, and other criminals frequently target homes while the inhabitants are absent or sleeping. They do not want to be spotted breaking into a house because neighbors could call the cops.
As a result, home security experts advise that you install outdoor lights around your house. Adding motion-sensor floodlights and other external lighting help dissuade burglars from attacking your house and family.
When someone comes too close to your property, these lights turn on automatically.
You need to be protected against more than just humans. Animals are all known to approach your property in quest of food. If the lights installed outside your house turn on as soon as they approach your home, they'll be scared away.
Furthermore, motion sensors will be especially useful if you reside in a location with chilly winters.
When you step outside the house, the lights should turn on to assist you in navigating treacherous surfaces such as ice and snow. This can drastically lessen the likelihood of harm.
5. Install a Smart Surveillance System for Your Home
While many of us do not actually have CCTV cameras installed in our homes, owing to affordability, wireless Wi-Fi cameras in an automated home make it much easier to monitor the situation if you want to.
Here is a guide on the places to put security cameras around the house.
These simple-to-install and user-friendly devices may be placed indoors or outside your house to warn you of any concerns via motion-activated recording and to allow you to view a live recording of your house even though you are not physically there!
You have to access the recordings on your smartphone – and you get to see your home both indoors and outdoors living.
Many may be programmed only to wake up and record if they see a person, animal, car, or package, or to report on all and any movement in their field of vision.
They may be set to switch off automatically when you go home, so you do not record yourself accidentally.
In Conclusion
The wonderful thing about home automation is that it gives you the ability to do your housework for yourself, even in your absence.
Imagine returning to your home after a hard day at work and having the lock system automatically open the doors for you, your security system deactivating, and your lights turn on with the optimum temperature to greet you with a pleasant warmth.
You set the temperature to your liking and ask Alexa to play some peaceful music while you unwind.
When it is time to go to bed, a voice command is enough to lock all the doors, activate the security system, and switch off the lights, so you can relax, knowing you have created a smart home system that perfectly meets your needs.
With the power of IoT, you can ripe the benefits of convenience, a secure environment, and lots of savings on energy. You need to choose the right devices that meet the requirement to create a "smart" ecosystem.