Everyone on this planet is surrounded by concrete; an alternate name for cities can be "concrete jungle".
All structures, from small houses to giant skyscrapers, are made from concrete. Essentially, it is a mixture of cement, water, and aggregate.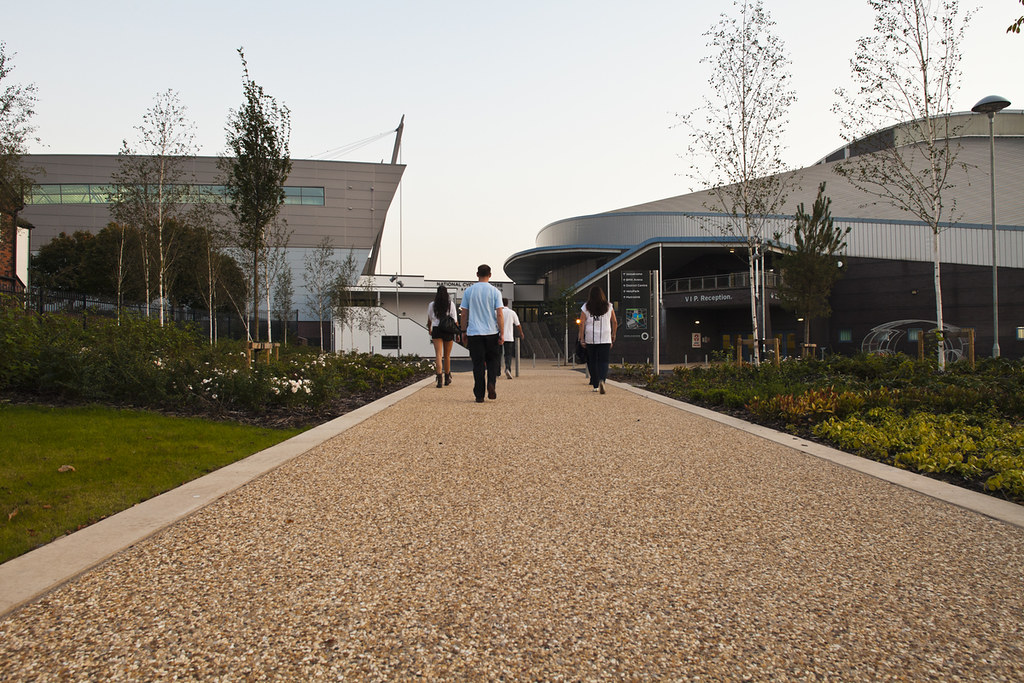 This mixture is in the form of slurry and hardens over time, making for a plethora of uses. Concrete is generally a functional and useful part of any building process.
Its sturdiness makes it a staple in the construction of most buildings, but its flat, grey and coarse color and texture give a bland outlook and is generally not considered decor material.
But in actuality, concrete can lend itself to creative decor for buildings. Contrary to popular opinion, concrete can add class and sophistication to a structure when appropriately used.
One such example of concrete decor is exposed aggregate concrete.
What Is Exposed Aggregate Concrete?
Concrete is a mixture of many particles, but when it sets, it forms a uniform texture. But the particles in the concrete, if large enough, form solid masses within the structure.
When a very thin layer is removed from the surface of the concrete, it exposes the larger masses of particles below.
These masses are either stone or other aggregates, but people can also put in some glass, crystals, and other luminous material for decor.
After removing the top layer, these masses are laid bare and thus form a unique decorative pattern on the concrete.
It isn't general knowledge, but this technique has been used in decor for ages.
---
Read Also:
---
Advantages
More than decor, this decorative concrete also offers various practical advantages, and some of which are:
With an uneven surface, this type of concrete provides an excellent grip even in icy and wet climates.
Walking and driving on this surface is easy, depending on the level of protrusion. This level is entirely customizable, allowing people to put in whatever material they want to expose and thus control the various protrusions' height.
This type of concrete decor, like other concrete materials, is highly durable. The concrete sets firmly around the protrusions, locking them in place and surrounding them.
A bonus is that this type of concrete decor is also very easy to maintain. Even if cracks appear, later on, resealing them is not a consuming task.
People can hose down or lightly sweep the surface and maintain it for decades.
Depending on the material used for the protrusions, this type of concrete decor is probably the cheapest on the market.
Using pebbles, luminous stones, crystals, and other easily available material further reduce costs.
Exposed concrete has a raw, undefined beauty about it. It is timeless and elegant. Depending on the materials used for protrusions, this decor can up the vibe of any space.
People wanting a splash of color can use colored pebbles or glass, which reflects light beautifully.
This decor is best when seen outside, as the light catches the protrusions reflecting off them exquisitely.
Decorations
The versatility of concrete, combined with the plethora of material options, allows for this concrete decor to be applied on any surface.
To help you with the choices, here are a few ideas:
Using this concrete decoration to line stairs provides a unique visual attraction. The straight lines with uneven textures offer undeniable appeal.
Using smaller material allows for a smooth yet uneven surface for a pool deck. The small aggregate offers an uneven surface that doesn't disturb deck chairs and other pool ornaments.
Generally, this concrete is used on the exterior of building walls. The sunlight naturally highlights this decor and thus turning heads.
There are many more ways to use exposed aggregate concrete as decoration; the person's creativity only limits the extent of ideas.
---
Author Bio:
Ester Adams is a farmer of words in the field of creativity. She is an experienced independent content writer with a demonstrated history of working in the writing and editing industry. She is a multi-niche content chef who loves cooking new things.
---