After a fire emergency, homeowners are faced with the daunting task of rebuilding their lives and restoring their homes. The aftermath of this can have far-reaching and profound consequences, resulting in overwhelming emotional and financial burdens.
It is during these difficult moments that homeowners often find themselves perplexed and uncertain about the necessary course of action to take in the wake of a fire emergency.
Therefore, it is crucial to have a comprehensive understanding of fire damage restoration services to navigate this complex process.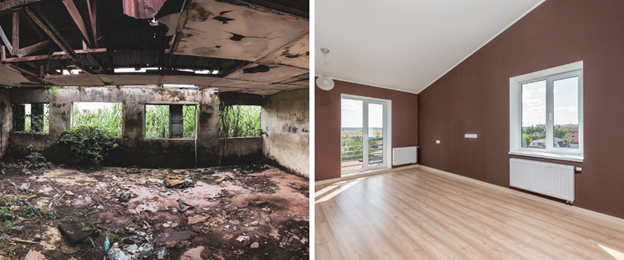 If you live in Toronto and have recently experienced a fire in your home or business, it is crucial to have a thorough understanding of fire damage restoration services, their importance, and the criteria for choosing the most suitable provider.
Fire damage restoration encompasses a multifaceted process aimed at rehabilitating your home and restoring it to its pre-fire condition. This complex process requires the expertise of trained professionals who have a deep understanding of how fire, smoke, and water can affect various materials in your home.
With that being said, the purpose of this article is to provide homeowners in Toronto with the necessary knowledge to navigate the process of restoring their homes after a fire emergency. In this article, we will cover the basics of fire damage restoration.
We'll outline the steps involved in restoring fire damage, explore common causes of such incidents, and emphasize the importance of seeking expert assistance to safeguard both your home and your health. By the end of this article, you will have a clear understanding of how to recover and rebuild after a fire emergency. To learn more, please continue reading.
Fire Damage Restoration: What Is It?
In the aftermath of a fire emergency, possessing a comprehensive understanding of fire damage restoration services becomes crucial.
With that goal in mind, this section of the article aims to provide a detailed outline of the scope and components encompassed by fire damage restoration services in Toronto. Essentially, fire damage restoration is a complex process that aims to assess and restore properties damaged by fire, smoke, or, in some cases, water.
The ultimate objective of this service is to restore the property to its original condition. That being said, this restorative effort is just one part of a broader range of residential and commercial restoration services.
In many cases where fire damage restoration services are required, there is an interplay between fire and water damage. This can unintentionally lead to additional damage to the building or structure that is in harm's way.
Given this, fire damage restoration typically requires a longer timeline compared to other types of restoration services. The scope of work involved can range from a few weeks to several months, as the unique challenges posed by fire incidents require additional steps.
That being said, fire damage restoration services are designed specifically to tackle these complex challenges. They meticulously examine the entire house, identifying even the most subtle impacts of fire damage, and diligently repair any additional harm incurred during firefighting operations.
With that in mind, the fire restoration process primarily involves the removal and repair of fire-damaged structural components, along with the necessary remediation of any lingering smoke or water damage.
In addition, professionals may take supplementary measures such as boarding up the property, demolishing certain structures, and reconstructing others as part of the fire damage restoration process.
This comprehensive approach ensures a thorough resolution of all aspects of fire or water damage restoration, culminating in a prompt and efficient restoration of the property. The main objective of this process is to restore or replace damaged property to its pre-loss condition.
Considering this, if you have recently experienced a fire damage emergency and need the help of a trustworthy and reputable fire damage restoration company in Toronto, we highly recommend that you contact Desa Contracting & Restoration for assistance.
With their expertise, years of experience, and reliability, you can expect a seamless experience throughout the restoration process.
---
Read Also:
---
How Restoration Experts Bring Your Home Back to Life: Essential Steps
Now that we have gained a comprehensive understanding of what fire damage restoration entails from the previous section, let's delve into the essential steps that restoration experts employ to bring your home back to life after a fire damage emergency.
The process of fire damage restoration is a meticulous undertaking that aims to assess, mitigate, and restore the effects of fire-related destruction.
Every step involved in the process is vital to returning your home to its pre-fire condition. This includes securing the property, addressing structural damage, and eliminating lingering smoke and odor. With that said, this section will explore the sequential stages involved in fire damage restoration.
This will give you a clearer understanding of how restoration experts work diligently to restore your property to its pre-disaster condition.
Taking that into consideration, fire damage restoration is a multi-step process that aims to restore your home after a fire. It requires the expertise of experienced and trained professionals who understand how fire, smoke, and water can affect different materials in your home.
Having said that, to assist you in gaining helpful insights into the expert techniques used to rejuvenate your living space after fire damage, we have outlined the various steps involved in the fire damage restoration process. These steps are as follows:
1. Assessment and Inspection
The initial step in any fire damage restoration process is to conduct an assessment. This involves thoroughly inspecting the damaged property to understand the type and extent of the damage.
In this step, restoration experts examine the structural integrity, identify the type of smoke, and determine the severity of soot damage.
2. Securing the Property
After a fire, your home may have broken windows, damaged doors, and a compromised roof. Therefore, the next step in the fire damage restoration process is to secure the property. This step involves boarding up and implementing tarp services to prevent further damage and protect your property from weather elements and potential intruders.
In addition, when certain sections of a building or structure remain undamaged after a disaster, it is essential for the restoration team to properly seal off the affected areas. This precautionary measure greatly reduces the risk of cross-contamination and further damage.
3. Water Removal and Drying
In the event that water was used to extinguish the fire in response to the emergency, immediate removal of water and drying are critical next steps in the fire damage restoration process.
Leaving parts of the building wet can lead to further damage from mold, corrosion, and more. As a result, professionals will utilize industrial-grade dehumidifiers and air movers to dry the area and prevent the growth of mold.
4. Smoke and Soot Cleaning
The next crucial step in the fire damage restoration process is the cleaning phase. During this phase, the team focuses on thoroughly cleaning up all remnants of the fire, including soot and smoke stains on various surfaces such as floors, walls, and ceilings.
After the cleanup, deodorizers are applied to eliminate any remaining smoke or fire odors. Additionally, in cases of water damage, the team may use disinfectants and antimicrobial chemicals to prevent the growth of mold and bacteria. After that, a thorough inspection and cleaning of all vents and ducts will be carried out.
5. Restoration
The last stage of fire restoration involves rebuilding, which includes repairing floors, reconstructing the roof, and restoring walls. While the team aims to salvage and restore as much as possible, extensive damage may require complete replacement or reconstruction.
In light of this, it is crucial to acknowledge that acquiring an understanding of the fire damage restoration process can significantly ease the path to recovery.
While we understand the trauma of surviving a house fire, being aware of the restoration services involved can give property owners the confidence they need to embark on the journey of rebuilding a safe and comfortable living environment for themselves and their families.
That said, if you require further assistance, you can rely on licensed and trained professionals who will work tirelessly until every detail is addressed. This will give you peace of mind during this challenging time.
Understanding the Common Causes of Fire Damage
In the previous section, we explored the essential steps taken by restoration experts to bring your home back to life after a fire emergency. Now, it is crucial to examine the common causes of fire damage that properties in Toronto often face.
Understanding these causes is paramount to taking preventive measures that safeguard your home and minimize the risk of fire emergencies. To that end, in this section, we will delve into the various factors that can lead to devastating fire incidents.
Each cause, from electrical malfunctions to cooking mishaps and natural disasters, brings its own set of challenges and potential hazards. With that being said, here is an outline of the common causes of fire damage to properties in Toronto:
Cooking equipment is the leading cause of house fires, with the primary contributing factor being homeowners becoming flustered and unsure of how to handle grease fires effectively. However, other significant issues encompass leaving an oven unattended or encountering a burning stove.
During the winter season, home heaters are widely used to provide warmth. However, they can pose a fire hazard if they have faulty electrical wiring. It is crucial to note that placing heaters too close to fabrics and other flammable materials can significantly increase the risk of house fires.
Smoking and the use of candles are common causes of fire damage incidents. Both activities present similar hazards and risks. A small amount of ash or accidental contact with a candle can quickly ignite flammable materials, such as curtains, resulting in devastating fires.
Chemicals commonly found in households, such as motor oil or cleaning liquids, have the potential to ignite under specific conditions. It is crucial to handle and store these substances properly to prevent fire incidents.
Electrical malfunctions are a frequent cause of household fires. Faulty wiring, overloaded circuits, or malfunctioning appliances can ignite fires within homes at any time.
Therefore, it is important to take precautions to prevent such incidents from occurring. This includes staying vigilant and conducting regular inspections of electrical systems to ensure that any signs of wear, damage, or unusual behavior are promptly addressed.
Familiarizing oneself with common causes of fire damage and associated risks can significantly enhance individuals' ability to protect their property and prioritize the safety of their loved ones.
By understanding the potential sources of fire incidents, homeowners can take preventive measures such as implementing proper safety protocols, conducting regular inspections, and investing in reliable fire detection and suppression systems.
Furthermore, this knowledge facilitates proactive decision-making regarding home maintenance, appliance usage, and the responsible handling of potential fire hazards.
Say Goodbye to Fire Damage with Help From Professionals Today!
As we conclude our exploration of the common causes of fire damage and associated risks, it becomes increasingly apparent that seeking expert assistance is paramount to safeguarding both your home and your health.
By gaining knowledge about the causes of fire incidents, property owners in Toronto can gain valuable insights into potential hazards and take proactive measures to prevent such disasters. That being said, even with diligent precautions, accidents can still occur. This highlights the importance of professional intervention.
Professionals in fire damage restoration have the necessary expertise, tools, and resources to effectively mitigate the aftermath of a fire emergency. This enables them to evaluate the extent of fire damage and implement comprehensive restoration measures.
With that being said, their goal is to prioritize the safety and well-being of all occupants while restoring your property to its pre-fire condition. Keeping that in mind, when selecting a fire damage restoration service in Toronto, it is crucial to consider factors such as experience, certification, licensing, insurance coverage, and customer reviews.
In addition, it is critical to take prompt action after a fire. Delaying restoration can lead to further damage and higher costs. However, professional fire restoration services can help property owners address these issues and restore their property to a safe and habitable condition.
By seeking professional help promptly and understanding your insurance policy, you can navigate this challenging time with greater ease and return to normal life as soon as possible. Say goodbye to the devastating effects of fire damage by seeking the help of experienced professionals today.