Each flat has its own style and atmosphere. This rule is mostly valid for the rooms where the whole family often gathers and accepts guests.
As usually the heart of the house is thought to be its living room, you need to accumulate all your responsibility for its decoration.
And if you want to give a first look at your future room use the living room layout planner and enjoy!
As long as we realize that a living room is the best place for parties, a good idea would be to buy a big (or at least a small) table where you and your guests could drink coffee and chat.
Nowadays there are very different options for the tables starting with the shape and finishing with materials.
So, the first thing which styles your room will have and then go table shopping.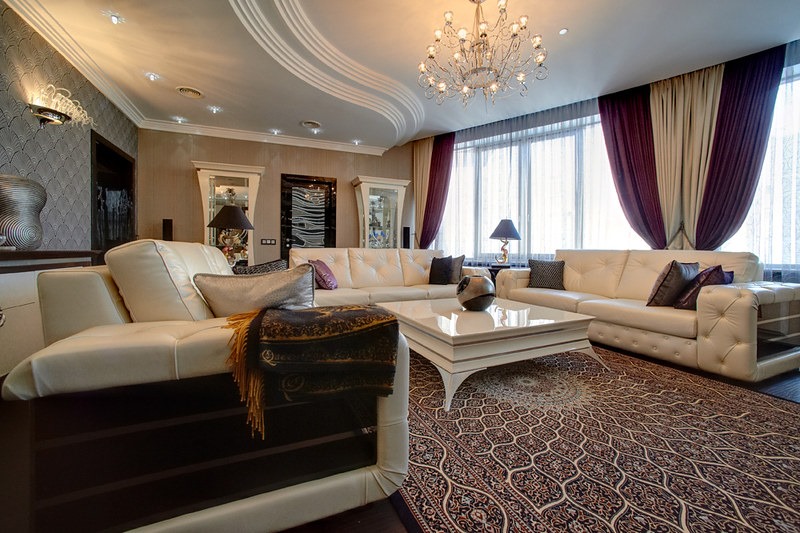 For choosing the style it is important that you take into account the size of the space.
Because there are some tips and tricks for decorating small living rooms, they will put some limits on several styles.
So, estimate the square you have and start getting acquainted with the design possibilities.
Little apartments, and living rooms, in particular, are best decorated in high-tech and minimalism.
These styles are not about many furniture elements, they are mostly focused on geometric lines and neutral shades.
However, you can always add some heavy accents, but do not get too crazy with them they could "eat" some space.
Also, there is always an option of decorating a small living room in the loft. This one is so universal, that it can look equally suitable in small and in big rooms.
Leave the walls open and add metallic industrial elements and you are good to go! All of your friends will definitely notice your unique taste.
Modern style will balance the size of the room and create a special atmosphere. Here you can use a combination of minimal decoration details and statement pieces.
---
Read Also:
---
Also, this style is not limited to any shades or color solutions you are free to use anything you want. The only advice we are insisting on is going to https://roomtodo.com/en/4709/room_planner/ and trying everything out in advance.
Stylish living spaces typically highlight oversized lounge pieces for seating, such as a sofa, which promote a social and relaxed environment for lounging and relaxing alike.
More common styles have a greater quantity of little seating collections, but special designs can be just as prosperous for entertaining while promoting increased discussion zones.
For this appearance, select good, perfect, oversized items.
If you desire a perfect mixture of green in your living room, make assured to combine it with a few well-designed interior greeneries.
Especially stylish for rooms with neutral shades, the green plant will lighten up your leaving room while combining visible breath-ability.
A sprinkle of greenery on a faint ridge easily livens up space and can obtain a dull room appear tidy, fresh, and happy.
There are infinite possibilities for inside design. The convenience of affordable stylish furniture and decoration has driven many living rooms that seem crowded.
Any genuine living room renovating plans should hold a few own touches. If you live in a residence with children, then this is your time to print their life on the wall of your home.
You can frame up your children's artwork or important family photographs as a wall exhibit.  You can also use photos of past generations for an old appeal.
You can try a light counter of great books emphasizing your coffee desk to showcase your preferred books or personal importance.
You can also insert a wall shelf and fill it with a few loosely organized books held in position with an elegant look.
There are numerous inventive opinions, so check them out. Whatever living bedroom enhancing concepts you choose to explore in your home, the most crucial thing to remember is to enjoy.
A house renovated with a loving feeling encourages a peaceful home.
And last, but not least Japanese style. Traditional furniture elements, lots of plants, and natural shades will create an eastern mood and make your living room unusual.
To make it look even more authentic, you can add some Japanese art on the walls and red color to the interior.
Keep experimenting and you will find the best choice for your apartment!