Turning your old or outdated living room into a beautiful space can be a daunting task. Furniture, colors, patterns, decors, lighting.
There is so much to think about! But fret not! In this article, we will cover a guide to designing a modern living room and more.
Let the fun begin!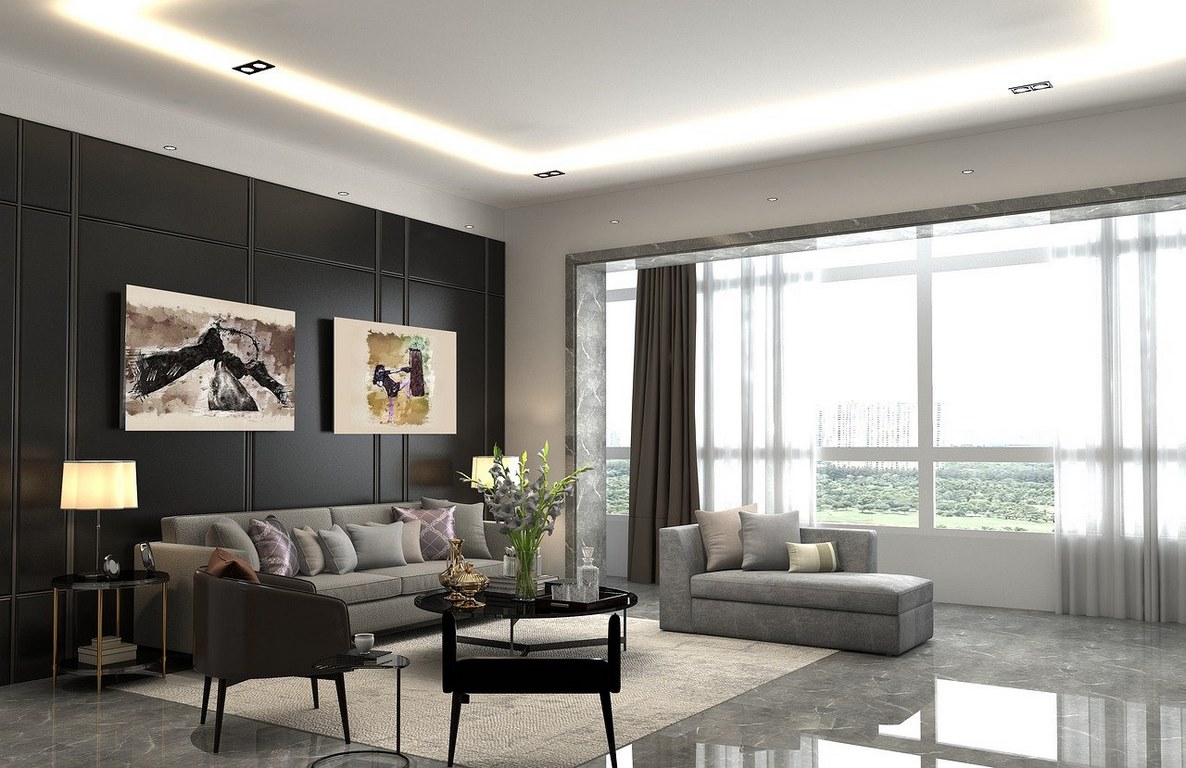 A Complete Guide to Designing a Modern Living Room
1. Select Living Room Furniture
Begin planning your designed modern living room with furniture. These are an important part of your living room where everyone loves to sit and relax with their family. Make sure to pick the furniture that fits your living room to avoid clutter. Here are the main pieces of modern furniture for your living room:
a. Sectionals and Sofas
Your living space needs enough seating space, and that is why the sofa becomes a principal feature. Moreover, they are the perfect atmosphere creators.
You can even purchase sectionals that are flexible in designs, materials, functions, and sizes. Furthermore, they can also serve as an extra bed for guests, optimize your space, and offer extra seating.
b. Extra Seatings
If you want additional seating, then choosing leather armchairs, accent chairs, window seats, or benches will be the perfect option for you. They offer a luxurious feel that can be perfect for any room.
You can even place decorative and functional upholstered ottomans made of materials like natural fabrics or leather.
c. Coffee Tables and Side Tables
Aside from seating, coffee tables, and TV stands are important pieces of modern home decor.
These tables hold things like reading materials, showpieces, removes, drinks, and more. Make sure these tables blend in with the rest of the living room decors.
As for the side tables, they are completely optional. These are smaller than the coffee table. But ties the space together. They are not the focal point of the living area. But serves a similar purpose as the coffee tables.
---
Read Also:
---
2. Lighting
The next important part of the modern living room is lighting. Your living area is where you play games, read books, and watch tv, so they need to be picked carefully.
Ideally, your modern living space must have different kinds of lights to make the room more inviting. You have ample options to choose from, such as:
Ambient lighting
Task lighting
Accent lighting
These lights have different functions, which bring out different moods.
3. Decor
Make some noise for the decor items, which make your home feel more like home. If you decorate your living room the right way, it will surely wow your guests. From rugs to wall pieces, you can purchase various minimalistic decor items for your modern living room.
Running out of ideas?
Well, you can even use house plants, sculptures, art pieces, or statement mirrors.
4. Dress the Windows
Your windows need some love and upgrade too! A window treatment will enhance the beauty of your living space. And make it functional too! So, consider draping the windows with modern and pastel designs.
5. Stick to One Color
A monochromatic living room not only looks modern but adds more aesthetic beauty to it. So still to one pastel color to give your living space a modern look
Top Five Living Space Furniture Ideas: Furniture Styles Ultimate Guide
Are you wondering, "What Are the Most Popular Furniture Styles for living room?"
Then, check out some of them to update your living area.
1. Modern Furniture
If you want to up your living room decor game, then go with modern furniture. The sleek finished sofas, simple shapes, minimal adornments, clean-lined tiles, or simple wooden carpets will increase the wow factor of your home.
2. Industrial Furniture
Industrial furniture style has risen these days, which has a minimalist design and neutral color schemes. The main aim of this style is to repurpose the furniture or tools and make them last longer.
3. Scandinavian Modern Furniture
What happens when you mix functional furniture with aesthetics?
It gives birth to Scandinavian modern furniture. This aesthetically designed furniture is known for its simple design features and elegance.
When opting for this style, make sure to use an open design, light or neutral colors, and light wood to create an airy feel.
4. Postmodern Furniture
Postmodern furniture is one of the most striking styles among all the furniture designs. This style exhibits loud patterns made from light materials like plastic, unconventional proportions, unique shapes, and bright colors.
5. Minimalist Furniture
Looking for a simple yet modern living room furniture design? Then minimalist style is just for you.
This design brings out sophistication by using minimal furniture. For this style, go with a monochromatic palette, sparse ornamentation, clean lines, and a simple and practical style.
Want to know more furniture designs? Then continue reading!
9 Additional Furniture Styles
Here are some budding furniture design ideas you should know:
Rustic furniture
Contemporary furniture
Bohemian furniture
Transitional furniture
Arts and crafts furniture
Chippendale furniture
Jacobean furniture
Organic modern furniture
Tribal furniture
Conclusion
That's it! Keep our furniture styles ultimate guide in your mind before turning your living room into a beautiful modern room. Design your living space the way you want and have fun with the project.
You can pick furniture ideas from our list and set the tone of your home. When it comes to decor pieces, make sure to go with ones that suit your style. Stay tuned with us.