The humble abode has become many things to us over the last few years. Since we were asked to stay home for much of the last few years, the way we look at our home has fundamentally changed. It is no longer just a place where we crash at the end of the day.
Our homes have become our workstations, classrooms, gyms, and studios for hobbies and content creation.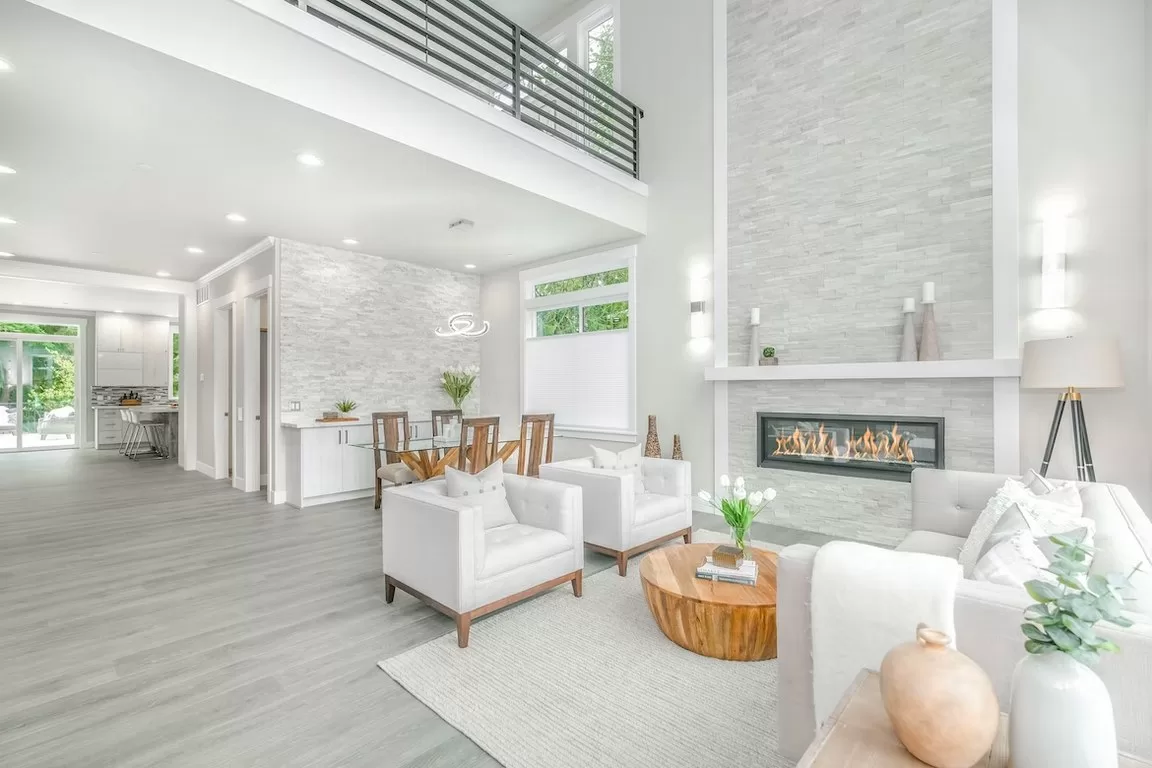 That is precisely why we are increasingly feeling the need to design our homes to be more comfortable and luxurious. Here we will discuss nine clever ways to make your home more luxurious.
1. Create a Space for Every Purpose
The feeling of luxury comes with the feeling of zen from purposeful living. After all, peaceful, organized living is a luxury in this chaotic world. This should resonate in the space you occupy most of your day.
This is why the first step to making your home more luxurious is to create a space for every purpose.
If you look at five-star luxury suites and hotel rooms, you will notice there is a space for everything—from where you will sleep, read, write, and bathe to where you will dress for the day.
We suggest you adopt that same design principle for your home as well.
Create a reading nook where you can curl up with a good book. Create a dressing area by re-organizing your closet space—or make a walk-in closet by combining a hallway closet and the bedroom closet.  Create a mudroom for when the kids need to take off their shoes after a rainy and snowy day.
This is one of the foundational blocks for creating luxury in your house.
---
Read Also:
---
2. Create a Feature Wall
When you walk into show homes and designer homes, you will notice a distinct design feature like a focal point.
Focal points are what draw the eyes of whoever enters the space. The design concept of the entire room can arise out of these focal points. Typically, focal points in rooms come in the form of a feature wall.
To create a luxurious feel like a designer home, we recommend you incorporate a feature wall in the main living area.
Feature walls can include a fireplace or a large piece of artwork. To add texture to the wall, you can also add custom stonework to the wall. Be sure to find a stonemason with experience and references to back up their work.
3. Redo the Lighting
Luxury is a perception of the mind that works to create an illusion of luxury using our senses. When you enter a luxurious space, the first thing your senses experience is the light that illuminates the space.
This is precisely why it is essential to get the lighting of your home right to produce that luxurious feel.
Assess the current lighting situation and take a look at what can be changed to add the flair of glam. Soft mood lighting with corner lamps and lanterns to warm up the space is preferred over bright white lights that mimic daylight.
Be sure to carefully consider the purpose of a room before deciding on lighting.
Kitchens may require more spot-lighting to help you see the counter space (where you will prep and cook) better, while a dining room will require a ceiling light fixture to illuminate the table and allow dinner guests to see each other better.
A complete re-think of lighting will instantly bring a new luxurious feel to your home.
4.  Texturize with Rugs, Throws, Towels, and Bedding
Appealing to the sense of touch, consider the textures of the fabrics that adorn your living space to give it a luxurious feel.
Consider replacing rugs, throws, towels, and bedding around your home with plush, luxurious ones to instantly give a hotel-chic luxury vibe to your home. Consider a Persian rug for the living room and Egyptian cotton 1000-count sheet sets to replace the old and tired fabrics around the home.
Also, consider the color of the fabric and opt for neutral colors to give that chic, luxurious feel.
5. Bring a Touch of Nature Indoors
Walk into a hotel suite, and you are bound to find some indoor plants in the room. There is a good reason for this. Indoor plants are natural air purifiers and add visual interest and texture to the room. The splash of green is a great way to add a design element to the room with a purpose.
It is also well-documented that indoor plants provide immense mental and physical health benefits. By infusing the indoor air with more oxygen, indoor plants can improve cognitive functions and aid in reducing depression and anxiety.
The deep green hues of large indoor plants also provide a sense of the tropics indoors which can instantly infuse that luxury feeling you are looking for.
This is why we recommend you add a touch of nature to your indoor living space.
6. Replace Old Furnishings
If you haven't designed your home from scratch, chances are you possess an eclectic hodgepodge of furniture pieces.
From hand-me-downs to left-over furnishings from a different part of your life to something you have inherited over the years, the mix of furnishings can leave your home looking unkempt and outdated.
If you are looking to give your home a fresh look, it is obvious you will have to deal with the furnishings at some point. Consider replacing your old furnishings with new modern contemporary hotel-chic furnishings to instantly give your space a luxurious feel.
However, try not to get too carried away with this aspect, as furniture can be wildly expensive. Be practical, make (and stay within) a budget, and carefully pick the pieces of furniture you would like to purchase.
7. Delete Clutter
Clutter is the worst culprit when it comes to making your home look shabby and far from luxurious. At varying levels, we are all guilty of accumulating clutter over time. It is just part of nature when it comes to accumulating stuff we need at some point in our life but have forgotten to let go of after the utility has ended.
One of the fastest (and cheapest) ways to start to make your home look more luxurious is to instill a mindset of minimalism—which is essentially a philosophy of only owning a few things at home but making those few things count.
In that spirit, we recommend you hit the delete button on clutter.  Decluttering will free up precious space in your home that you can then redesign and assign a purpose to.
Aside from the purpose of infusing a luxurious vibe, there are other very important reasons to delete clutter. Holding on to unnecessary objects weighs us down and can have a profound impact on our sense of well-being and overall health.
Studies have shown that clutter can exacerbate anxiety and depression and can reduce your cognitive abilities and working memory.
So get on with decluttering and free up the space in your mind and your home to invite the luxurious vibe and energy.
8. Bring a Flair of Art
There are various reasons to incorporate artwork in your home. You get to express your individuality, your cultural identity, and your values through the pieces of art you possess and display.
You can also add a touch of sophistication and artistic flair to your home by hanging some fine pieces of art and paintings.
To give your home that luxurious feel, consider hanging some tasteful art pieces that suit your individuality.
9. Clean up Your Garden and Lawns
Our final tip has to do with the outside of your home. You cannot have a luxurious home if the vibe outside doesn't match the inside. So it is essential for you to pay some attention to the way your garden and lawn look.
In real estate, the term curb appeal is widely used for a reason—the very first impression people make of your home is by looking at the outside of your home.
So take an inventory of what needs to be tidied up and scaled back and what needs to be added to the landscape of the garden and lawn. Don't leave any outdated decaying pieces of outside furniture in your garden.
Pay attention to the smallest details and keep your lawn and garden well-manicured and well-attended to give your home that luxurious feel from the outside.
Conclusion
There you have it. We have given you nine clever ways you can spruce up your home to give it a luxurious feel.
Your home is an extension of your energy and vibe. The way you design your home and the way you keep your home directly affects your physical health, mental health, and sense of well-being.
In addition to bringing these changes to give your home a luxurious feel, be sure to up the ante when it comes to maintenance and daily cleaning. There is absolutely no luxury in an unkempt, dirty, messy home.
Happy nesting!