The natural desire of every person is to turn their home into a cozy and beautiful place to which they want to return. DIY is the best way to do this. For instance, you may click here to create a photo pillow featuring your beloved dog.
In this article, we will look at options for crafts that you could turn into reality on your own. The main thing is you will put your heart into creating such items and they can be done at a low cost.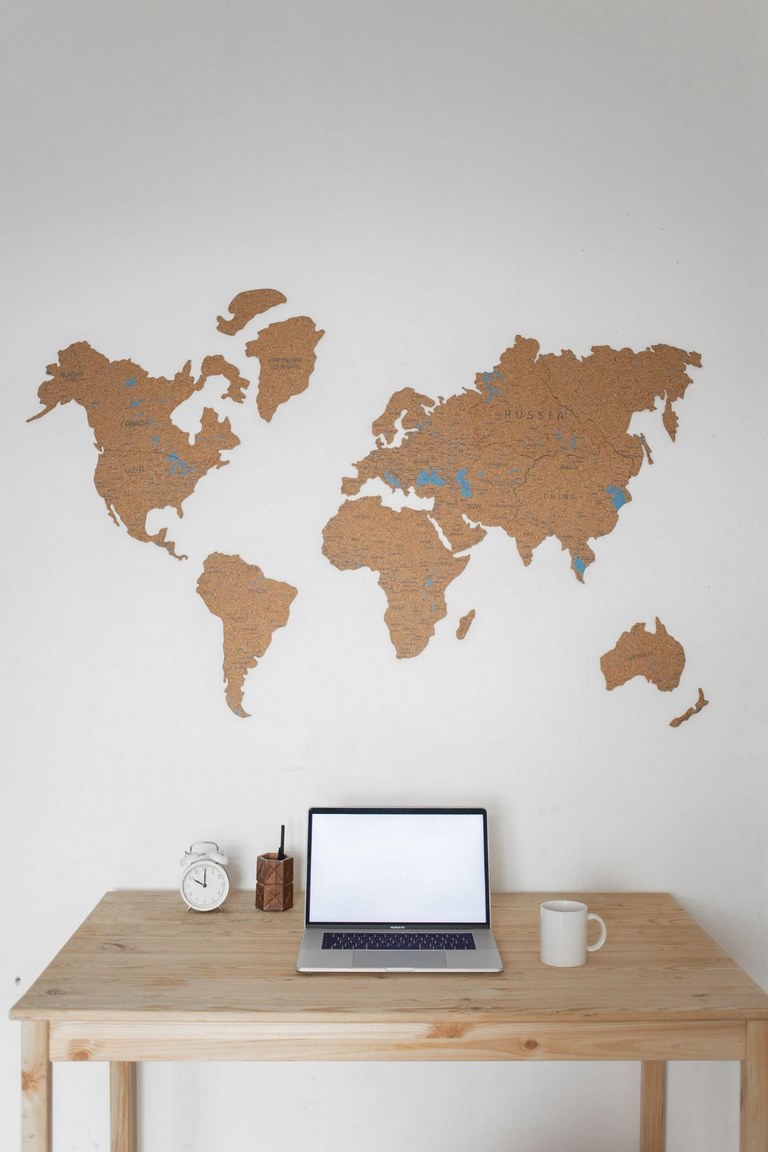 Wall decoration
Many owners choose monochromatic colors when decorating walls. It is the perfect backdrop for accessories and your furniture. However, soon many begin to wonder how to decorate an empty wall. We have put together several options for you.
Geographic Maps on the Walls
Recently, geographic scratch maps have become quite popular, where you can paint over countries that you have already visited. Why not place such a map on the entire wall of your room? You can decorate the wall of any room in your house or apartment with a geographic map.
The main thing is that it matches the design of the interior of the selected room. There are many options for such maps: vintage, navigation, stylized, and many others.
Where can you find it? The most obvious option is regular bookstores or office supply stores. However, an unconventional geographic map will be difficult to find there. It is better to look for vintage or navigational maps in online stores.
And if you have your own version of the map, then you can contact a printing company that produces advertisements for billboards, where you can make a map in the form of photo wallpaper.
Paintings Consisting of Fragments
Classic paintings with landscapes have become boring to everyone. One of the unusual options for decorating walls with paintings is module art panels. These are paintings where parts of one image are located on several fragments.
Such fragments do not have to be the same in size and shape. You can compose an image from different parts, which will create an unusual look for your wall.
The image can be very different. You can find ready-made module art panels in home interior stores. If you want to choose your own version of the image, then, in this case, you can contact the printing company, where they will print your image for you in any size and any shape, and you can make the frames yourself, or purchase them in the store.
If you decide to make the frames yourself, then it is worth remembering that the frames should be 3-5 cm smaller than the fragment itself, since you will need to wrap the desired fragment and fix it on the backside.
---
Read Also:
---
Custom Mirror
Every home must have a mirror. The first mirrors in the home interior appeared before Christ, but it was quite a costly affair.
A standard mirror will perfectly fit into any home interior, and if you want to make your decor unique, then you should pay attention to mirrors that differ in their shape or that are framed with an unusual frame.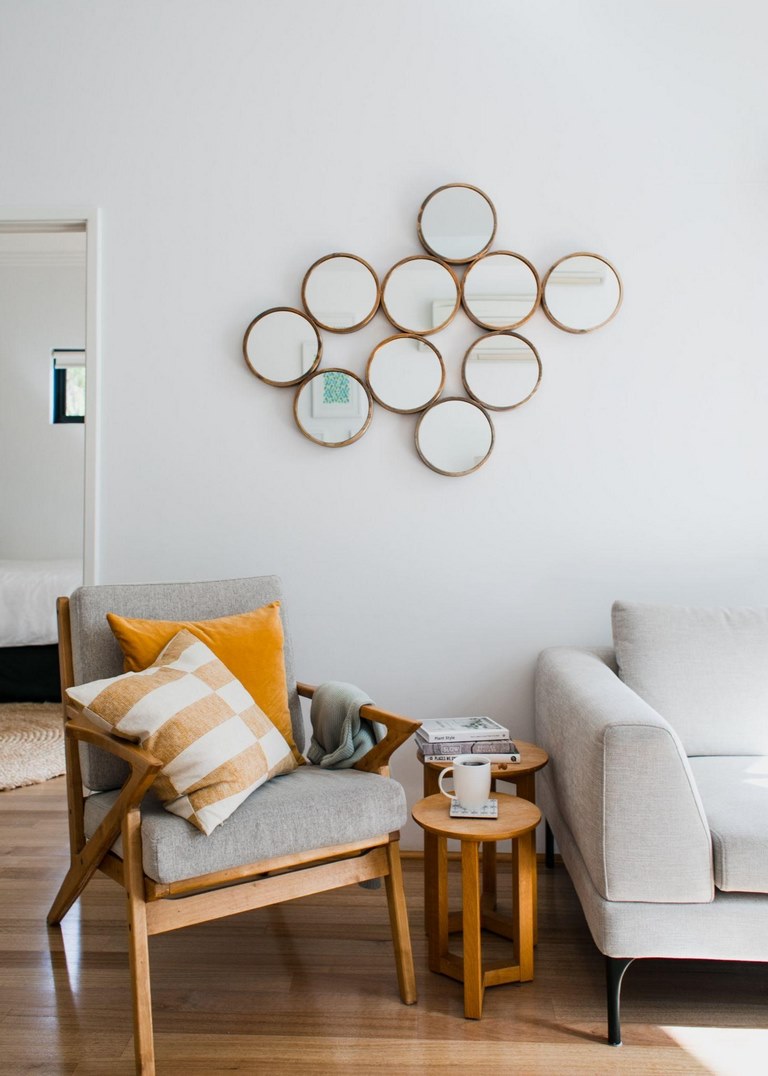 Crafts for Your Home You Can Do Yourself
Each person wants to fill their home with one-of-a-kind decorations that will create unrivaled beauty and comfort. It seems to many people that such items can only be purchased for fabulous prices. It's not like that at all. You can become your own home design. To do this, you only need your imagination and a little of your free time.
Use Lace to Decorate Bottles and Vases
Believe it or not, in order to turn your vase or any bottle into an exclusive decoration you will need only 15-20 minutes of your time, PVA glue, lace, scissors, and a brush.
The simplest thing is to make lace, wrap a vase or bottle in place, cut off excess lace, dip a brush in glue, apply glue to the lace and glue it to the vase or bottle. This may sound boring, but the result will astonish you.
Lace can be purchased at any hobby store. If you know how to needlepoint, then you can knock a pattern that you like with your own hands. To spice up your modern design the needlepoint specialist can help you to choose best needlepoint kits.
Miniature Japanese Garden
A miniature Japanese garden will help add distinguishing characteristics to your home, as well as give you relaxation and tranquility. Only such a decoration should be kept out of the reach of children.
All you need is a small container: candy box, vase, aquarium; sand for landscaping, and cactus.
In order for the plant not to die, you can take a thick sock or a small pot, fill it in soil, and plant cactus there. Some types of plants or cacti can be grown in the sand for landscape art.
First, the selected container must be filled with sand; in any part of the container, dig a place for your plant and cover it up with sand. The surface needs to be leveled and then drawings can be applied using a small rake or stick.
Decorative Pillows
The greatest comfort in every home is created by small decorative pillows that can be placed in the living room, bedroom or kitchen. Pillows with pictures and extra-sized pillows immediately enliven the space and funk it up.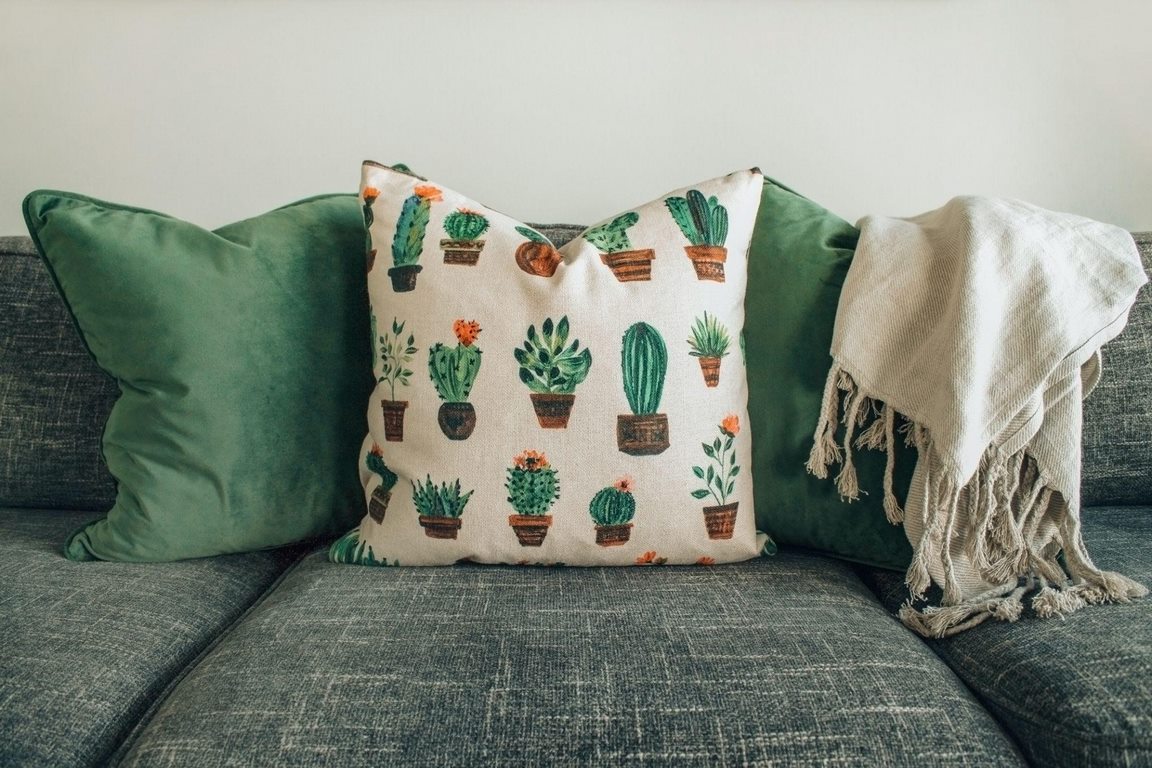 AllAboutVibe will help you create personalized pillows where you can choose size, shape, and material. Another option for creating decorative pillows is to make a pillow with a picture of your pet.
Pebble Shoe Rack
Absolutely every person encounters such a problem that after walking down the street in rainy weather, a lot of dirt remains at the entrance to the house and this is a problem. There is a solution to this problem. All you need is a rubber rack and pebbles.
Water and dirt will not be carried through the house. All the dirt and water will drain onto the pebbles when putting shoes in such a rack. From time to time, you will need to wash the pebbles from dirt. The advantage of pebbles is that they are reusable.
To sum up, the atmosphere and comfort in the house are created not only by purchasing expensive things. A lot of small things that can be made from scrap materials bring no less but, sometimes, more pleasure and benefit.