We all take a lot of efforts in keeping our houses clean, and carpets are our important concerns because it's tough to clean the carpets in our homes they are victims of all kinds of accidents, spills, etc. and if you have kids and pests then its disastrous.
So, I am sharing with you some hacks that will help you in keeping your carpets spotless and new forever.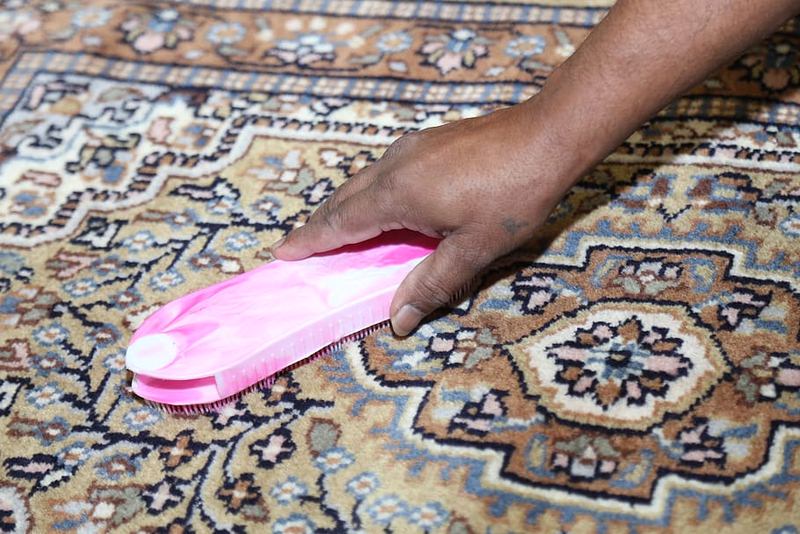 ---
Read Also:
---
Baking Soda
The first one on the list is using baking soda.
To use it as a cleaner sprinkle it on the stain mixed with water and wait for a while the bubbles will start coming with a swoosh then gently scrub it with a brush or a towel and wipe off, and wash with some warm water and see the magic that how the stains have disappeared completely.
Liquid Soap
Blotting with liquid soap on stains means dabbing of stains with liquid soap and paper towels or a sponge inward to clean the drops of juices, coffees, etc. from carpets.
Shaving Cream
Using shaving creams can also be a great help for cleaning the carpet.
It can help you in removing any kind of stains just spray shaving cream on the stain and let it settle down for about 20 to 30 minutes and after that wipe the area by spraying water mixed with white vinegar and your carpet is again back to beautiful.
Ice Cube
Ice-cubes a savior in removing chewing gums whenever we bring this foreign matter stuck in our shoes to our homes and only find it stuck on our carpets which is hard to remove. However, we can remove it by using some ice cubes.
You just need to freeze the gum for about a minute and when it's frozen just pick it up and while doing this few strands of comes out with it don't worry just cut it close to the carpet which will be hardly noticeable.
Dishwashing Detergent
Cleaning of grease stains is a bit harder but you can do it by using a small quantity of grease-cutting dishwashing detergent spray it on the grease stains and blot it up and if not cleaned properly do it once more it will gradually come out after you wipe it off with a cloth or paper.
An Iron
The wax dripping is also a common problem and bit tricky to go as it dries and gets embedded on the carpet. We recommend heating it back up to remove it out.
The process starts by putting a white cloth over the stain and then put the iron on the top of the wax to warm it up finally scrape off the wax with a butter knife.
You need to place a paper towel over the affected area and then iron it. The wax starts melting and binds to the paper. The wax will come out after a few applications.
However, beware don't use the iron for more than 30 seconds as it may burn the carpet and also use only white paper or cloth over it because too much of heat on a colored cloth will release color to your carpet.
Hydrogen Peroxide
Moreover, if your carpet gets stained with blood that doesn't meet its ruined.
No, we have a savior for this it's hydrogen peroxide, firstly use some water and detergent on the stain and scrape off as much blood as you can and then put some hydrogen peroxide directly on the leftover stain it will start bubbling after few minutes, then dab the solution with a towel and dry the carpet.
Vinegar
Chocolates and candies dropped on the carpets are a big concern as the sugar in it if not cleaned attracts more dirt and dust to stick on your shag, so it is important to clean it using mild soap or vinegar mixed with water on it and finish it off by drying it up with a clean cloth.
Soda Mixed with Vinegar
When you party at your home it's possible that your carpet gets some stains of beer or wine, but you can remove it if you use soda mixed with vinegar spray the mixture on the stained area then wait for 5 to 15 minutes after that press a clean sponge on it and soak up the solution, you may have to repeat it few times as wine stains don't go so easily after it's completely gone rinse the area with warm water and dry the carpet with a cloth.
You can even refer to professional carpet cleaning companies who know how to clean the carpet. Like Dan Dan The Carpet Man provides eco-friendly carpet cleaning services in Daytona Beach.