Despite the importance of roofing, many homeowners take it for granted. Without realizing it, the shingles on their roof could be shedding their granules.
When this happens, it can in some circumstances be a cause for concern. The question is if you notice this is happening, should you be alarmed, and can they be replaced somehow?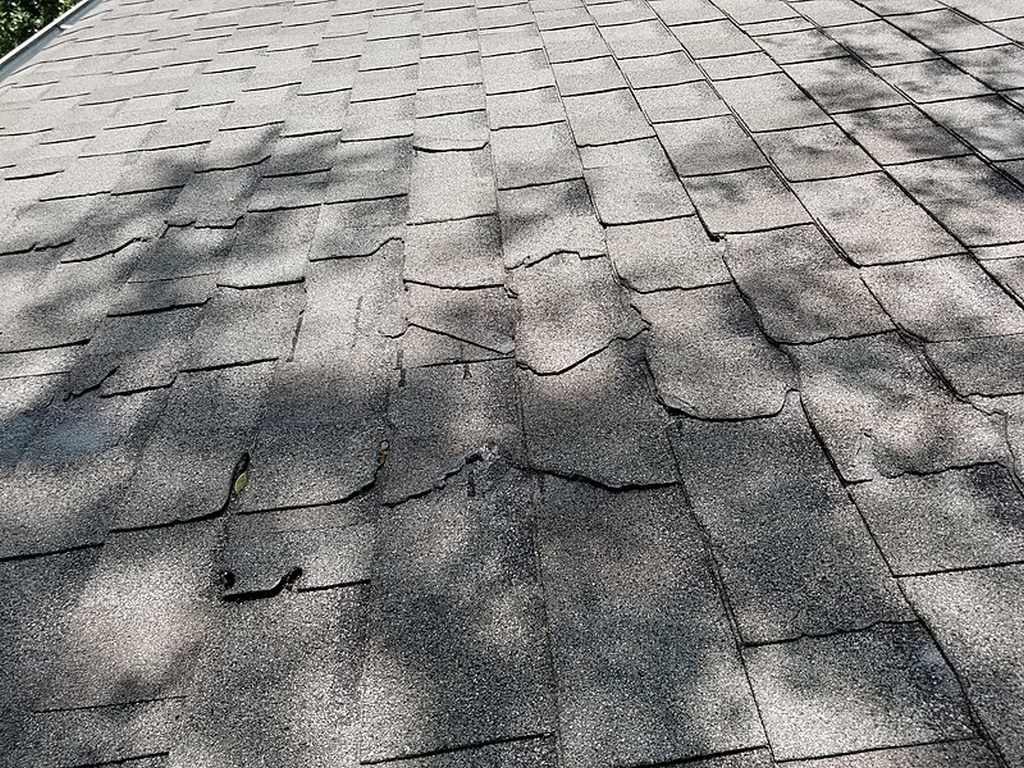 Forbes reports that the average cost of a replacement roof is around $8,000, although that could rise much higher. And this would indeed depend on the type of roofing being installed.
By far the most popular kind of material for roofing is the asphalt shingle. They come in many colors, are affordable, and they should last a long time. However, sometimes they might suffer from heavy granular loss.
Why do Shingles Lose Their Granules?
It is not strange for some granules to end up separating from shingles almost from the moment they are fitted. Some granules are just loose and will come off in the packaging or within weeks of being installed.
Nothing is alarming about this at all. It should only become a concern when you notice large amounts of granules missing, and bald areas appearing on the shingles.
You can spot problems if you check the guttering. If this is swamped with shingles then you may have an issue.
The reasons for granular loss can be as follows:
Natural wear and tear over time
Heavy weather damage
Poor insulation
Faulty shingle or poor manufacturing process
Foot traffic – ie somebody walking on the shingles
Hail
Moss
Cracked shingles
Curling shingles
Blistering
You can see, many things can affect your shingles. But by and large, small amounts of granular loss are to be expected and normal.
Do you need to Replace the Shingles When this Happens?
If you are experiencing high amounts of granular loss, and you can see bald shingles, or cracking, then you need to call in a roofing expert.
Search for a local company such as Peak Roofing if you are in Tennessee, or Google someone closer to your area. A local roofer is a good idea as you can check testimonials and reviews from your own area.
It may be that you will be able to replace the damaged shingles, but in the worst-case scenarios, it may be that the roof will need to be replaced.
---
Read Also:
---
Can you Replace the Granules on Shingles?
There are many important tips for roof renovation, and one of them is to use qualified roofers.
One reason that shingles can suffer from heavy granular loss is through poor installation in the first place. Someone not qualified to install a roof is a recipe for disaster, as can be taking advice from the internet.
There are many individuals giving advice on whether you can replace the granules on your shingles. Even if this was feasible you would likely end up with an eyesore for a roof with mismatched shingles all over it.
When in any doubt, call in a roofer for a professional inspection of your shingles. Shingles should last a long time so perhaps there is no real concern.
How Long Should Shingles Last?
The most commonly used kind of shingle is the asphalt variety. Some roofing materials will last a lifetime, and others somewhere less.
The global roofing market was valued at over $100 billion in 2020 according to Allied Market Research. This means that new and replacement roofs are being installed all the time.
Yet, this doesn't imply that you will need to change yours due to some granular loss. Asphalt shingles should be expected to last around 20 years if they are properly installed, and also maintained.
Having your shingles checked once a year is a recommended way to prevent issues from occurring. You can also keep an eye out for moss, stop ice dams from happening, and keep your gutters cleared.
What Options are There For Replacement Shingles?
If you are having problems with granular loss then you may start feeling you wish to have different roofing materials in the future. Knowing the different types of roofing materials will help you to make a considered decision for sure.
There are tiling and shingle options ranging from rubber to wood, asphalt to metal, and slate to tile.
Asphalt shingles are highly popular and easy to install. Granular loss isn't something that a homeowner needs to spend time constantly worrying about.
However, if you wanted something longer lasting than tile roofs will have about double the lifespan of shingles. But they cost more, and they are more complicated to install.
Summary
If you are noticing granules building up in your gutter, it could point to a problem. Before you start trying to glue them back on though, call in a roofing expert.
It may be that you have some simple, natural granular loss. There may be nothing to worry about. Nevertheless, a roofing expert will be able to make a proper assessment on the spot.