As the world becomes more environmentally conscious, homeowners are looking for ways to reduce their carbon footprint and create a sustainable living space.
One solution that has gained popularity in recent years is residential artificial grassing.
This innovative alternative to traditional lawns offers a range of benefits for both you and the environment.
From reduced water usage to lower maintenance requirements, artificial grass is a smart choice for any homeowner looking to go green.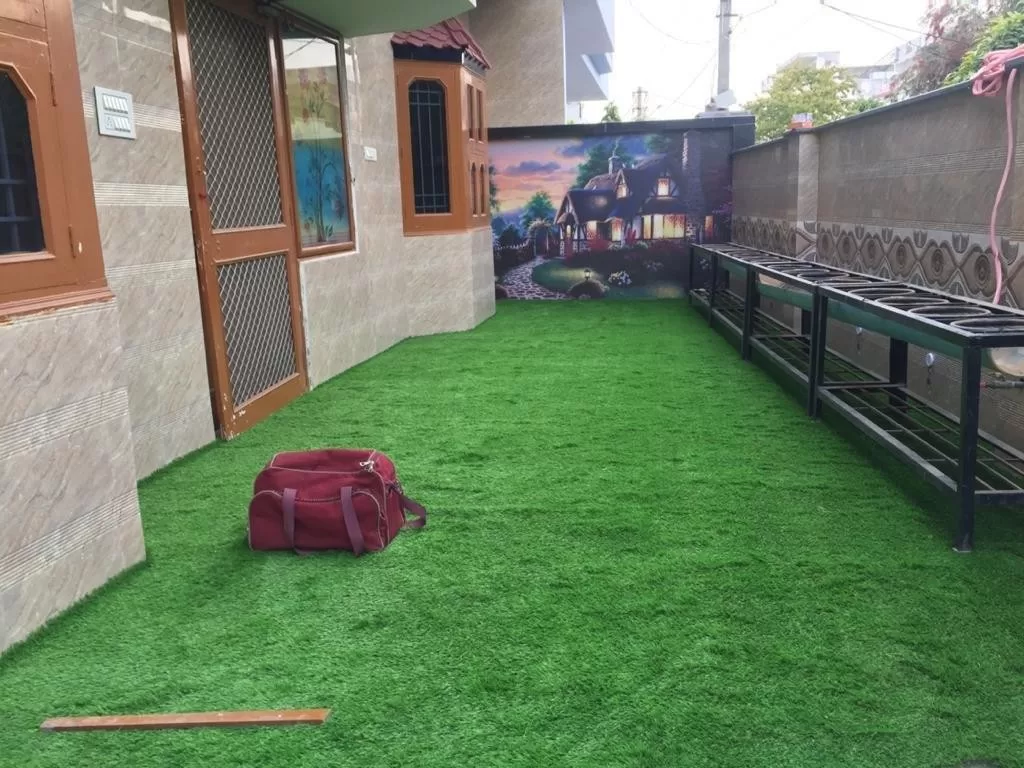 Here, we'll explore the many benefits of residential artificial grassing and why it's becoming a popular choice for homeowners across the country.
We'll discuss the environmental impact of traditional lawns, the benefits of switching to artificial grass, and how to find the right type of artificial grass for your home.
Whether you're looking to reduce your water consumption, lower your carbon footprint, or simply create a beautiful and sustainable outdoor space, residential artificial grassing is an excellent choice.
Eco-Friendly Landscaping Solution
As we become more conscious of our carbon footprint, it's essential to consider more eco-friendly landscaping solutions. One option to consider is residential artificial grassing.
This green alternative can offer several benefits, including reducing water usage, eliminating the need for harmful pesticides and fertilizers, and minimizing carbon emissions associated with traditional lawn care equipment.
Artificial grass is also low-maintenance, making it an excellent solution for those with busy lifestyles or limited time to invest in landscaping upkeep.
Additionally, it can create a uniform and aesthetically pleasing look for your home's exterior.
By investing in residential artificial grassing, you can not only improve your property but also contribute to a more sustainable future.
Aesthetically Pleasing Outdoor Space
Aesthetically pleasing outdoor space is becoming increasingly important to homeowners.
It not only adds value to the property but also creates a relaxing and enjoyable ambiance for the entire family.
One of the ways to achieve this is by incorporating artificial grass into your outdoor space.
Residential artificial grassing has become a popular trend in recent years due to its numerous benefits.
With its realistic appearance, artificial grass can easily transform any outdoor space into a lush, green oasis.
Whether you want a small patch of green or a sprawling lawn, artificial grass can be tailored to meet your needs.
By greening up your home with artificial grass Hertfordshire, you can enjoy a beautiful outdoor space all year round without the hassle of maintenance, watering, or mowing.
Cost-Effective and Low Maintenance
Artificial grassing has become increasingly popular in residential areas due to its cost-effectiveness and low maintenance requirements.
Unlike natural grass, which requires constant watering, fertilizing, and mowing, artificial grassing requires minimal upkeep.
---
Read Also :
---
This makes it an ideal choice for homeowners who want to maintain a beautiful lawn without the hassle of regular maintenance.
Additionally, the cost of installing artificial grassing is often lower than the cost of maintaining a natural lawn over time.
This is because artificial grassing does not require expensive equipment, such as lawnmowers and sprinkler systems, nor does it require frequent replacement, making it a smart investment for homeowners looking to save money in the long run.
Safe and Durable for Families
When considering options for your home's outdoor space, it's important to prioritize safety and durability for your family. Residential artificial grassing offers a solution that can meet both of these needs.
Unlike natural grass, which requires regular maintenance and may contain harmful chemicals, artificial grassing is designed to be safe and long-lasting.
 It's made from non-toxic materials and doesn't require the use of pesticides or other harmful chemicals.
Additionally, it's designed to be durable enough to withstand heavy foot traffic, making it a great choice for families with children or pets who love to play outside.
By choosing residential artificial grassing, you can create a safe and enjoyable outdoor space that will last for years to come.
Increased Property Value Potential
One of the most significant benefits of residential artificial grassing is the potential for increased property value.
A well-maintained, aesthetically pleasing lawn is an essential component of any property, contributing to its overall curb appeal.
Artificial grass provides an excellent solution for homeowners looking to enhance the appearance of their lawns while also reducing maintenance costs.
A clean, green, and lush lawn can increase a property's value by up to 15%, according to industry experts.
Additionally, artificial turf is becoming increasingly popular among home buyers, particularly those who value eco-friendliness and sustainable living.
 By investing in residential artificial grassing, homeowners can increase their property's appeal and attract more potential buyers, ultimately resulting in increased property value.
Overall, residential artificial grassing offers a range of benefits for homeowners looking to green up their property.
Not only does it provide a low-maintenance landscaping solution, but it can also significantly reduce water usage and contribute to a more eco-friendly lifestyle.
Additionally, with advancements in technology, synthetic turf has become increasingly realistic and durable, making it a viable option for those seeking a natural-looking lawn without the upkeep.
Overall, investing in residential artificial grassing can not only improve the aesthetic of your property but also have a positive impact on the environment and your quality of life.