Your roof is not just a protective shield over your head. It's an essential element of your home's structural integrity and aesthetic appeal.
From torrential rain and scorching sun to gusty winds and heavy snow, your roof is on the frontline, defending your home against the elements year-round. However, it's often the most overlooked part of our homes when it comes to maintenance and protection.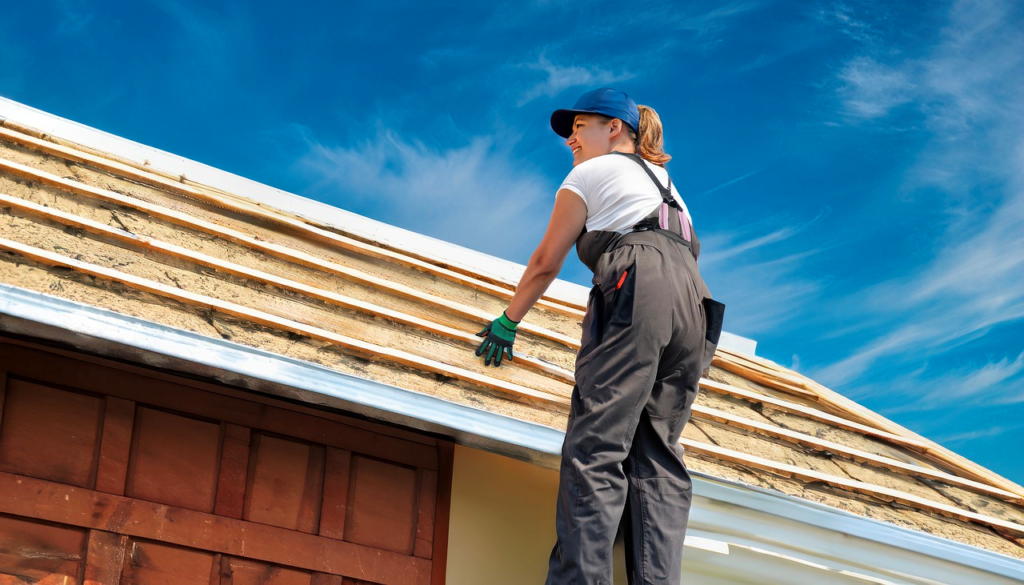 But here's the thing: neglecting your roof's exteriors can lead to costly and time-consuming problems down the line. From leaks and water damage to reduced energy efficiency and decreased property value, the consequences of a neglected roof can be significant.
That's why it's crucial to treat your roof with the care and attention it deserves, just like a pro would. In this comprehensive guide, we will equip you with the knowledge and expertise you need to protect your roof exteriors like a seasoned professional.
Tip 1: Get Regular Roof Inspections
Roof replacement can be a substantial expense, often about $10,000. To avoid the need for a costly roof replacement, regular roof inspections and maintenance are crucial.
Regular inspections carried out by a certified roof inspector can play a pivotal role in identifying possible roofing concerns before they develop into significant and costly issues. These inspections also serve as a preventive measure against significant issues like roof collapse due to the weight of heavy snow or ice, as well as other potential hazards.
It's important to note that roof inspections aren't limited to identifying obvious problems like missing shingles or damaged gutters. With stormy seasons on the horizon, a compromised roof can lead to stress and inconvenience, including leaks, additional damage, or even a complete roof failure.
Therefore, conducting roof inspections before the next storm season arrives is a proactive step to ensure your roof can withstand extreme weather conditions with greater peace of mind.
Tip 2: Keep Your Gutters Clean and Free of Debris
Did you know that nearly 99% of all gutters are susceptible to issues, even when initially installed correctly on the roof? This underscores the significance of staying consistent with routine gutter cleaning and upkeep. Recognizing and promptly resolving gutter issues is essential.
Gutters play a pivotal role in your roofing system as they facilitate the redirection of rainwater away from your house, preventing it from accumulating near your foundation.
---
Read Also :
---
In cases where gutters become obstructed by debris, water may accumulate and infiltrate beneath your shingles, resulting in leaks. This can damage your roof and cause other problems, such as mold growth and foundation erosion.
Here is how to clean your gutters:
Gather your supplies: Ladder, bucket, gloves, garden hose (optional: gutter scoop, leaf blower)
Be safe: Use a sturdy ladder and have someone hold it steady
Clear the debris: Commence at either end of the gutter and progress towards the opposite side, employing a gutter scoop or your hands.
Rinse the gutters: Employ a garden hose to rinse out the gutters.
Inspect the gutters: Look for signs of damage and repair cracks or holes as soon as possible.
Tip 3: Address Roof Leaks Promptly
Dealing with roof leaks can indeed become a homeowner's worst nightmare.
As stated by The Washington Post, when roof leaks are not addressed in a timely manner, they can lead to expensive repairs and the growth of mold. Mold can pose significant health risks to your family, so it's crucial to take proactive measures to address roof leaks and avoid these potential health concerns.
Roof leaks are typically the result of worn-out shingles or other issues, such as missing shingles, damaged flashing, or areas that require repair with sealant, tar, or caulk.
What may start as a minor drip can swiftly become a significant problem. Therefore, when you detect a roof leak, immediate action is paramount, especially when there's a risk of harm to your home.
In the event of a leaky roof, it's essential to take steps to contain the situation as much as possible. Gather buckets, garbage cans, towels, or any available items to catch the water, minimizing potential damage.
Additionally, if your ceiling features a plastic vapor barrier between the drywall and attic insulation, it can be beneficial to temporarily move aside the insulation and examine for water stains on the plastic surface. Water often seeps through openings in the vapor barrier, such as those around ceiling light fixtures.
Tip 4: Ensure Proper Attic Ventilation
Proper attic ventilation is a critical aspect of home maintenance. It's a preventative measure to avoid moisture accumulation in the attic, which can cause problems such as mold growth and roof damage. The key to achieving this is by ensuring the presence of suitable ventilation elements like gable or ridge vents.
Equally important is the proper positioning of exhaust and intake vents to maintain a consistent airflow in the intended direction, all while minimizing the risk of rain or snow infiltration and obstruction from dirt, debris, or insulation.
For enhanced moisture protection, your roofing system can make use of essential components like a fascia board and soffit. These components serve as a protective barrier, preventing moisture from infiltrating your roof and potentially causing issues like rot or decay.
Whether you decide to upgrade your entire gutter system or focus on improving your fascias and soffits, the benefits go beyond just protecting your home from moisture-related problems. You'll also notice improvements in your home's aesthetics and energy efficiency.
Tip 5: Apply a Roof Sealant
Applying a roof sealant is a crucial step in safeguarding your roof against various elements and potential damage.
Roof sealants act as a waterproof shield, effectively preventing water from penetrating your roof. This safeguard plays a crucial role in protecting against issues like rot, mold, and structural weakening. Additionally, they help to seal any existing cracks or gaps in your roof, preventing leaks during heavy rainfall.
As Belco Forest Products notes, roof sealants come in two types: water-based and solvent-based. Water-based sealants are thinner and usually more affordable. However, solvent-based sealants are thicker and more expensive, but they provide better protection against moisture and UV rays.
By investing in a roof sealant, you're not only protecting your roof but also ensuring the longevity and integrity of your entire property.
Conclusion
Neglecting your roof can result in costly and time-consuming problems down the road. From dreaded leaks and water damage to decreased energy efficiency and a drop in property value, the consequences of a disregarded roof are anything but pleasant. It's high time we treated our roofs like the valuable assets they are – just as professionals do.
Architect Magazine notes that roofs typically have a shorter lifespan than their intended design, lasting only about half as long on average. Moreover, a significant portion of issues related to buildings, roughly 40 percent, is attributed to water penetration, and roofs are the primary route through which water enters.
That is why we created this comprehensive article that has equipped you with the knowledge and expertise you need to protect your roof exteriors. By following these tips, you'll not only keep your roof in tip-top shape but also ensure the long-lasting performance and integrity of your entire property.