The period of drought is considered to be very intolerant for it brings a toll on the landscape conditions with dryness and damage of crops across the environment.
The prevention of drought means extensive prevention methods that have the capacity to overcome the hardships that come consequently with the unfavorable environment scarcity.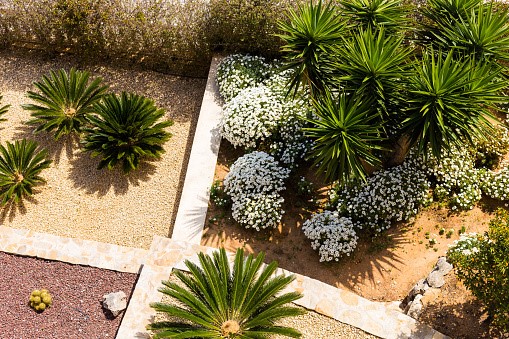 Through the lack of rainfall and water causes jeopardy to the life of plants, crops, and wildlife in general.
In this blog, you will get to realize the best reasons to choose the best drought tolerant landscape design.
Drought Tolerant is known as the escape from droughts that brings greenery even without a water-wise garden in areas that have mandatory water rationing and incentives with the minimal use of irrigation.
That is possible by deforesting the thirsty grasses and other plants or trees that crave water and in turn replacing them with drought-tolerant designs that incorporate patios, gravel pathways, and decks.
Hardscapes in landscaping refers to all the non-living elements such as a brick patio, stone walls, and wooden arbor, unlike softscape that uses living organic elements.
A lawn basically demands greenery which comes from both water-based and drought-tolerant plants.
But, when you put up in areas where you face the scanty rainfall or least access to irrigation for recycling and rationing purposes, you have the apt opportunity to choose plants like thyme, artemisia, aster, woolly yarrow, zoysia grass, lupine, and lavender over other thirsty plants that demand water that is unavailable or inaccessible.
When you are about to choose a good drought tolerant landscape design then there are a lot of things you need to keep in mind including both softscape and hardscape.
With water conservation and sustainability kept as your precedence, you need to opt to choose hardscape elements while designing your backyard or lawn that must hold plants with gravels, brick, wood, pavers, and rocks surrounding the texture and also elevating its look and feel.
If you are choosing a hardscape design for your space, then it is going to demand limited maintenance with a stylish touch of blending both textures and plants altogether.
Although the manicured gardens look splendid, amidst your busy schedules and water conservation reservations, require chemicals, with the monotony that hits the all-green concept which has become very common.
---
Read Also:
---
The most economical, creative, and rationing style of covering your front and backyard spaces is by switching to the drought-prone or stricken places like California, South Africa, Southern United States, Australia, and others that have dry regions and cannot stand the green tuft that devours water and need all daycare consuming time and effort.
Also, if you have the green thirsty patch of land and want to swap it with the drought-tolerant patch, then you can easily do that without water restrictions or consuming most of your time repairing and replacing anything.
There are some of the best things that will contribute to your successful drought tolerant landscape and they include, decomposed granite that tends to bind together when consolidated.
It does not create dust or particles that bother your area or your health in any way and the most important thing about choosing decomposed granite is that it is eco-friendly that helps absorb rainwater and irrigation without producing or contributing to the pollutants and solids from water.
Furthermore, you can go forward with pea gravel that is affordable, is easy to substitute, and looks like the rock in size and texture which contributes to the best look and style once implemented.
You could also go with artificial turf that lends a green look without mowed or manicured green grass and yet acting as the best substitute devoid of fertilizers, weeds, and other maintenance methods.
Last but not least include permeable paving that is a form of sustainable hardscape landscape design with a sand filter for water permeability, with a mixture of materials which count in rocks, sand, boulders, surfaces, walls, outdoor furniture, and paved surfaces that make your front or back yards look elegant and appeal to the eyes of your visitors.
If you are still baffled up while choosing what suits you best, you may get into a research mode to carve out how you would love to utilize your space, transform or refurbish it without running out of budget, efforts, and time.
If you are not being able to choose from the above-mentioned options of hardscapes to turn your space, then slide through other options of landscape designs that include a combination of ground covers, a meadow of native grasses that blend with the winds and are taller with an eye-catching visual effect, fusion of water-wise and hardscapes, organic fills that are both sustainable and economical suiting your building style and enhancing your mood without compromising on the quality and look.