When you want to change your car, it's easy, you can start shopping online for your next Audi. With a few clicks here and there, the configuration of your dream car is done and you know exactly how much to shell out for it.
On the other hand, when you are thinking of renovating your kitchen, there is no easily accessible price configurator on the internet. You are therefore thinking of visiting a cabinetmaker-kitchen maker for more information.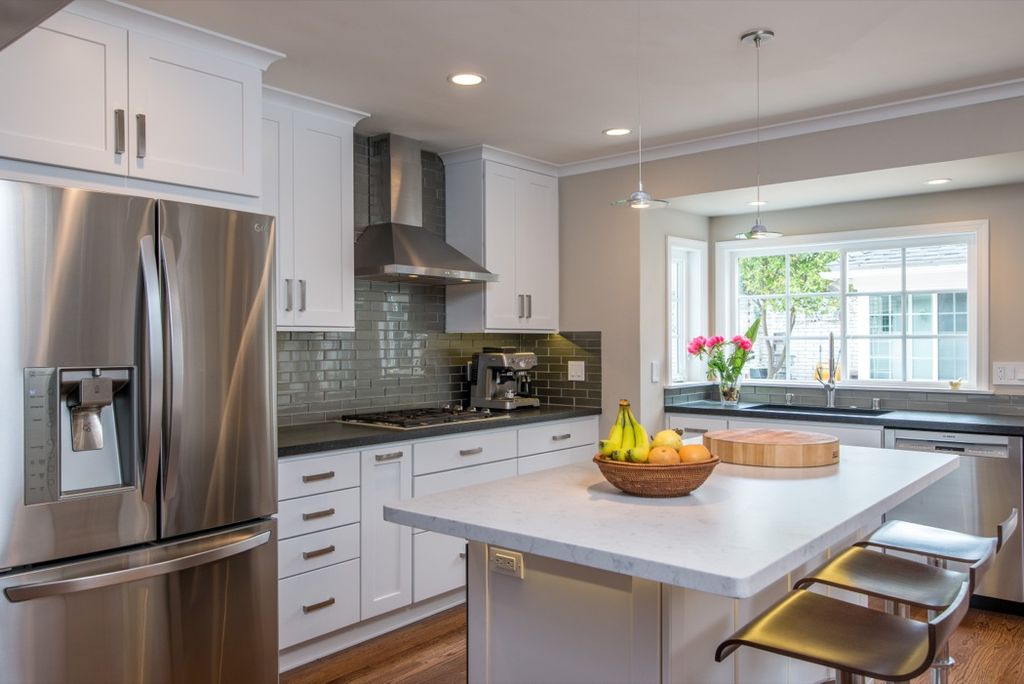 When you get there, he tells you that if you don't have an exact idea of ​​what kitchen design you want or kitchen cabinet refinishing service, he can't make a bid. Brilliant! You are not more advanced and you want more information before calling on an interior designer.
With my experience as a kitchen designer, I can tell you right away that the cost of a kitchen renovation ranges from $35,000 to $60,000+ without including appliances. Renovating a kitchen is an important investment that will increase the value of your property.
You will be able to recover 75% and more of the money invested in the renovation if you have made wise choices! I share with you later my meeting with the Scott brothers who shared their advice for a successful kitchen renovation project.
It is important to consider that several factors influence the price of your kitchen renovation. The main factors are the size of your kitchen, the complexity of the renovation (if there are load-bearing walls to remove, or plumbing to move), and finally the choice of materials! Contacting a professional designer, which you can find, can help you budget correctly.
Right now, there is an array of different innovative materials on the market, the choice is endless. Many entrepreneurs who like a challenge want to painstakingly execute unique designs.
A few months ago, I met the two Scott brothers at a small private event in Philadelphia. Jonathan, an interior designer, and general contractor, and Drew, a real estate broker, shared some design tips with us.
Jonathan said: "If you renovate a kitchen without improving the layout or removing walls that partition the kitchen, it's not a successful kitchen renovation. The value of your home will not be increased." Our lifestyles change enormously from one generation to another and the layout needs are different.
If the presence of a load-bearing wall obstructs the space in your kitchen, it is necessary to consider removing it. To do this, you will have to hire a professional such as a structural engineer to study the project and make a structural plan. The fees for this type of mandate are between $1,000 and $2,000.
Then in terms of materials that influence the cost of a kitchen renovation, there are two main categories; kitchen cabinets and kitchen counters.
Other materials such as tile, fixtures, and plumbing should also be considered, but these are minor costs in the total of your kitchen remodeling budget. Let's take a detailed look at the various choices in kitchen cabinets and kitchen countertops.
The Cost of Cabinets for Kitchen Renovation
First, I would like to point out that the interior and structure of kitchen cabinets are usually made of particleboard. In my projects, my designers and I specify Unibord's NU Green certified particleboard since it is environmentally friendly, moisture resistant, FSC certified, and in addition, it is made of 100% recycled wood fibers.
We recommend that you finish the interior of your kitchen cabinet boxes in white, but Unibord panels are available in several colors to match your choice of cabinet doors.
What influences the cost of your kitchen cabinet cabinets is the choice of your doors! When we refer to the doors, we also consider all the visible sides of the cabinets (the finishing panel of the refrigerator, sides of the island, the interior of the niches, etc.)
There are 5 main families of different materials for the doors of the kitchen cabinet. In ascending order of price, there is melamine, polyester, lacquered MDF, wood veneer, and solid wood. The most popular material is polyester since it is beautiful, durable, and affordable.
On the other hand, high-end melamine is making a big comeback with its very realistic color choices and the new synchronized wood effect finishes or velvet-finished solid colors.
Depending on the kitchen design you desire, the choice of material will be important. I recommend the premium melanin for a very modern and minimalist design. The lacquered MDF is rather chosen to make classic kitchens since it allows to make designs with many architectural details.
Wood veneer is used more than solid wood in a kitchen since solid wood tends to swell and be less resistant to humidity. I use different types of wood to create high-end kitchens that I often mix with plain polyester colors or lacquered MDF. Wood adds a warm, sophisticated, and very elegant look to a kitchen!
To help you get a better idea of ​​the cost of a kitchen renovation, the price difference between these materials is determined as follows:
Polyester will be about 15% more expensive than melamine.
Veneer or MDF that are similarly priced will be about 25% more expensive than polyester.
Finally, solid wood will cost 20% more than wood veneer.
---
Read Also:
---
The Cost of Countertops for Kitchen Renovation
On the other hand, marble is not recommended since it stains and requires a lot of maintenance. Choose a quartz marble imitation instead, the choices are many. As for Dekton, it is the strongest material for countertops, but the most expensive! It can even be used to make floors since it is very resistant to scratches.
kitchen remodel labor cost
It is certainly this part that is more difficult to evaluate and which gives you a headache! Some would say that the ratio between materials and labor is around 50-50, others say 60-40. I would say it depends on the projects, but most of the time a 50-50 ratio is quite representative.
For example, for a total budget of $40,000, $20,000 will go to cabinetry and countertop and $20,000 will go to the contractor to pay for labor and other construction materials.
To give you a concrete example, here is a kitchen I made for clients who were tired of running out of storage and living in family chaos. This kitchen is a good size (15′ x 14′).
The kitchen cabinets are made to measure by a cabinetmaker specializing in kitchen cabinets and the materials chosen are of good quality at a mid-range price. The clients (or rather the client) opted for a ¾-thick quartz counter.
The selection of ceramics was made at Ceragres which has a large selection of quality tiles. Since the floor covering was removed and replaced by tiling, the customers took the opportunity to have a heated floor installed.
Then, the configuration of the plumbing elements was completely redone as well as the position of the electrical outlets. At the level of the divisions, we have only added a few divisions in the wardrobes, and no load-bearing walls have been removed.
Now that you understand the layout of this kitchen, here is the estimate of a general contractor to carry out this project. This quote is for informational purposes, if you want more information, I invite you to contact our team of interior designers who work with a team of reliable and professional contractors.
DEMOLITION – $2,200
Dismantle kitchen cabinets; Dismantle the ceiling, division;
Dismantle floor covering; Disposal of waste.
SUBFLOOR – $1,500
Opening of the subfloor to allow relocation of the plumbing;
Screw the existing subfloor and remove mortar residue.
DIVISIONS AND GYPSUM – $2,100
Install nailing backing for the gypsum of the ceiling; Install 2×3 upright to create new closet divisions; Install gypsum panels.
PLASTERING – $1,600
Drawing of plaster joints; Repair of openings in the ceiling.
SCHLUTER SYSTEMS – $3,600
Install Schluter membrane and heating wire in all circulation areas of the kitchen; install SCHLUTER electronic thermostat for the floor covering.
TILING (FLOORING AND BACKSPLASH) – $5,200
Install ceramic floor covering (24"x24" tiles); Install herringbone ceramic backsplash (3"x10"); Apply grout for the floor and the backsplash;
Ceramic tile included.
KITCHEN CABINETS – $18,300
Supply and install kitchen cabinets, door handles, and kick plates.
PLUMBING – $900
Relocation of the kitchen plumbing and relocation of the drain;
Install kitchen sink and faucets.
ELECTRICITY -$2,600
Reconfiguration of the electrical system to accommodate the 10 new LED downlights; Install new Ventilation hood;
Run wire and install 3 new standard electrical outlets and 1 GFCI outlet; Install 2 switches; Install new 1500w convector.
BASEBOARDS, FRAMING, AND DOORS – $1200
Install floor baseboards over the entire surface of the kitchen;
Install 2 recessed door systems; Apply latex sealant.
COUNTER – $5,500
Supply and install ¾-thick quartz counter; Measurement and installation included.
TOTAL BEFORE TAXES – $44,200
It can be concluded that in this project the 50-50 cost ratio between the contractor and the materials is very well demonstrated. We can also conclude that customers will no longer run out of storage and they will no longer live in the brothel.
Checklist
To conclude this article, here is the list of items you need to plan to calculate your kitchen renovation budget. A professional such as a contractor or an interior designer can help you with all of this, but if you want to make an initial estimate on your own, this list can help you.
Kitchen cabinet
Handle
Counter
Floor covering
Storage accessory
Plumbing (Sink, Faucet, Pot filler)
Lamp
Heater
Automation
Doors and moldings
Painting and finishing
Workforce
Appliances (Hotplate, Ovens, Hood, Refrigerator, Cellar, Dishwasher, Microwave)
Window dressing
Auxiliary furniture
Decoration
Designer fees
In the end, you have to plan a budget between $35,000 to more than $60,000 to renovate your kitchen. Factors that influence kitchen remodeling costs are square footage, layout changes, and choice of materials.
For several years, my team of seasoned designers has been helping homeowners create epic designs without having to deal with technical challenges.