Living in Orlando means having a wide variety of entertainment options. While amusement parks tend to be the main focus of many travelers, many people also look for options to get away from the crowds, especially in times of pandemics.
Downtown is the historic heart of the city and has a completely different atmosphere than places like SeaWorld, Disneyland, or Universal.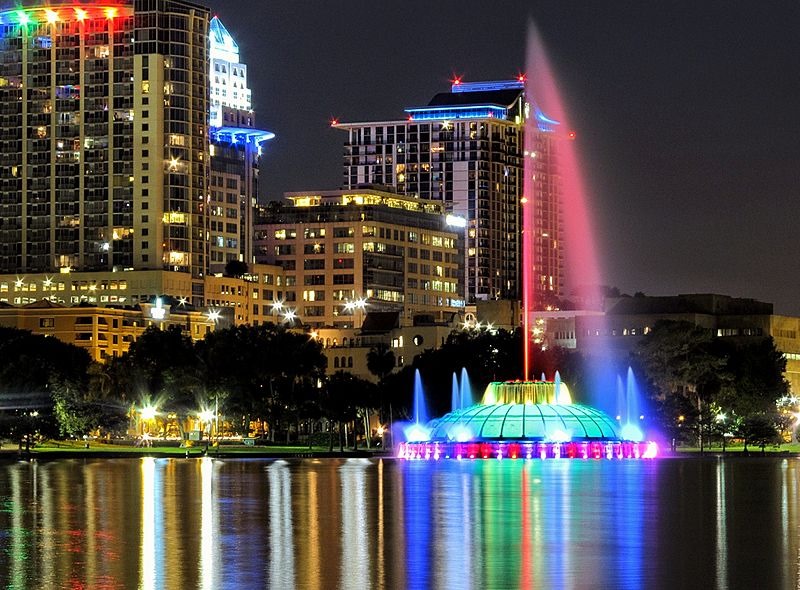 Downtown doesn't have fantasy castles and you won't find animated movie characters on the corner, but you will find unforgettable experiences in cosmopolitan neighborhoods that are home to real gems, such as museums and natural spaces.
Come and discover five must-see places to visit when you travel to this American wonderland.
1. Lake Eola Park
Beautiful and fun, Lake Eola Park is a place where you can spend an afternoon with or without children, and it has special programming on weekends.
You can combine a visit to this park, nestled in the heart of DT, with a walking tour of the historic zone for an excellent overview of the area.
The park is built around a lake that is at least a mile long and covers 23 acres, which you can walk around to enjoy the large trees surrounding the expanse of water.
You can also rent a swan boat to paddle around the lake for incredible views of the DT skyscrapers. Definitely, an excellent plan to enjoy with your family or by yourself, accompanied only by music and a good book or, why not, some meditation.
The lake fountain offers a peaceful view during the day and a magnificent display of colored lights at night, which brings together residents and travelers to admire the spectacle.
On Sundays, there are open-air concerts, markets with products of interest, and festivals with cultural offerings.
---
Read Also:
---
2. Art Orlando
This is an ideal plan to get to know both the downtown streets and the nine contemporary sculptures that are Art Orlando, impressive works that will leave you in amazement. Here we describe some of them:
The first stop is the metal sculpture decorating the shore of Lake Eola, Take Flight, by artist Douwe Blumberg, which recreates a flock of birds. At night, lights are turned on and reflected in the water, giving it a spectacular look.
Next is The Union, a metallic formation with curves that moves in the breeze, by Ralfonso Gschwend.
Then you may come across the Centro of Lebanon, a three-story tall creation depicting the life of trees. Further along is the Muse of Discovery, a limestone sculpture that was erected from the ground and portrays a woman looking down at her open arms, so big that anyone can sit on them.
The interactive Muse of Discovery is at the corner of N Rosalind Ave in Lake Eola Park and its creator is artist Meg White.
3. Orange County History Center
The past is key to understanding Orlando's present. At the Orange County History Center, you can enjoy exhibits on everything from agriculture to aviation to space travel.
The museum on Central Boulevard in DownTown is housed in a late 1920s neoclassical building that was once a courthouse.
Today it houses displays of flora and fauna, Native American and African American artifacts, replicas of pioneer cabins, and more to learn how the city has evolved over the last century.
4. Center for the Performing Arts (Dr. Phillips)
This complex dedicated to the performing arts is a spectacular ultra-modern, glass-enclosed structure, which opened on November 6, 2014.
It houses several theaters: the Walt Disney Theater, for Broadway musicals and concerts of various genres with 2700 seats; the Pugh Theater, with 300 seats and hosts more intimate shows and events; Steinmetz Hall is an acoustic hall with seating for 1700 spectators, who will enjoy ballet performances, operas, orchestral performances and banquets; and finally the DeVos Family Room, a special room for private functions whose walls are made of glass.
5. Walt Disney Amphitheater
This venue, adjacent to DT's Lake Eola Park, is an acoustic shell where concerts, festivals, dance performances, and outdoor concerts are held throughout the year.
The amphitheater, with a design reminiscent of the 1950s, is equipped with the latest lighting and sound technology. It is especially beautiful on the 4th of July when you can enjoy the fireworks display to celebrate Independence Day.
With these Orlando entertainment options, you will enjoy the city in a fun and educational way that will enhance the quality of life for you and your family members.