Families come together for meals as often as their schedules will allow. When they sit down to eat, the focus is on the food and the conversation. However, this does not mean the family should eat off paper plates.
The right dinnerware establishes the mood for the meal while expressing the family's personal style.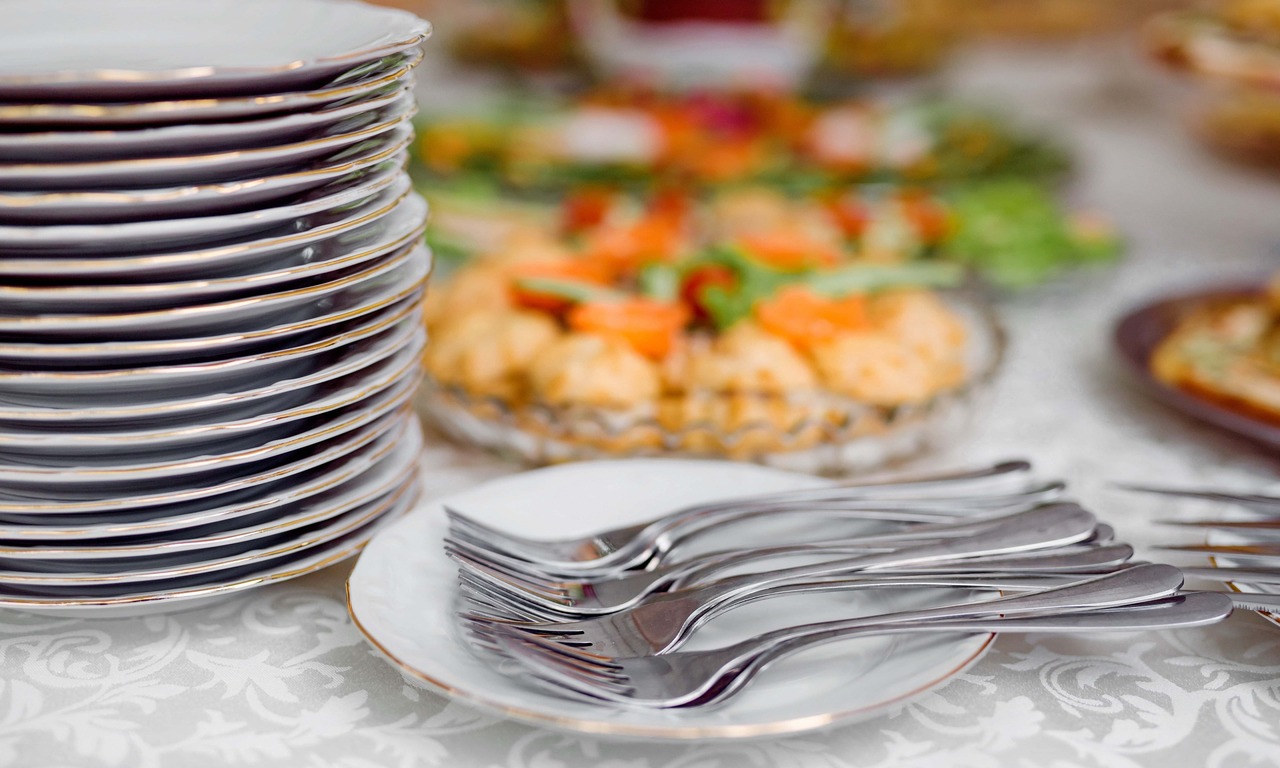 Understanding the types of dinnerware offered today makes it easier for each family to choose the set that enhances their meals in every way. 
Materials Matter
Many families choose to invest in bone china, as it resists chips. This makes it the perfect choice for everyday use and special occasions. Bone china, thanks to its strength, is both microwave and dishwasher safe.
The thin, delicate pieces come in a semi-translucent white shade, allowing them to complement any dining room in America today. 
For those families who love a casual feel to the home, earthenware serves as an excellent choice in dinnerware. The affordable price means it fits easily into any family budget.
However, it isn't as sturdy as porcelain or stoneware, although many people imagine it is because of the weight of the pieces. Manufacturers seal and strengthen the earthenware using a waterproof glaze, as this material is very porous.
Never use earthenware in an oven or microwave, as temperature changes can damage the finish on the pieces and leave them looking unattractive. 
Melamine dinnerware provides the look of ceramic dinnerware without the drawbacks. People who love to entertain often invest in this dinnerware because they know the items won't chip, shatter, or break if an accident occurs.
The extremely durable resin allows the dinnerware to be used daily without harm, and it is ideal for occasions when the family eats outdoors.
While melamine dinnerware can go into the dishwasher, avoid using the items in a microwave or oven. Be sure to check out this dinnerware set when comparing the options. 
A family may want to invest in porcelain dinnerware because it is oven, dishwasher, and microwave safe. The only exception would be those pieces with metallic accents.
They cannot go in a microwave. Manufacturers make these pieces using a kiln, which ensures their durability, and the prices are lower than those seen with bone china.
Thanks to the look and feel of these pieces, families may use the dinnerware for elegant dinners and casual ones. 
Families looking for casual, chip-resistant dinnerware should check out stoneware dinnerware options. These stylish pieces feature a special finishing glaze that gives the dinnerware a smooth and impermeable finish.
Like earthenware, stoneware must be maintained and kept at even temperatures, as high heat and freezing temperatures could lead to damage or destruction of the piece.
It's best to hand wash stoneware to prevent damage as well. 
---
Read Also:
---
Which Material to Choose?
Dinnerware comes in a wide range of styles, making it easy for each person or family to choose one they love in a material that meets their needs.
Formal sets typically come in porcelain, stoneware, or china, while melamine and earthenware make great casual dining sets. Most families opt for a durable dinnerware set for everyday use with young children.
They reserve bone china, stoneware, and porcelain for special occasions and dinner parties. 
Dinnerware Options
Dinnerware typically falls into one of four categories. Families will choose from solid, banded, patterned, and hand-painted pieces, and they can choose a style that complements the home and personality.
Take color and pattern into consideration when doing so, although weight and neutral colors remain the most versatile when it comes to formal dinnerware sets. 
A banded set or one with a pattern around the edges adds color to any meal while allowing the food to be showcased. Informal dinners work well with colored and patterned dishes, and families must decide whether they want classic pieces or trendy ones.
Those who want dinnerware that can be passed down through the generations should choose solid or banded white pieces.
They never go out of style and can serve as a foundation for the overall table decor. Complement these pieces with color accent items to provide the desired look. 
How to Buy? 
When purchasing dinnerware, a person may choose from sets, open stock, or place settings. Formal dinnerware often comes in place settings, and each place setting includes the items one person would need at a formal meal.
Most settings come with a dinner place, a dessert or salad plate, a bread plate, and a teacup with a saucer. Certain sets include soup bowls. 
When purchasing a set, expect to receive multiple place settings to outfit a table. Many sets come with 20 pieces or four complete place settings. Common items in these sets include a dinner and salad plate, a teacup, and a saucer for each person. 
If a piece breaks or a person only needs a few items, open stock serves as the best option. The person can pick what they need and mix and match items if they desire. 
Most families benefit from having eight to 12 complete place settings. However, when purchasing different sets for everyday use and formal events, invest in four to six casual place settings, and double this number for formal place settings.
Obviously, the size of the family plays a role in how many complete place settings are needed, as do the amount of space available for storage and frequency of entertaining. 
If space is a consideration, consider investing in white dinnerware suitable for both formal and everyday dining.
This neutral color provides the perfect backdrop for any meal, and the family can dress up the table with the help of colorful linens, placements, candles, and more.
For those who want patterned or boldly colored dinnerware, don't hesitate to purchase it. Tone the dinnerware down with neutral accessories so the table setting doesn't detract from an amazing meal. 
There is no right or wrong way to set a table. One person may choose to mix and match place settings while another individual wants a formal look with matching dinnerware and accessories.
It's a matter of preference. Thanks to the variety of dinnerware styles today, every person can find the items perfect for their needs.