For the most part, carpet cleaning is something many of us dread. For starters, it can be time-consuming and difficult to spruce up a carpet, especially if it has stubborn stains.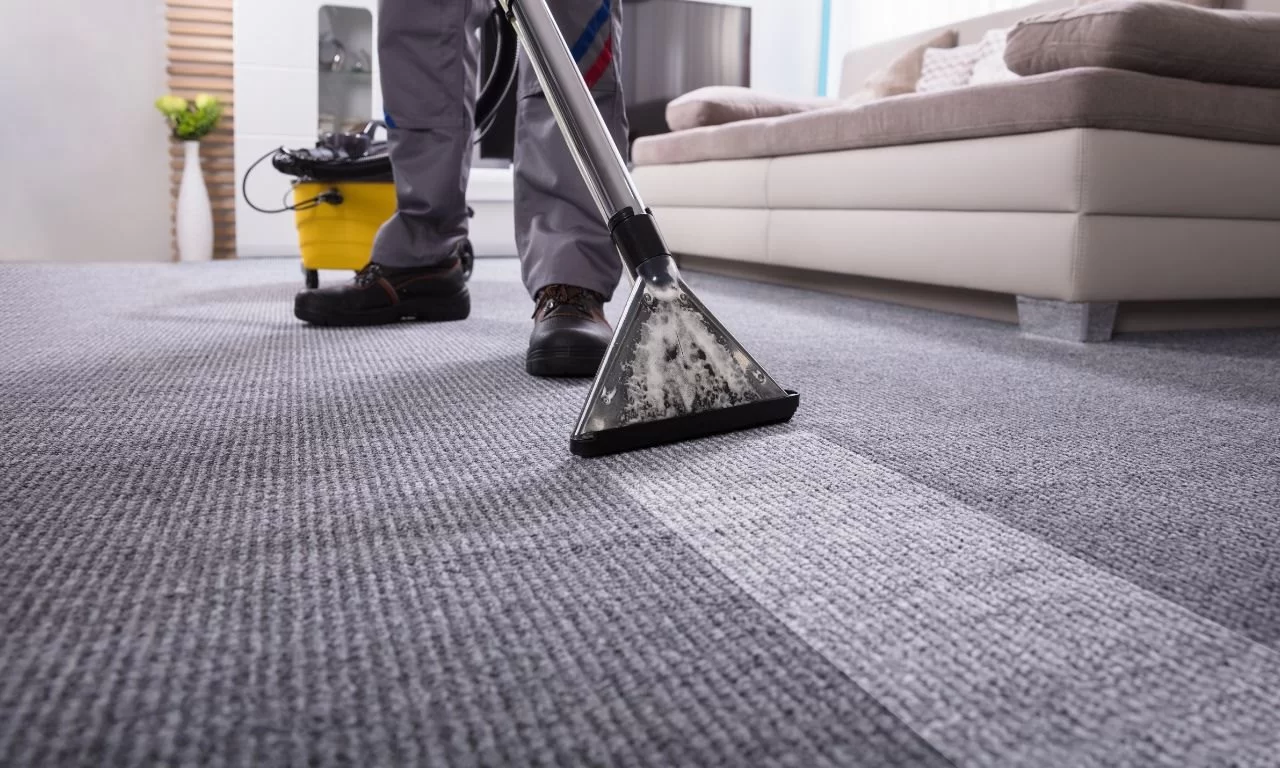 And while there are many methods you can use to clean your rug, not all are effective. Some can even damage your prized possessions or make the problem worse. So, what is the best cleaning method to use?
The quick answer is no single method is better than all the others! Yep, while some people might vouch for a particular approach, others have a contrary opinion. That said, steam cleaning is often touted as the pick of the bunch when it comes to getting rid of deeply embedded dirt. Let's look at methods – including their application, upsides, and downsides – to hopefully guide you to the right service for your carpet.
1. Steam Cleaning
This method uses hot water. The steam generated loosens dirt, which is then removed by vacuuming. Steam cleaning is often used in commercial settings but can also be done at home using a rented carpet cleaning unit or a professional carpet cleaning service. Steam also has the advantage of killing bacteria and dust mites, which is excellent news for people with allergies.
Steam can also penetrate the carpet fibers to remove dirt and stains. And if your rug has a matted appearance, the steam can fluff it up, giving it a softer look and feel underfoot. Similarly, it can help prolong the life of your carpet. Plus, rugs tend to dry quickly after steam cleaning compared to other methods.
However, steam cleaning is not always suitable for every carpet. For instance, if your rug is made of natural fibers like wool, it could shrink, primarily upon exposure to high temperatures. As such, you might be better off with another method like dry cleaning or shampooing.
2. Dry Cleaning
Dry cleaning uses chemicals instead of water and is often used for delicate fabrics like wool or silk. To use this approach, you first have to vacuum your carpet. Then you can spray it with a dry-cleaning solvent.
After the solution does its magic, you can clean the carpet again to remove dirt and debris. This approach is also a good choice if you're short on time because the carpet dries quickly. But it might not be as effective as steam cleaning when removing deep-seated dirt.
---
Read Also:
---
3. Shampooing
This popular cleaning method has been around for ages. It's often used in hotels and office buildings because it's relatively cheap and easy to do. To shampoo a carpet, you first have to vacuum it. Then you apply a carpet shampoo and use a brush to work the solution into the carpet fibers. After that, you let the shampoo sit before vacuuming it again.
Shampooing gives your rug a deep clean. It can also help brighten up the color of your carpet. That said, it doesn't work well if you have a lot of dirt and debris because removing all the shampoo from the carpet can be challenging.
Still, the shampoo left behind may be counterproductive – locking in the dirt on the carpet's surface. In turn, it might give your rug a dirty appearance soon after you get the job done.
4. Bonnet Cleaning
Also known as dry foam cleaning, this method is similar to shampooing in that you first have to vacuum your carpet before applying a detergent. But, instead of a brush, you use a rotary floor machine to work the detergent into the carpet fibers. After that, you put a bonnet basically an absorbent pad over the machine's brush head and go over the carpet again. This helps remove dirt and debris from the rug.
Bonnet cleaning is quick, affordable, and easy making it ideal for a hotel setting. Plus, it doesn't require a lot of water, so the carpet dries quickly. However, like shampooing, this method only works if your rug isn't too dirty or matted. But bonnet cleaning may be sufficient if you need to clean your carpet regularly to maintain its pristine look with minimal effort.
5. Foam Cleaning
Instead of using a rotary floor machine, foam cleaning implies using a foam generator to apply the detergent to your carpet. Once you do, you can then brush the foam into the carpet fibers before vacuuming it up.
As the specialty foam bubbles and expands, it brings debris to your rug's surface. Then, steam extraction handles the rest of the job – removing the foam and dirt.
Foam cleaning is similar to bonnet cleaning as it's quick and easy. It also doesn't require a lot of water, meaning your carpet dries quickly. As a result, you can put the carpet to use promptly.
If you have an incredibly filthy rug, foam cleaning can help eliminate most of the dirt. Also, offices with high foot traffic can use this approach to maintain carpets without worrying about downtime.
6. DIY Cleaning Methods
If you're handy, consider using some items in your pantry to clean your carpet. Here are a few such essentials you can make the most of:
Baking Soda: This popular kitchen ingredient can do more than just bake cookies – its qualities can also shine on your carpet. To use it, vacuum the area to get rid of any dirt on the surface.
Then, sprinkle some baking soda on the rug and let it sit for a while before vacuuming it. The baking soda will help absorb dirt and odors from the carpet.
Vinegar: Use vinegar by mixing equal parts water and vinegar in a spray bottle and spritzing it on your rug. Once it sits for a few minutes, blot it with a clean cloth or towel. You can also add salt to the mixture to help scrub stains.
While a DIY approach might be feasible in a pinch, it's advisable to leave the more serious cleaning jobs to the professionals. Usually, they have the right tools or supplies and equipment. Plus, they know exactly how to use them for the best results.
Ultimately though, neither of the cleaning methods can work for every situation. As such, we can't claim one is the best cleaning approach. Sure, some are better than others, but on the whole, factors such as affordability, ease of use, equipment needed, and carpet condition will all play a role in determining the best method to use. And as we've pointed out, each method has its pros and cons. All the same, do your research and consider all your options before settling on a cleaning method.